SOURCE: IDRW NEWS NETWORK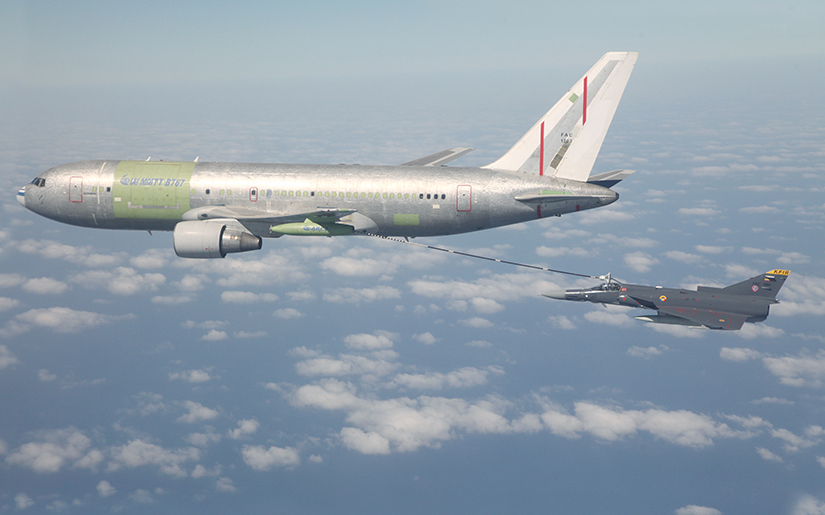 Hindustan Aeronautics Limited and Israel Aerospace Industries(IAI) have joined hands to carry out the Conversion of Pre-Owned B767 into Multi-Mission Tanker Transport (MMTT) for which both companies have started the process to find suitable used 767 airframes at low cost, then perform the conversion. IAF is onboard this program and has joined HAL to decide on the final configuration for the first six jets that are to be converted as HAL eyes more orders of the same.
The Boeing 767 is a mid-size, wide-body twinjet airliner that is listed at an average price of just under $90 million per aircraft that have aged for less than 10 years in service and the rate goes down to $65 million if it's around 20. The low utilization rate of MMTT platforms even on a 20-year platform when compared to commercial passenger aircraft miles will still come with long-term service life in IAF.
HAL-IAI as part of the conversion process, will replace, upgrade or refurbish all major parts of the structure, wiring, and systems. Selected 767 will be getting new engines and new military avionics including a state-of-the-art glass cockpit along with new self-protection systems and other systems that are tailored to meet the IAF's specific requirements.
HAL believes the present requirement for six Flight Refueling Aircraft (FRA) won't be enough and IAF might eventually have to procure 18 FRA that can be configured also for troop movement, cargo transfers if required can be equipped with ELINT, SIGINT, and ESM sensors to serve as a communications hub or as a Command & Control post.
Airbus A330 MRTT Bid
Airbus won twice IAF's tender for the supply of six A330 Multi Role Tanker Transport but both the time's aircraft was deemed too costly by the finance ministry. IAF had proposed leasing one A330 from the French Air force and the rest from the Airbus but the proposal is likely to be shelved now due to complex lease agreements.
Another Proposal offered by Airbus was for 6-year-old Civilian A330s converted into MRTT, but the conversion costs could have been around $240 million while the brand new Airbus A330 MRTT could cost $325-340 million which IAF feared could have also deemed too costly by the finance ministry.
IL-78MKI Bid
Distant second always was the Russian IL-78MKI mid-aerial refueling tankers in all bids and being nearly three times cheaper than A330 it was already equipped with the IAF but the present fleet suffers from high downtime and always suffered from the poor supply of spares due to which it was always ignored. Another notable issue was that strict noise and emissions standards imposed by the International Civil Aviation Organization (ICAO) resulted in the IL-76 and IL-78 being forced to fly non-civilian routes whenever they had to be deployed abroad for military exercises.
KC-46 Pegasus Bid
Boeing refused to submit their bids on two occasions since their product was ready but when it had a stable product, the company wanted to conclude a deal under the direct Foreign Military Sales (FMS) program but KC-46 is based on the 767 jet airliner came at a much cheaper cost at around $250 million when compared to A330 that has longer range and endurance but talks were never held officially on sale of this planes.
NOTE : Article cannot be reproduced without written permission of idrw.org in any form even for YouTube Videos to avoid Copyright strikes