SOURCE: API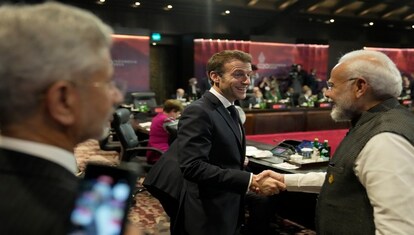 Tomorrow, French President Emmanuel Macron will host a working lunch for Prime Minister Narendra Modi as close allies deepen bilateral cooperation from the seafloor to space.
According to sources in Bali and New Delhi, President Macron and Prime Minister Modi will discuss the Ukraine war, as both have been in constant contact about how to end the conflict and pave the way for peace in Europe. Both leaders have also spoken on the phone with Russian President Vladimir Putin and Ukraine President V. Zelenskyy to give peace a chance as the war enters its ninth month with no end in sight.
While the two leaders discuss pressing issues such as terrorism, alternative global supply chains, and climate change, India and France are forging trilateral relationships with close allies such as Australia, the United Arab Emirates, and Far Pacific island nations. The French Indo-Pacific strategic document places India at the centre of bilateral cooperation, as President Macron sees India as the key to addressing the Indo-Pacific challenge. Following PM Modi's lunch, President Macron will meet Australia's Prime Minister, Anthony Albanese, as both countries work to rebuild ties after the AUKUS debacle.