SOURCE: SATYAJEET KUMAR/ FOR MY TAKE / IDRW.ORG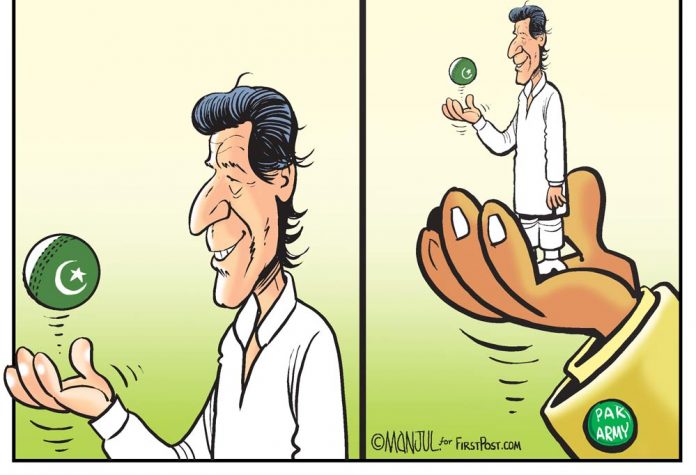 Pakistan foreign minister Shah Mahmood Qureshi while talking to media said that decision taken by India to remove special status of Indian administered Kashmir was the biggest blunder committed by India which has Internationalize the Kashmir Issue and even went in to say that Indian Prime Minister Modi has gone Mad. Selected Prime minister of Pakistan Imran Khan Niazi has been on a ranting spree about RSS+Modi+Hitler for committing a Hypothetical genocide in Kashmir.
Latest Pakistani media scan even suggests why Pakistan is reaching a delusional level even when nothing much of support is coming their way from the International community. Many are happy that Kashmir after a long time has been in international limelight but the fact is Kashmir has been under International limelight forever in recent times, especially after Uri, Surgical strikes, and Pulwama and Balakaot airstrikes so what's new now even many Pakistani can't answer.
Pakistan has been vocal of removal of Special status to Union Territory of J&K but Pakistan military in its statement has said that they were never in favor of the implementation of Art370 or Art35A nor its removal so why Pakistani government is creating such a noise over its removal ? . The second issue for Pakistani government and media is that with a curfew in place not much demonstration or violence has been taking place in the valley and they want India to remove them so that suppressed Kashmiri can come on streets and protests as if democracy allows violent protests everywhere in the world.
Kashmir Valley has seen worst kind of Curfews which have lasted close to three months in the past. The 1990s was the worst phase of terrorism when civilians, forces, and terrorists were killed daily when India was in the worst state of affairs still India managed to kill Kashmir of Terrorists and even managed to keep it low, Kashmir valley has not seen those days yet and by how India is managing things in the valley doesn't look like it ever will no matter how Pakistan plans to create trouble in the valley.
With Pakistan fast running out of options in multiple arenas. Insane and lunatic suggestions have been coming from all side of the section of the Pakistani media some even suggesting the start of Mythical Ghazwa-e-Hind, which is the last battle of India after it becomes an Islamic State. Other are predicting the fall of Kashmir along with other states. this high horse bullshit that Muslims are superior to Kafirs have seen 4 wars on Kashmir yet Kashmir is still with India and now with Pakistani military not willing to fight the fifth war with India, level of delusion thinking is at peak and the common man is made to believe that there are actually winning the war against India and Kashmir will soon join Pakistan. state of delusional thinking which has kept them preoccupied for the last 72 years without any results is likely to keep them busty for next few weeks before reality hits on the face and shows that their current selected PM has not delivered on what he has promised.
Disclaimer : Articles published under " MY TAKE " are articles written by Guest Writers and Opinions expressed within this article are the personal opinions of the author. IDRW.ORG is not responsible for the accuracy, completeness, suitability, or validity of any information on this article. All information is provided on an as-is basis. The information, facts or opinions appearing in the article do not reflect the views of IDRW.ORG and IDRW.ORG does not assume any responsibility or liability for the same. article is for information purposes only and not intended to constitute professional advice .
Article by SATYAJEET KUMAR ,  cannot be republished Partially or Full without consent from Writer or idrw.org