SOURCE: GIRISH LINGANNA / FOR MY TAKE / IDRW.ORG.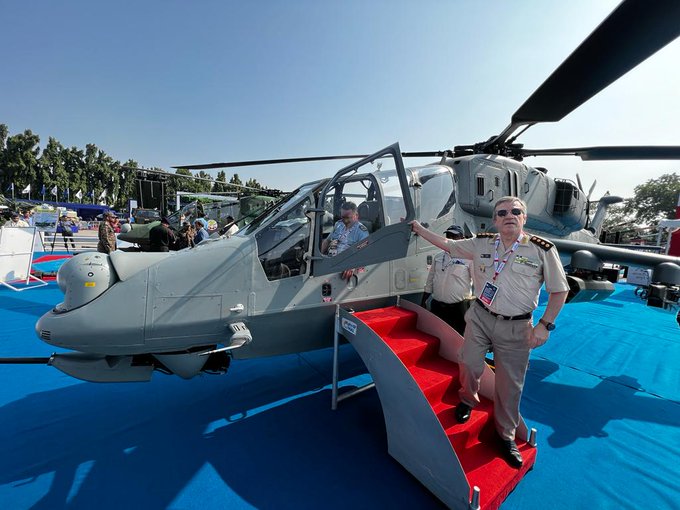 Argentina, the eighth largest country in the world, together with Chile and Bolivia, forms the Lithium Triangle. The Lithium Triangle accounts for more than 70 per cent of global lithium reserves. However, Argentine mining operations have been less than stellar, currently providing barely 15 per cent of the global output.
The Argentine government is bullish on lithium mining as the market is expected to double by 2028 to USD 7 billion. And Hindustan Aeronautics Limited's (HAL) Light Combat Helicopter (LCH) Prachand can enable their Lithium dream.
Abundant White Gold Abandoned
Lithium, the Argentine white gold, is distributed across Argentina, Bolivia and Chile, roughly 25 per cent, 15 per cent and 14 per cent, respectively. However, in 2021, Chile exported USD 1 billion worth of Lithium, while Argentina could only export USD 200 million. Lithium alone has the potential to form over 3 per cent of the Argentine GDP, five times the current 0.6 per cent.
Lithium might not have a futures market, continues to be input for a variety of industries: batteries, glass and ceramics, lubricants, medicine, metallurgy and polymers. With the global push for electric cars, the demand for Lithium will increase.
Northwest of Argentina lies the Atacama plateau, with an average elevation of 4,500 m. It is common for visitors to suffer from altitude sickness due to a decrease in oxygen levels. In Argentine employ, Leonardo AW169 can fly at most 4,800 m, the Airbus H225 at 4,000 m, Bell 427 at 3,000 m and MD500 at 4,800 m. The Bell Model 412, Airbus H125, and Airbus H135 have more than 5,000 m in service ceilings. This severely limited airpower to access the plateau's lithium reserves has impacted the country's exploration activity. Since the lithium activities picked up in the 1990s, Argentina has not actively invested in fostering the industry. The latest government has been bringing a wave of change. And now, this wave is at the Indian shores to shop for the HAL LCH Prachand.
Between Hell and Hope: HAL Helicopters
The latest HAL LCH Prachand helicopter has the potential to answer Argentina's lithium exploration needs. Its 6,500 m service ceiling can effortlessly fly over the Atacama plateau. HAL has also fitted it with state-of-the-art avionics: Elbit CoMPASS optoelectronic suite and Saab radar and laser warning system.
With a stellar product line on paper, off-late HAL helicopters suffer from frequent crashes. In South America alone, HAL has been exporting to various countries. Infamously, Ecuador indefinitely grounded its entire HAL Dhruv, on which the LCH Prachand is based, after multiple crashes. The helicopters were last known to be up for sale by the Ecuadorian government.
On 21st October 2022, HAL Advanced Light Helicopter (ALH), in service with the Indian Army, crashed in Arunachal Pradesh. The crash claimed five lives, adding to a growing list of helicopter fatalities. This year, India also lost its Chief of Defence Staff in a helicopter crash in southern India. The ALH Rudra Mark IV is also based on the HAL Dhruv, like the HAL LCH Prachand. Since 2017, more than 30 people have lost their lives in helicopter crashes.
There is a growing call from the Indian defence community to increase helicopter safety standards. There is a need for obstacle avoidance systems. The tough, rugged terrains of the mountainous expanse of the country beget solutions that allow pilots to see through clouds of smoke and dust roiled up by a helicopter downwash. Degraded Visual Environment (DVE) sensors are equipped onto American helicopters like the Pave Hawk search and rescue helicopter. It fuses real-time data from an array of sensors, including millimetre wave radar, light detection and ranging (LiDAR), infrared cameras and various apriori digital terrain data, which provides the pilot with a synthetic vision through extreme weather like rain, fog, smoke, dust, etc.
According to the HAL website, only the ALH Mark IV features an obstacle avoidance system. This unknowingly exposes the priorities of the company. Given that a helicopter is an extremely complex aircraft with no ejection seat system, the lack of prioritising the safety of passengers is unnerving.
While Argentina looks to HAL for a comprehensive defence partnership beyond the Light Combat Aircraft (LCA) Tejas, HAL's infamous record automatically attaches itself. With no visible efforts to prioritize safety, HAL is collectively losing the trust of the Indian and global defence communities. Argentina can unlock its true lithium potential through HAL, provided HAL can translate the features on paper to the real world along with equally extraordinary reliability.
Disclaimer : Articles published under " MY TAKE " are articles written by Guest Writers and Opinions expressed within this article are the personal opinions of the author. IDRW.ORG is not responsible for the accuracy, completeness, suitability, or validity of any information on this article. All information is provided on an as-is basis. The information, facts or opinions appearing in the article do not reflect the views of IDRW.ORG and IDRW.ORG does not assume any responsibility or liability for the same. article is for information purposes only and not intended to constitute professional advice .
Article by GIRISH LINGANNA , cannot be republished Partially or Full without consent from Writer or idrw.org