SOURCE: GIRISH LINGANNA / FOR MY TAKE / IDRW.ORG.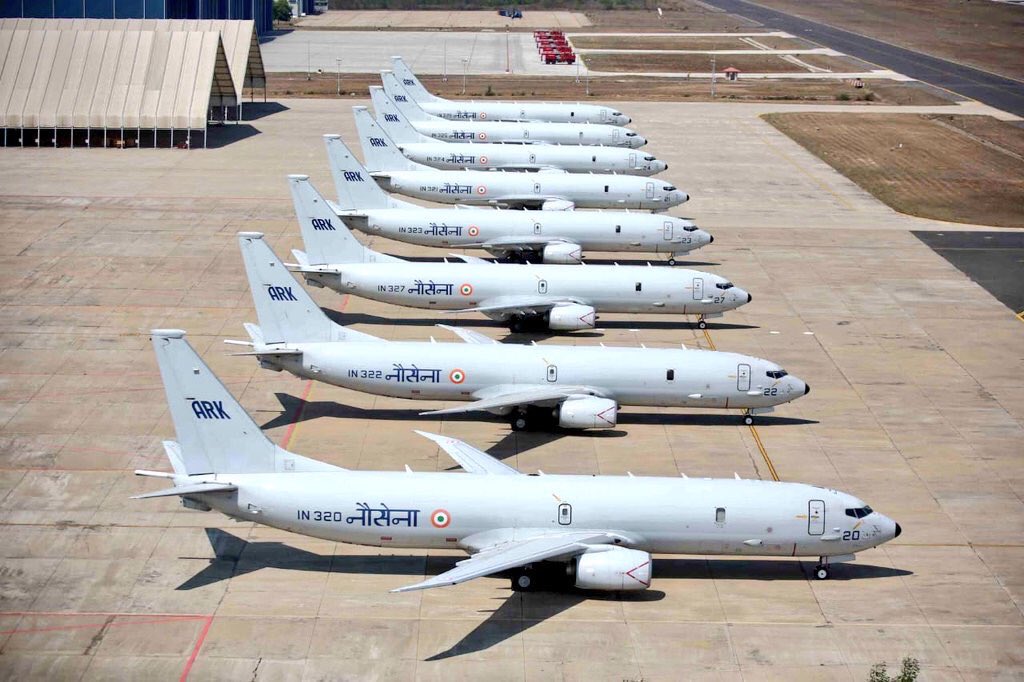 The INS Rajali, which is also known informally as the Arakkonam Naval Air Station (IATA: N/A, ICAO: VOAR), is near Arakkonam in the Ranipet District of Tamil Nadu in South India. It is run by the Eastern Naval Command of the Indian Navy, located in Vishakhapatnam. It has the longest military airstrip in Asia.
During World War II, the Allies built the airfield at Arakkonam at the beginning of 1942. Between May and September 1942, the No. 2 Squadron of the Royal Indian Air Force flew support missions for the British Indian Army in Westland Lysander planes. This was the first time that air operations were recorded at the field.
After the war, the airfield was left empty, and it wasn't used again until the 1980s, when the Indian Navy took it over. They fixed it up and named it INS Rajali. On March 11, 1992, the INS Rajali went into service. Captain RS Vasan was in charge, and he later retired as a commodore after being sent to the Coast Guard to be the regional commander of the Coast Guard East Region.
Anti-submarine squadron INAS 312 is based at the newly built air base. It was shifted from INS Hansa in Goa. On April 16, 1988, Sri K. C. Pant, who was Minister of Defense at the time, handed over the Tupolev Tu-142 MK-E to the squadron. Albatross, which is what they are called, celebrated their 25th anniversary of becoming a member at Rajali. They have been retired now. The P8i Poseidon has now taken over from the TU 142 M.
The Helicopter Training School used to be on the INS Garuda in Kochi. In July 1991, the school moved to Rajali, where it has been training Navy and Coast Guard helicopter pilots ever since.
The INS Rajali has a runway that is 9.4 km long and covers an area of 2320 square metres.
Creation of INS Rajali
This history is recorded in the account of Vice Admiral Vinod Pasricha on Frontier India. During his trip to Chennai at the end of 1983, Flag-Officer -in 'Chief , Eastern Naval Command (FOC-in-C ENA)VAdm Roy took a helicopter to Arakkonam. He saw a strip that was completely empty and had no walls around it. Villagers were walking across the runways to get to Arkonam city faster.
When VAdm MK Roy got back to Vizag, he told a group of officers to start building a TU-142 airbase right away. Arakkonam was split into six areas:
a) operational areas, which had hangars, distribution points, workshops, air stores, and plenty of room to grow.
b) The centre has all the offices, the ATC, and the hospital.
c) Officers' mess and lodging, with an institute and a golf course just a short walk away.
d) Multi-storied flats for 1500 sailors, parks and gardens. (Even though the approved number of people was only 580, PMB approved housing for the approved number of people. So, sailors could choose which house or floor they wanted for the first time in IN history!)
e) Rooms for sailors who live on board and DSC staff.
f) Schools, canteens, a movie theatre, and other places to have fun were built in the middle of all residential areas.
The INS Rajali project was completed in a record three years and commissioned on March 11 1992, by President R Venkataraman.
On "Committing Day," the runway wasn't completely ready because the contractor left without finishing his work. Then, Border Roads Organisation (BRO) took over and finished it in four months. Even though TU-142s were supposed to start flying as soon as INS Rajali was put into service, they couldn't do so until the main runway was finished. However, the first official landing was done on Commissioning day after some practice.
Before the Monsoons, The helicopter Training School moved from Kochi to Arakkonam. It was housed in the maintenance hangar until its own hangar was ready. So, the training course was done earlier than scheduled.
Rajali is one of the few defence projects that was not only finished on time but also did not cost more than what was approved.
INS Rajali as a reconnance base
On November 8, 1976, the Indian Navy's First Maritime Reconnaissance Squadron went into service with five Super Constellations that had been used by the Indian Air Force. Squadron Leader R. D. Dhir was in charge of the group. At first, the squadron was based at INS Hansa in Goa. The Super Constellation was no longer made after 1983. The Tupolev 142M was given to the squadron on April 16, 1988, by Defense Minister KC Pant. Since then, the Albatross has led the Indian Navy's maritime reconnaissance (MR) efforts because it was so good at it. It was also the fastest turboprop in the world. Albatross remained the aircraft of choice in the Indian Navy for long-range reconnaissance, anti-submarine warfare, and ESM/EW until P-8I arrived. This is because the equipment is constantly updated, and new technologies were added. The squadron moved to INS Rajali in Arakkonam in April 1992 and has been there ever since. On March 7, 1992, the first TU142M arrived at Rajali.
On November 13, 2016, Indian Defense Minister Manohar Parrikar officially inducted a Boeing P-8I Poseidon aircraft, designated 312-A, at INS Rajali. The new unit with P-8I will reside at INS Rajali for good. The P-8 is a maritime patrol plane that can do many different things well. It is especially good at anti-submarine warfare, anti-surface warfare, intelligence, surveillance, reconnaissance, and search and rescue.
At a ceremony on March 29, 2017, at INS Rajali, Admiral Sunil Lanba took the Tupolev Tu-142M planes out of service for the Indian Navy.
The Tupolev Tu-142M was used in Operation Cactus in the Maldives, Operation Vijay in 1998, Operation Parakram in 2002, and anti-piracy operations from 2011 until it was taken out of service.
Two P-8I planes were stationed at a military base in the Andaman and Nicobar Islands for two weeks in January 2016. This was done because Chinese conventional and nuclear submarines had been infiltrating in the Indian Ocean over and over again.
From March 20–23, 2016, a P-8I went to Seychelles to keep an eye on the EEZ of Seychelles. It was the first time that a P8I plane was sent to Seychelles.
On April 15, 2016, about 800 nautical miles from Mumbai, a pirate attack on the high seas was stopped by a P-8I flying over a merchant ship that was being attacked by a pirate mother ship and two boats. The MV Sezai Selah, a merchant ship with a flag from Malta, sent out a distress call on Channel 16's international distress radio. The P-8I was already in the Arabian Sea on a planned surveillance mission when it heard the call. The mother ship of the pirates and two speedboats came close to the merchant ship. The P-8I took action right away and sent out warning signals on channel 16 as it flew over the pirate boats. The pirate boats were scared and changed course.
In 2020 and 2021, when the standoff with China was at its peak, P-8Is were used in eastern Ladakh to keep an eye on Chinese troops.
On February 24, 2022, Boeing delivered India its 12th P-8I maritime surveillance and anti-submarine warfare plane. The Navy's fleet has flown more than 29,000 hours since they were put into service in 2013. They are responsible for patrolling the coast, searching for and saving people, stopping pirates, and helping other parts of the military do their jobs.
INS Rajali will remain the most important surveillance facility in the Indian Ocean for India.
Disclaimer : Articles published under " MY TAKE " are articles written by Guest Writers and Opinions expressed within this article are the personal opinions of the author. IDRW.ORG is not responsible for the accuracy, completeness, suitability, or validity of any information on this article. All information is provided on an as-is basis. The information, facts or opinions appearing in the article do not reflect the views of IDRW.ORG and IDRW.ORG does not assume any responsibility or liability for the same. article is for information purposes only and not intended to constitute professional advice .
Article by GIRISH LINGANNA , cannot be republished Partially or Full without consent from Writer or idrw.org