SOURCE: SATYAJEET KUMAR/ FOR MY TAKE / IDRW.ORG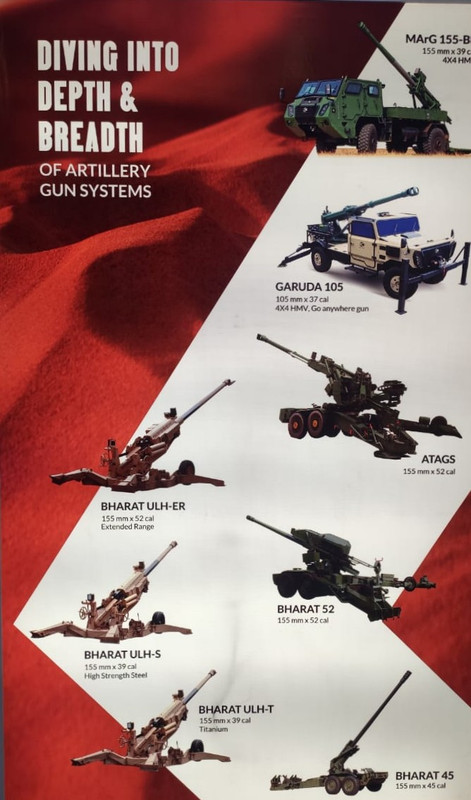 With the introduction of the Bharat ULH-ER, an 8-ton 155 mm x52 cal extended Range Artillery, the Kalyani group now has 8 different Artillery guns under its portfolio but it took export orders from Armenia to shake up the slow process that the Indian Army calls its World famous Internal trials to get called out for being a way to slow when it comes to indigenous weapons systems.
Since 80's Indian Army inducted the Original 155mm Bofors gun and since then it has inducted two more imported Artillery guns which were the British M777 and Korean K-9 Vajra systems which cleared user trials in much shorter duration even though they were incidents of barrel burst that were conveniently blamed on the ammunition supplied by the OFB.
Upgraded Bofors called Dhanush got minuscule orders even when 50% of the Bofors guns are in disarray and even their induction was stopped due to quality control issues that warranted another 2 years of testing and trials.
Bharat-45 and Bharat-52 are based on the framed GC-45 howitzer, developed by Austrian Maschinenfabrik Liezen (MFL) that was widely exported and sold the world over that is still operational in many Armed forces was ignored completely by the Indian Army.
Kalyani Group built Garuda V2, a 105 mm gun mounted on a light vehicle chassis for added mobility. Kalyani Group also developed 155 mm, 39-calibre Bharat ULH-S (High Strength Steel) and 155 mm, 39-calibre Bharat ULH-T (Titanium) and also introduced MArG 155-BR a 4×4 HMV-based Bharat ULH-S.
ATAGS 155 mm x 52 cal was jointly developed with DRDO and has been undergoing testing for the last few years still, Army is calling for more changes when it facing two front war-like situations that are unlikely to materialize orders for the gun anytime soon.
Kalyani Group slowly has built an entire portfolio of Artillery guns that are required by any Armed forces locally over the last few years but still, it has received no orders from the Indian Army, while it is keen on expanding more orders for the Korean K-9 Vajra systems for mountain region knowing very well that a 50-ton system lacks the mobility to reach mountain terrain.
Disclaimer : Articles published under " MY TAKE " are articles written by Guest Writers and Opinions expressed within this article are the personal opinions of the author. IDRW.ORG is not responsible for the accuracy, completeness, suitability, or validity of any information on this article. All information is provided on an as-is basis. The information, facts or opinions appearing in the article do not reflect the views of IDRW.ORG and IDRW.ORG does not assume any responsibility or liability for the same. article is for information purposes only and not intended to constitute professional advice .
Article by SATYAJEET KUMAR , cannot be republished Partially or Full without consent from Writer or idrw.org