SOURCE:  DEEPAK HILORI/ FOR MY TAKE / IDRW.ORG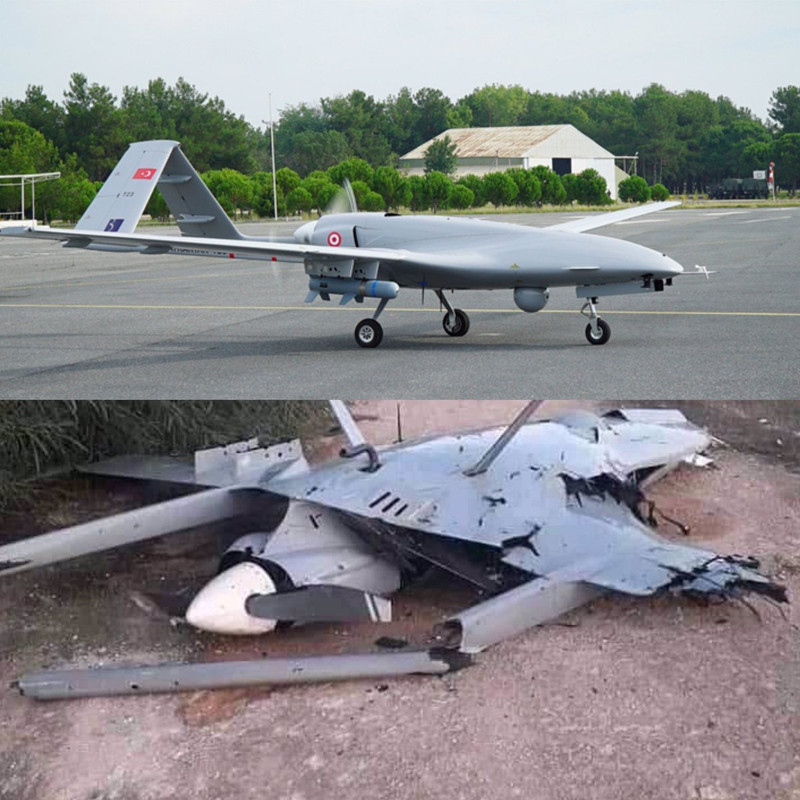 Bayraktar TB2 reconnaissance and strike unmanned aerial vehicles manufactured by the Turkish Baykar Teknoloji company first came into the limelight when War erupted between Armenia and Azerbaijan over the region, resulting in roughly thirty thousand casualties and creating hundreds of thousands of deaths. Bayraktar TB2 was instrumental in hitting the Armenian positions and causing significant damage to the Armenian military.
Armed Drones always have been hogging limelight after American Predator drones started taking out strategic targets in Afghanistan, Syria, Iraq, and Pakistan but a price tag of nearly close to $100 million meant that not many could afford it, then came reports of the major success of the Bayraktar that became an instant hit in the export market, especially with countries that are having smaller airforce's and with the advent of low cost $3-5 million per unit, Bayraktar became an instant success thanks largely due to hyper PR activities carried out by its manufactures.
At the start of the Ukraine war, Russian Air Defence was scrambling to put together proper tactics to take on threats it was facing from the Bayraktar TB2 drones and in a matter of few weeks, TB2 started proving to its detractors why it was just hype as most of them were lost in once Russia put its act together and started taking them out.
Ukrainian sources confirm that the Bayraktar survival rate had fallen to just 7 days once they start flying in combat operations and instead it was decided to conserve them to reduce their roles in attack missions and keep them concentrated on reconnaissance roles or for providing data for pinpoint artillery fire. Bayraktar became increasingly ineffective because Russia has improved its defense systems and has downed and jammed many over the last few months.
Russians are using warning radars to identify the drones and electronic warfare systems to jam and Air Defence systems to destroy them. Bayraktar is slow-moving and also flies low due to which its interception has become much easier.
Indian Military Planners never showed much enthusiasm to arm UAVs for use in conflict even when Bayraktar's success was hogging all the limelight. Indian Military Planners were sure that the MALE Class Armed UAS system has little chance of survival in highly dense combat operations when it is backed by Air Defence Systems. Ukraine war just proved them right but they did take considerable interest in upping the intake of loitering ammunition after studying their usage in the Armenia and Azerbaijan conflict.
Indian military always had Israeli loitering ammunition in its arsenal but it encouraged Indian private sector companies to develop ones locally and has achieved great success with over a dozen companies developing loitering ammunition for the Indian military in a short period with many inducted and many ordered, Indian military planners have bet on loitering ammunition over Armed Drones for future battlefield operations and the recent success of Iranian loitering ammunition in Ukraine just proved them right.
Disclaimer : Articles published under " MY TAKE " are articles written by Guest Writers and Opinions expressed within this article are the personal opinions of the author. IDRW.ORG is not responsible for the accuracy, completeness, suitability, or validity of any information on this article. All information is provided on an as-is basis. The information, facts or opinions appearing in the article do not reflect the views of IDRW.ORG and IDRW.ORG does not assume any responsibility or liability for the same. article is for information purposes only and not intended to constitute professional advice .
Article by DEEPAK HILORI , cannot be republished Partially or Full without consent from Writer or idrw.org