SOURCE: DINESH BEHARA / FOR MY TAKE / IDRW.ORG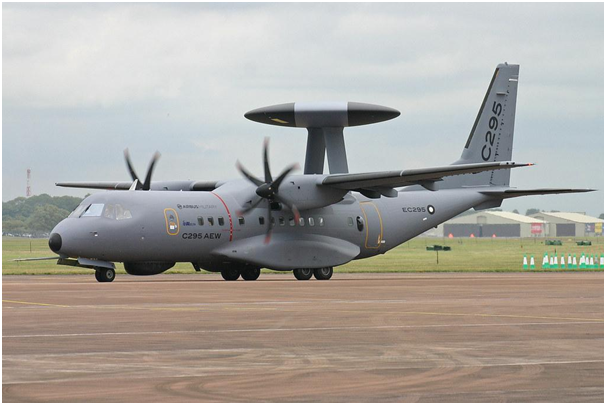 A lot has been already said & discussed the about importance of the TATA-Airbus deal to procure 56 C-295 military transport aircraft for the Indian Air Force, of which 40 are to be produced in India [1]. We know how the deal would benefit the local manufacturing, supply chain, indirect/direct jobs, MRO facility, etc. Now without focusing much on this regard, let's figure out how the election of C-295 can be as further proven as pivotal.
The primary question that arises is why C-295?
Let's take a look at the contemporaries of C-295.
Alenia C-27J Spartan
Antonov/ Taqnia An-132
Ilyushin 11-112
All these aircraft are almost comparable in operational parameters and in size to the Airbus C-295. The Russian Ilyushin Il-112 was offered to India for joint production [2]. But there are 2 specific reasons that make C-295 standout.
Compared to other OEMs Airbus is a leading aeronautical establishment, so there will not be an issue with modernization and spare parts supplies.
Airbus C-295 offers greater flexibility in its mission configurations and also offers many variants than its contemporaries.
Our main emphasis is on the availability of the variants and how this can prove to be pivotal. Let's glance at the variant of C-295 [3].
Armed/Ground ISR
Water Bomber
MPA/ASW
SIGINT
AEW&C
Air to air refueling
VIP transport
Medical evacuation
C-295 has a lot to offer in its variants. But from the Indian perspective, the ASW and the AEW&C hold significant value. Since India is exploring options to either purchase or indigenously produce these types of aircraft.
AEW&C
India requires AEW&C aircraft and there were reports that due to delays in acquisition. IAF was planning to lease these aircraft [4]. Indian Air Force currently operates Beriev A-50EI and Netra AEW&C aircraft. Netra radar by DRDO is mounted on the Embraer ERJ-145 aircraft from Brazil [5] and A-50EI is based on the Russian Ilyushin IL-76 aircraft and Israeli Phalcon radar is mounted on it.
In both AEW&Cs the procurement of airborne radar and actual planes are from different sources, this makes procurement a skewed process. But having C-295 production in India will make things advantageous, we just need to integrate the radar; which can be either from Israel or Indigenous radars.
ASW
The Indian Navy operates Boeing P-8i Neptune for its ASW roles. Outside the USA, the Indian Navy operates the most number of these aircraft. Boeing has customized the P-8i for the Indian Navy. P-8i has electronic suites, data link equipment from BEL [6], and has Magnetic Anomaly Detector (MAD). Even the Boeing P-8A Poseidon from which the P-8i has been derived doesn't have MAD [7]. The P-8i is an Excellent SIGNIT aircraft, and we have seen that during the Doklam Standoff [8]. India Navy anticipates acquiring 6 additional P-8i [9]. This makes the C-295 pivotal, as the need for the ASW aircraft can be fulfilled by C-295 with an assembly line in India.
Airbus C-295 is a small aircraft compared to Boeing P-8i. Also, C-295 is powered by turboprop engines whereas turbofan engines are in the case of the P-8i. Turboprop Aircraft have advantages for their relatively slow speed, which is very important in ASW operations or littoral warfare as it increases the loitering time.
CONCLUSION
Israel's Elta systems limited is providing the EL/W-2090 AESA radar and the ELM-2022A Multi-mode maritime search radars to Airbus for the ASW and AEW variants of C-295s in the international market [10] [11]. But with the MRO facility, we can develop and integrate variousmission suites indigenously involving PSUs such as BEL, DRDO, etc. and radars can be procured from Israel in case of our indigenous programs for developing radars are getting delayed since Israeli Phalcon radars are considered to be the best radars in the world [12].
In both cases i.e. AEWs and ASWs are required for the Indian Airforce and Indian Navy respectively. Airbus C-295 can fulfill the need for a base platform for both types. Based on C-295, a Maritime Patrol Aircraft (MPA) variant can also be conceived for Indian coast guards.
In a nutshell having a manufacturing plant of an aircraft that can serve as a base platform for various types of systems, will prove to be pivotal.
References
Image: https://www.flickr.com/photos/ajw1970/6843652301/in/photostream/
[1]
https://indianexpress.com/article/explained/explained-c295-aircraft-tata-airbus-features-8238509/lite/
[2]
https://www.rbth.com/economics/cooperation/2016/09/13/russia-displays-special-features-of-il-112-to-india_629463
[3]
https://www.airbus.com/en/products-services/defence/military-aircraft/c295
[4]
https://www.indiatoday.in/india/story/indian-air-force-to-lease-airborne-early-warning-aircraft-drdo-indigenous-aircraft-2000891-2022-09-16
[5]
https://capsindia.org/prioritisation-of-awacs-for-the-iaf/
[6]
http://www.thehindu.com/news/national/article971992.ece
[7]
https://www.sps-aviation.com/exclusive/?id=283&q=Indian-Navy-pleased-with-P%968I-performance-on-first-op-deployment
[8]
https://www.hindustantimes.com/india-news/indian-navy-deployed-p-8i-anti-submarine-aircraft-to-keep-eye-on-chinese-troops-during-doklam-face-off-gen-rawat/story-R2D5S4AFdXUCjc8b4eKXOK_amp.html
[9]
https://www.businessworld.in/article/Indian-Navy-Re-initiates-Stalled-Programme-To-Buy-6-More-P8I-Aircraft-From-US/09-12-2022-457370/
[10]
https://en.m.wikipedia.org/wiki/EADS_CASA_C-295
[11]
https://www.naval-technology.com/news/newselta-systems-deliver-elm-2022a-maritime-radars-undisclosed-customers/
[12]
https://man.fas.org/dod-101/sys/ac/row/phalcon.htm
Disclaimer : Articles published under " MY TAKE " are articles written by Guest Writers and Opinions expressed within this article are the personal opinions of the author. IDRW.ORG is not responsible for the accuracy, completeness, suitability, or validity of any information on this article. All information is provided on an as-is basis. The information, facts or opinions appearing in the article do not reflect the views of IDRW.ORG and IDRW.ORG does not assume any responsibility or liability for the same. article is for information purposes only and not intended to constitute professional advice .
Article by DINESH BEHARA , cannot be republished Partially or Full without consent from Writer or idrw.org