SOURCE: IANS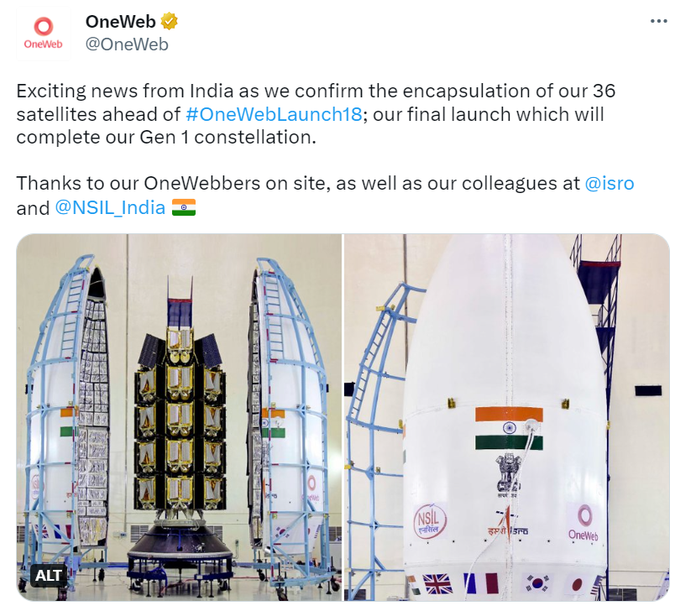 The second batch of 36 satellites belonging to the UK-based Network Access Associated Ltd (OneWeb) has been fitted inside the Indian rocket LVM3's heatshield. In a tweet, OneWeb said: "Exciting news from India as we confirm the encapsulation of our 36 satellites ahead of #OneWebLaunch18; our final launch which will complete our Gen 1 constellation. Thanks to our OneWebbers on site, as well as our colleagues at @isro Aand NSIL_India."
The Indian rocket is expected to fly off with the OneWeb satellites this month end.
The first batch of 36 satellites was launched on October 23, 2022 from Sriharikota rocket port in Andhra Pradesh with LVM3 rocket formerly known as Geosynchronous Satellite Launch Vehicle MkIII (GSLV MkIII).
ISRO's commercial arm NewSpace India Ltd (NSIL) has signed a contract with OneWeb to launch 72 satellites in two phases for a launch fee of over Rs 1,000 crore, OneWeb Chairman Sunil Bharti Mittal had said last October.
A couple of days back, OneWeb had launched 40 satellites through SpaceX's rocket.
OneWeb has 582 satellites now in orbit. Once Indian rocket LVM3 puts into orbit 36 satellites then the total number of OneWeb's low earth orbit satellites will go up to 618.
The company backed by India's telecom major Bharti Group will complete global footprint of its Gen 1 constellation with a launch set to take place later this month with ISRO/NSIL.