SOURCE: API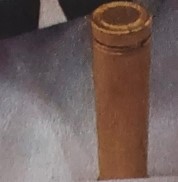 Ordnance Factory Khamaria (OFK) has successfully developed a power cartridge named PP 3, which activates the fire fighting system in army helicopters and fighter aircraft such as MiG. The OFK has prepared a large number of these cartridges, and the supply to the Air Force will commence once the order is received.
The cartridge's main function is to activate the electric extinguisher system, which is attached to the pilot of the fighter aircraft. This cartridge is designed to depressurize it when it senses that the aircraft is prone to fire while operating, activating the on-board fire extinguisher system immediately. It creates pressure in the system to extinguish the fire.
Until now, the cartridge was manufactured by private companies, but the limited supply led to a lack of interest from private manufacturers. The mechanical components were manufactured, but the cartridge's quality often failed. Consequently, the Air Force has authorized OFK to manufacture this equipment for its fighter aircraft and helicopters.
The A-5 and F-1 sections were responsible for this development. Experts associated with the project stated that there was no set technology to follow, but they prepared it using engineering in the interest of the country.