SOURCE: RAUNAK KUNDE / NEWS BEAT / IDRW.ORG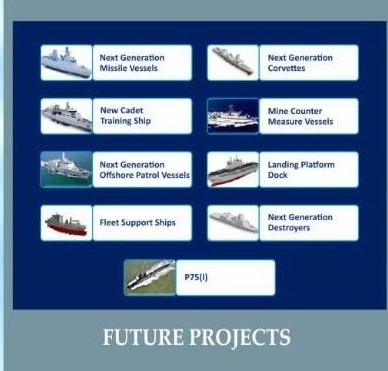 Indian Navy has recently been picking up pace in terms of procurement of warships amid the growing Chinese navy intrusions in the Indian Ocean Region (IOR), a battle to secure transits lines in the Indian Ocean will mean in the immediate future IOR will be the next battleground for Indian and Chinese navy.
Indian Navy has decided to start 8 new future projects that will help Indian Navy to beef up its capabilities and continue its dominance in the region.
New Cadet training ship: Indian Navy plans to procure Three Cadet Training Ships (CTS) to provide a state-of-the-art training platform for cadets to gain skills, experience the environment, and hone their skills.
Next Generation Offshore Patrol Vessels (NGOPVs): Indian Navy plans to procure Six Next Generation Offshore Patrol Vessels (NGOPVs) class of ships from the Indian Shipyards. Next Generation Offshore Patrol Vessels (NGOPVs) will be used for the Protection of Offshore Assets, Maritime Interception Operations (MIO) and Board, Search and Seizure (VBSS) operations, Presence-cum-surveillance Missions, Mine Warfare (through modular payload) Helo Operation and Support of Special Operations.
Mine Counter Measure Vessels (MCMVs): Indian Navy which has no active minesweepers since 2019 in its fleet is looking to procure initially 4 MCMVs that can be used to locate, classify and neutralize all types of ground and moored mines and in total 12 in the long term for which it had issued a request for information (RFI) that will be developed locally with Goa Shipyard Limited. MCMV will have a Displacement abt. 800 Tons
Next-generation corvettes (NGCs): Indian Navy is looking to procure eight next-generation corvettes (NGCs) for the Indian Navy that will eventually replace the Khukri and Kora class corvettes. As per the AoN accorded by the DAC, these next-generation generation Corvettes will be constructed based on the new in-house design of the Indian Navy using the latest technology of ship buildings.
Next Generation Missile Vessels (NGMVs): Cochin Shipyard Limited (CSL) will be building six NGMVs that will be armed with the latest BrahMos Anti-ship cruise missile and will be delivered in 5-6 years next.
Fleet Support Ships: Hindustan Shipyard Limited (HSL) will build five 45,000-tonne fleet support vessels for the Indian Navy. Support Vessels will ensure the continued operational readiness of Task Groups at all times with a supply of fuel, food, ammunition, and spare parts. the first ship is expected to enter the water in 2024.
Landing platform dock: Indian Navy now has plans to buy 2 Landing Platform Docks that can be used for amphibious operations or expeditionary warfare missions. LPD has a dual role in peacetime and during hostilities and can be used for humanitarian assistance and disaster relief in the region or used for landing troops on the enemy coast or retaking any occupied island.
Next Generation Destroyers (NGD): From 2025, the Indian Navy plans to procure 5 NGDs that will have a displacement of over 13000-tons in the first phase and another 5 in the second phase. NGD will be near twice the size of current Destroyers that are operated by the Indian Navy and will have next-generation weapons systems and propulsion technologies.
P-75I: Indian Navy is keen on acquiring another six next-generation submarines from a foreign OEM that will be made in an Indian shipyard with Transfer of Technology (ToT). Project-75I will be the last foreign submarine program that will be inducted into the Indian Navy after which it plans to procure 12 locally developed conventional submarines based on its design.
NOTE : Article cannot be reproduced without written permission of idrw.org in any form even for YouTube Videos to avoid Copy right strikes