SOURCE: IDRW NEWS NETWORK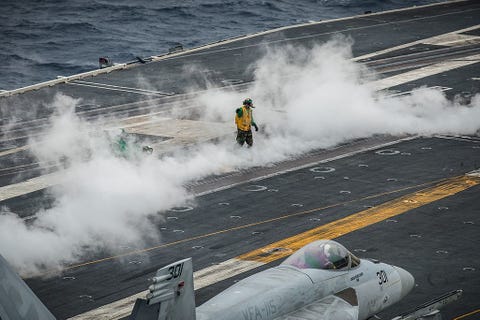 After getting the backing of the Parliamentary Standing Committee on Defence for second Indigenous Aircraft Carrier (IAC-II) to enhance the combat capabilities of the Navy, but due to tighter budgets, Navy has decided to let go of the offer to supply next-generation Electromagnetic Aircraft Launch System (EMALS) and Advanced Arresting Gear (AAG by General Atomics developed system that was cleared by Trump administration in 2017 for India.
U.S. Navy uses magnetism and electricity to launch aircraft from aircraft carriers instead of the steam-powered catapults to launch aircraft and the Indian Navy was quite intrigued by the next generation launch mechanism but unfortunately, EMALS has run into serious developmental issues and fixes are still work in progress. The second issues seem to be the cost, Electromagnetic Aircraft Launch System (EMALS) with 2 launcher configuration and one Advanced Arresting Gear (AAG) has an estimated total cost of $1.321 billion.
The third problem with the EMALS and AAG is that it's integrated and tested only on a Nuclear-powered Super aircraft carriers that are massive and can produce copious amounts of electricity that are required to power them but for the conventionally powered aircraft carriers that are 40% smaller than this American Super aircraft carriers, General Atomics has developed smaller and much more energy-efficient EMALS and AAG system for 65000-ton aircraft carriers but again it yet to tried and tested elsewhere.
Steam-powered catapults are relatively cheaper but require insulated piping to deliver the steam and the whole system is bulky and is a technically challenging system for its crew to maintain and is more expensive to operate in long run. Steam-powered catapults need to be fine-tuned for each aircraft type that is operated from the aircraft carrier more precisely than EMALS that requires years of trial by error and the addition of a new type also complicates the matter. Steam-powered catapults are also prone to human-error-related accidents that can cause serious accidents due to the wrong preset used for launching the aircraft type and have a much slower rate of launch capabilities.
NOTE : Article cannot be reproduced without written permission of idrw.org in any form even for YouTube Videos to avoid Copyright strikes