SOURCE: VISHAL KARPE / FOR MY TAKE / IDRW.ORG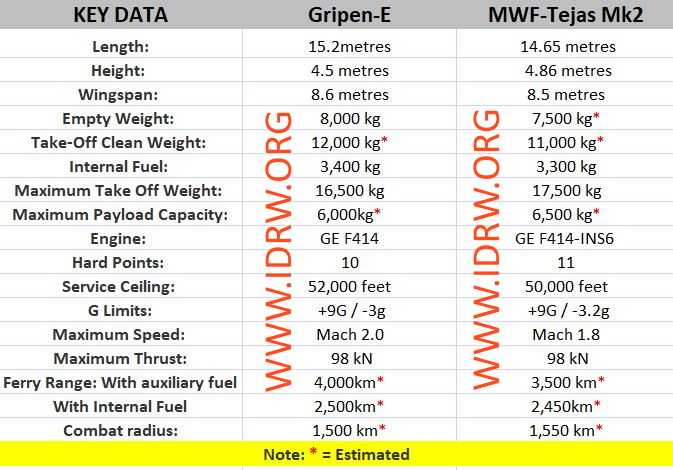 India and Sweden might be only countries left, who are still actively developing a Medium category 4.5+ Generation fighter aircraft in an era of 5th generation stealth fighter jets, while world also is moving towards the development of 6th generation fighter programs. Both Medium Weight Fighter (MWF)-Tejas Mk2 and Gripen E are near clear slate fighter designs based on the previous generation predecessors which will keep them active for decades to come with their respected airforce and it is fair to compare them both.
The above picture gives basic key data of both the aircraft when in direct comparison with each and other and further information in detail will be expanded.
Back Ground
Gripen E program already has got a head start and already three Gripen E testing aircraft have begun flight testing in June 2017 and November 2018, May 2019 respectively. Gripen E program has seen good progress and scheduled first deliveries to the export country will start from the end of 2019.
MWF-Tejas Mk2 program started in 2009 but has gone through two specification revisions since then, but present Air Staff requirement was issued somewhere in 2015 and a new design was completed in 2018 and first metal cutting activity will start by end of 2019 and first fully assembled MWF-Tejas Mk2 Testing aircraft will be ready in 2022 and the first flight has been planned for 2023.
Program Schedules
Gripen E program has been set for initial operational capability (IOC) for 2023 and FOC (full operational capability) status by 2026. The first flight of Gripen-E for the Brazilian air force already has taken place and by 2021 first serial production Gripe-E will be ready for deliveries for the Swedish air force in 2021 onwards.
MWF-Tejas Mk2 program schedules have not been revealed yet but with the production schedule of the program to begin from 2026 onwards, it is expected that IOC to be will be achieved at 2026 and FOC will become a continuous effort which will be achieved by 2029-30. Developers of MWF-Tejas Mk2 program seems to have taken a leaf of the Gripen E program and have planned test program where three pre-production aircraft which will take to air in within a short gap of 8-12 months intervals from 2023 onwards.
Avionics and Cockpits
Smart Cockpit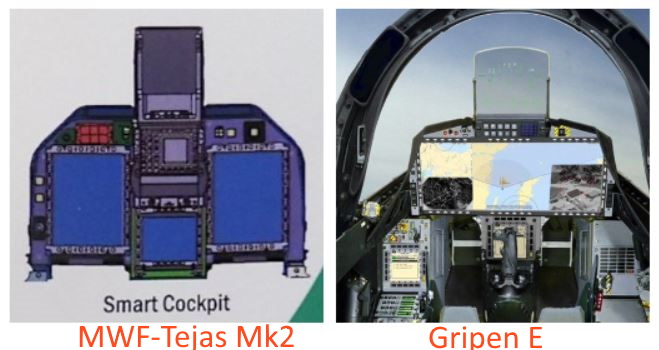 Gripen E will be equipped with a Wide Area Display (WAD) sporting a panoramic high-resolution screen (19 x 8 in). The pilot will provide data fusion on a large wide area display touchscreen, enabling fully-configurable information presentation and the potential for reconfiguration mid-mission by the press of a button.
MWF-Tejas Mk2 will also feature Smart cockpit display with two big touch screen panels and one small Multi-function display.
AESA Fire control Radar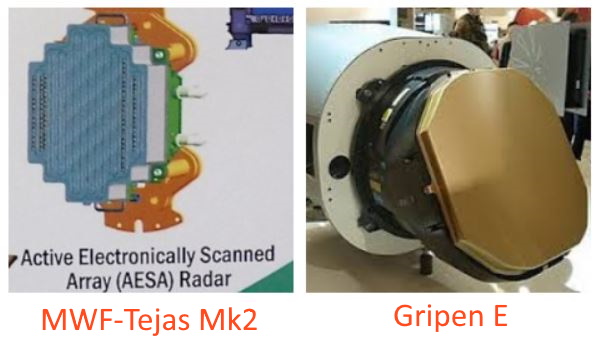 Gripen E will feature Selex ES-05 Raven AESA radar. while exact capabilities of radar are yet not available but promises have been made that it match Captor-E AESA FCR used in Eurofighter Typhoon in many respects or even surpass it in some ways.
MWF-Tejas Mk2 will feature an upgraded UTTAM AESA radar. while exact capabilities of radar are yet not available but promises have been made that it will surpass ELTA-EL-2052 AESA Fire control Radar which is to be used on Tejas Mk1A fighter jets.
Infrared Search and Track (IRST)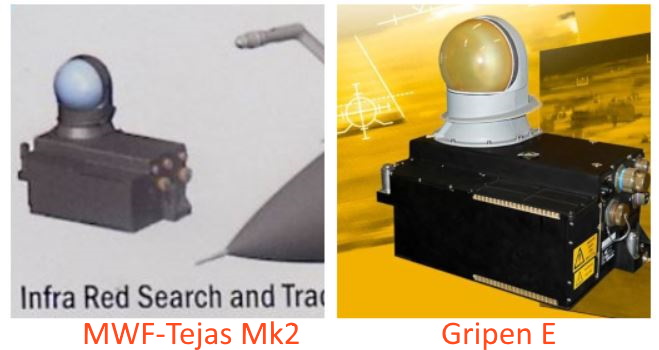 Gripen E features the Skyward-G infrared search and track (IRST) system which is similar to the Euro-fighters Pirate IRST since both have been developed by Finmeccanica. SkyWard has been designed and developed to satisfy the more demanding requirements of 5th generation fighter aircraft with an embedded solution.
MWF-Tejas Mk2 will feature an Indigenous IRST system developed by India's Bharat Electronics Limited (BEL). Locally developed IRST will be better than Russian OLS-35 used on Su-35 and will also replace OEPS-27 used on Su-30MKI fighter jets.
Weapons Stations
Gripen E will have 3 Fuselage pylons, 4 Under-wing pylons, 2 Wing-tip stations, and one Right Air intake Station for Electronic countermeasures (ECM) Pod or Recc Pod. In Total Gripen E will have 10 Hard-points.
MWF-Tejas Mk2 will have 2 Fuselage pylons, 6 Under-wing pylons, 2 Wing-tip stations, and one Left Air intake Station for ECM or Recc Pod and Right Air intake Station. In Total MWF-Tejas Mk2 will have 11 Hard-points.
Both Gripen E and MWF-Tejas Mk2 will be using Dual-Pylons in Air-superiority/ Combat Patrol Configurations. Multi-Mission Payload configuration can be seen below.
Unit Cost
The Flyaway cost of Gripen E revealed by SAAB is $85 million per unit for the single-seater variant and $90 million per unit for the twin-seater variant.
The Flyaway cost of MWF-Tejas Mk2 is yet to be disclosed by ADA and HAL but it is expected it will be Cheaper due to use of local content and it is estimated to be around $65- 70 million per unit. MWF-Tejas Mk2 will not have a twin-seater variant.
Current Order Status
Gripen E already has received confirmed orders in principal for 60 units from Swedish Air force and 36 from the Brazilian air force but an additional follow on orders 36 jets is also likely to be inked by 2022. Gripen E has confirmed orders for 96 units and another 36 likely soon which means it will have a production run of at least 132 units. Gripen E already has been offered to several countries but no further confirm orders have been received yet.
MWF-Tejas Mk2 already has received confirmed orders in principal for 108 units from Indian Air force but the order is likely to swell to 200 units once the production is in full swing from 2030 onwards. MWF-Tejas Mk2 is yet to be offered to any countries yet but if India does manage to get export orders for the plane it will equal or surpass Gripen E orders in its production life time.
Future Variants
Gripen Maritime: A new generation carrier-based fighter for the future aircraft carrier has been proposed by the SAAB based on the Gripen-E fighter jet. Gripen Maritime is still at the concept stage and will be developed only if any country shows any interest in it.
Gripen EW: Dedicated electronic-attack version has been proposed for export clientele on similar lines of Boeing EA-18G Growler.
MWF-Tejas Mk2 Rv2: Semi-Stealth with internal weapons bay has been proposed. DRDO Chief recently confirmed its development but it is still not clear if it will be based on baseline MWF-Tejas Mk2 design or will have major changes and modifications to it.
MWF-Tejas Mk2 UCAV: ADA is fiddling with an idea for developing unmanned combat aerial vehicle (UCAV) variant of either Tejas Mk1 or MWF-Tejas Mk2, it not clear if it will enter production or remain a test-bed for Ghatak Stealth UCAV.
Note: While LCA Navy Mk2 continues to carry legacy LCA-Tejas design influence, but it is not considered as a spin-off of MWF-Tejas Mk2 program due to large changes in its specifications which have been customized for Indian Navy for Aircraft Carrier operations due to which it is not included as future variants of MWF-Tejas Mk2 program.
Disclaimer : Articles published under " MY TAKE " are articles written by Guest Writers and Opinions expressed within this article are the personal opinions of the author. IDRW.ORG is not responsible for the accuracy, completeness, suitability, or validity of any information on this article. All information is provided on an as-is basis. The information, facts or opinions appearing in the article do not reflect the views of IDRW.ORG and IDRW.ORG does not assume any responsibility or liability for the same. article is for information purposes only and not intended to constitute professional advice .
Article by  VISHAL KARPE /,  cannot be republished Partially or Full without consent from Writer or idrw.org