SOURCE: IDRW NEWS NETWORK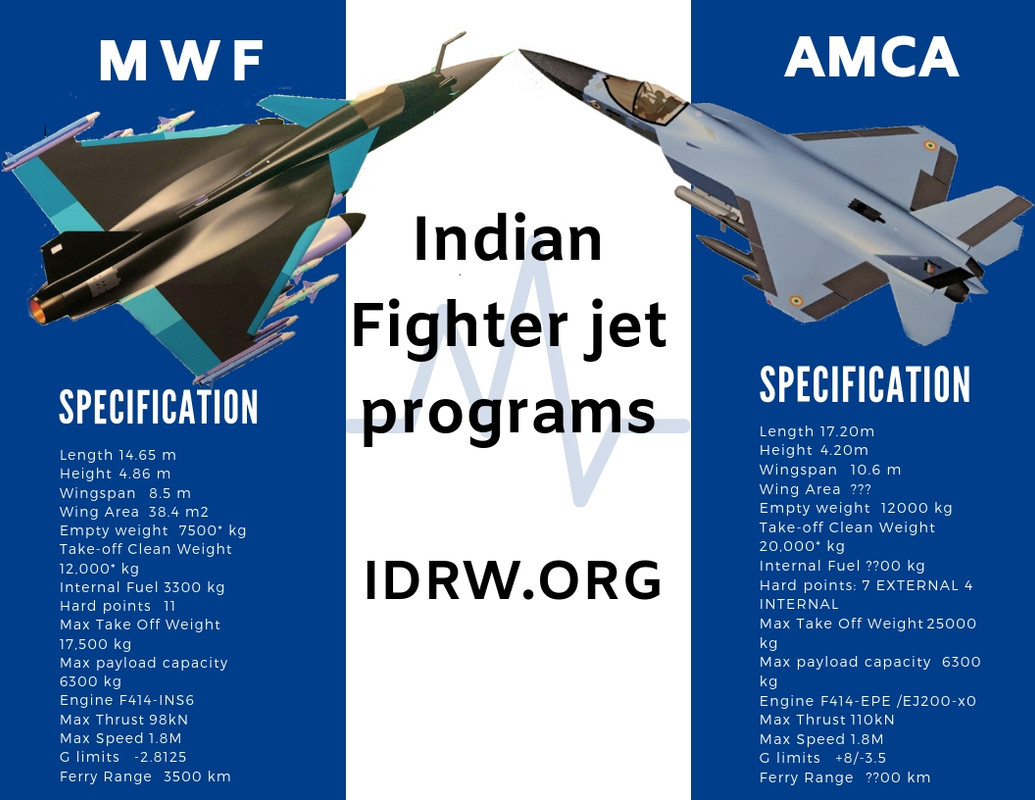 State-owned defense manufacturer Hindustan Aeronautics Ltd already has roped in in private players including L&T (wings), Dynamatic Technologies Ltd (front fuselage), VEM Technologies (center fuselage) and Alpha Doca (rear fuselage) to execute orders for 83 Tejas Mk1A which will be inked by end of March 2020 with Indian Air Force (IAF). But with IAF already showing interest to procure 200 Medium Weight Fighter or (MWF) in near future soon, HAL and Private defense companies are already in talks to further expand the scope of private defense firms in the supply chain so that the order for nearly 200 jets can be executed without delays in the supply chain once the contract is inked.
MWF program is racing against time with its own since current IAF Chief has given strict instructions that order for 200 jets will depend on how fast the aircraft can be ready for production provided it also meets full mission capabilities sought by the Indian air force as AMCA-TD Phase 1 will commence at the same time when MWF will start its flight trials and developmental phase will be around the 2023-25 period.
HAL has been tasked by ADA to source assembly rigs and ground tools to construct the first two MWF fighter jets in Initial operational clearance (IOC) configuration and according to timeline set by ADA, MWF should attend Final operational clearance (FOC) configuration status before 2027-28 so that program enters production in FOC configuration and which was not as seen in the Tejas Mk1 program where the first squadron was in IOC configuration and second in FOC configuration.
IAF already has shown intend to procure 36 AMCA Mk1 which as per ADA will go in production from 2029-30 onwards and any delays in the MWF program will only help the AMCA program team which will look to expand further their orders. According to idrw.org sources in multiple agencies, IAF has committed to procure 120+ AMCA jets which include 36 AMCA Mk1 with GE F414-GE-INS6 engine without TVC Nozzle and in IOC configuration and the rest powered by a more powerful engine 110kN thrust class with TVC Nozzle in FOC configuration designated as AMCA Mk2 which goes in production in 2035.
While Nodal design agencies for both MWF and AMCA is the ADA, but both programs have different design and development team under different Project managers. MWF program team wants HAL to head the production line as a system integrator with Tier-1 supply line being from private sector companies, AMCA program team which already has sent out Expression of Interest (EOI) to many private and foreign companies and is looking to build first two Technology demonstrator (TD) aircraft of AMCA in Phase-1 ready by 2024 and first flight by 2025 without HAL leading the production line.
There have been talks held with MMRCA 2.0 foreign vendors who are participating in the tender for 114 units of fighter jets to use their upcoming facility to manufacture these jets to be used to develop AMCA fighter jets for IAF post completion of production line orders for new fighters sought from foreign vendors. Since under MMRCA 2.0, tender foreign vendors have to tie up with local Public or Private sector companies, production facility to be created to execute orders for 114 units in India will also get orders for the AMCA fighters.
MWF and AMCA programs will be much bigger than the current Tejas Mk1 and Mk1A program due to the sheer number of orders which has been committed by the IAF probably for the first time for the indigenous program. Between both the programs IAF has committed to procure close to 320 units of fighters making up of close to 16 squadrons in the IAF fleet which will be nearly 40% of the fleet size of IAF. Both the teams have been told aircraft which meet full IAF requirements and are in time for production will take the bulk of the orders since order committed by IAF for both programs is fluidic and can change depending on availability and production cycle of each program.
MWF will use the same production facility of the Tejas Mk1A in Bengaluru along with the additional facility of the Nashik Plant of HAL where the total production cycle can reach 21 units per year, AMCA is likely to manufactured at upcoming Defence Corridor in Tamil Nadu which is coming up in Coimbatore which prior to the AMCA program will be used to manufacture 114 units of MMRCA 2.0 Winner from 2025-2035 period. Any delays of even 2-3 years in the MWF program and if AMCA program stills to its schedule then MWF order might be reduced by 40-50 units.
How MWF Program Team plans to avoid delays.
To avoid delays in the program as seen in the Tejas Mk1 program. ADA is working on creating all necessary technologies marked for each program before it starts its developmental phase of the program to avoid delays as seen previously. Major reasons behind missing the deadlines set in the Tejas Mk1 program were due to not maturity of the technology required to maintain the original schedule but in the MWF program, most of the technology required and asked by IAF is already ready or is in trials phase. computer-aided simulation trials of the MWF will also greatly reduce the time required to clear many flight test performance and many key points in the program will be achieved at a much shorter duration.
MWF will not have Technology demonstrator (TD) Phase due to the maturity of the technologies and the first metal cutting for the first aircraft will be cut next year and the first fully assembled jet will be ready for first flight in 2022 and the first flight is likely to happen by 2023. 
How the AMCA Program Team plans to avoid delays.
 AMCA Program received seed money from the government of India just a few years ago but the program has been active for almost a decade now in the design board and the design has been changing from time to time with more refinement and stealth characters been tested in wind tunnel models and in the computer simulations so that time is not wasted in design correction and improvements in the later stage as seen with the Tejas Mk1 program.
Full 1/1 Scale model will be developed to be tested for its Stealth characters and final design freeze is yet to happen but it will be done before the Technology demonstrator (TD) Phase which is Phase-1 of the program starts. TD program as per schedule will be completed in 3 years and Prototype stage of the program which is Phase-II will commence soon after under which ADA plans to develop at least 7 prototypes to be used for further fast track its flight and developmental trials in next 3 years. while simultaneously it will start the development of the AMCA Mk1 in 2029 onwards.