SOURCE: PTI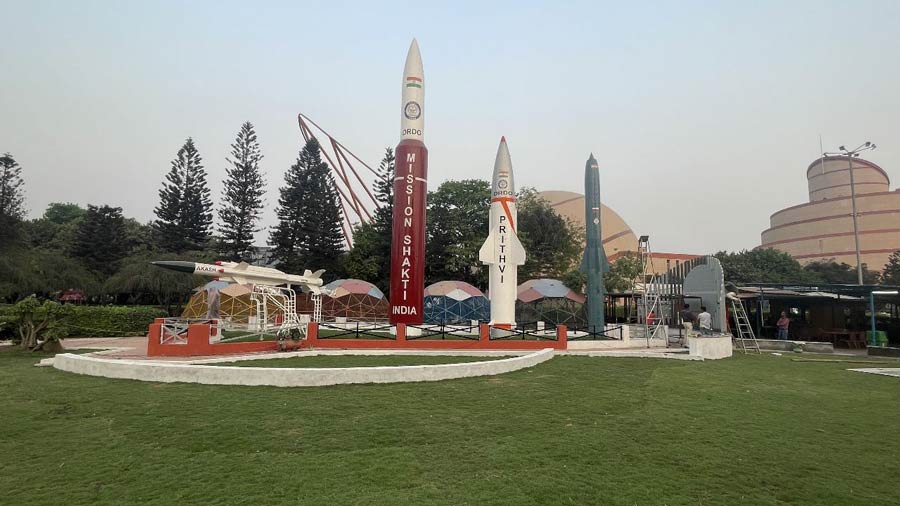 Life-size replicas of Brahmos, Prithvi and four other missiles are on display for the public at the Missile Park in Science City, Kolkata, which was opened on the National Technology Day on Thursday.
The Missile Park has been developed jointly by the Centre for Millimeter-wave Semiconductor Devices and Systems (CMSDS), Kolkata, a unit of DRDO, and Science City, Kolkata, a unit of the National Council of Science Museums (NCSM) to showcase the missile development programme of India through the life-size replica of missiles.
This enables visitors to have a breath-taking view of the life-size models of six flagship missiles of India, namely BrahMos, Prithvi, Mission Shakti, Akash, Astra and Nag.
A statue of India's Missile Man, former Indian President A P J Abdul Kalam, has found pride of place in the park. An audio commentary automatically starts to give an overview of the Indian Missile Programme the moment the visitor stands in front of his statue.
Director, Science City, Kolkata, Anurag Kumar told reporters, "What the people usually see on their TV sets on the occasion of the Republic Day parade, can now be seen live during their visit to Science City. We have set up a Missile Park with lifesize replicas of missiles to enthuse the visitors about the great strides India has made in the field of missile technology. We expect that the missile park would be able to encourage young minds to take up science and technology as their career. " Director, CMSDS, a unit of DRDO, Madhumita Chakravarti said "it is a matter of pride that India had developed the technology required for the propulsion, navigation control, guidance, avionics and advanced materials for the missiles indigenously. India's fleet contains missiles of every type and is thus ready to face any external threat. India is a country to reckon with in all the advanced fields of missile technology, thanks to the vision of our leaders and the hardwork of our scientists in DRDO".
India's Missile development programme had started in the 1960s through Defence Research and Development Organisation (DRDO).
Later, the 'Integrated Guided Missile Development Programme' (IGMDP) commenced under the leadership of APJ Abdul Kalam at DRDL, Hyderabad in 1983 which gave a boost to the missiles programme.
Surface-to-surface strategic missiles Prithvi and Agni, surface-to-air missile Akash and anti-tank guided missile Nag were developed under this programme. The development of BrahMos, the Supersonic Cruise Missile and Mission Shakti, the anti-satellite weapon has made India a world leader in missile technology.