SOURCE: ANITA DESAI / FOR MY TAKE / IDRW.ORG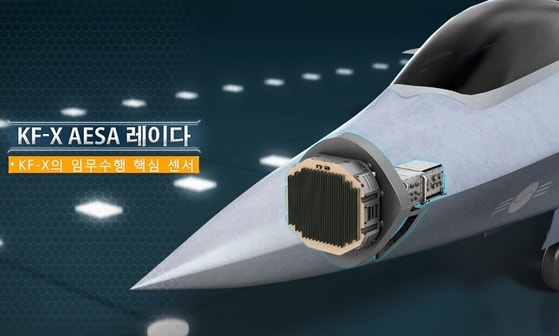 MBDA Missile Systems announced that Meteor beyond visual range air-to-air missile (BVRAAM) will be integrated into the Republic of Korea Air Force's (RoKAF's) future KF-X fighter aircraft. MBDA has been awarded the contract for integration and trials campaign by Korea Aerospace Industries (KAI) which is a nodal agency for the development of a 5th generation fighter jet in Blocks over the years.
According to Hanwha Thales, a local defense firm which won the preferential bidder for the radar development in 2016, announced in 2017 that Israeli firm Elta will be its consultant in the testing of the indigenous radar developed by Hanwha Thales but insisted that ELTA will be limited to provide support to the sophisticated technology to test an AESA radar system and integrate it with aircraft.
In 2018, Saab has received an order for support of algorithm development and evaluation for airborne AESA fighter radar by the KAI. South Korea decided to develop its AESA radar system after the US rejected its request to transfer core technologies to be applied to the KF-X jets in 2015 and many believe that Israeli ELTA is the technology provider not to test the Radar made by Hanwha Thales but will also provide some of its technology to the firm for local development of an AESA Radar.
Israeli contractor Elta Systems will provide technical supports on the radar's transmitting and receiving devices and among others as per Korean media reports. Hanwha Thales has confirmed that by 2026, Aesa Radar will no only be tested and integrated it will also enter production by that time which means it is based on the technology which is already available with ELTA but will go through some level of customization to meet requirements of the RoKAF.
ELTA's ELM-2052 AESA Fire control Radar most likely will be a used a base to develop the Aesa radar for the RoKAF with some technical inputs from the Hanwha Thales along with software developed by Saab, later MBDA Missile Systems will help in integration of the Meteor BVRAAM in the aircraft.
MBDA's Double standard towards India
Back home, MBDA Missile Systems turned down India's request to integrate its Meteor BVRAAM in the 83 LCA-Tejas Mk1A fighter jet which will be equipped with the ELTA's ELM-2052 Aesa Radar. According to MBDA's official statement " Meteor BVRAAM integration with a Non-European Radar will compromise its technology and hence it was turned down".
MBDA Missile Systems also refused to integrate Meteor BVRAAM with 272 Russian Sukhoi-30MKI fleet with IAF due to the same reasons even though it practically was first to offer India its Meteor BVRAAM for Su-30MKI fleet away before even India brought 36 Dassault Rafale fighter jet which now comes to India with Meteor BVRAAMs.
By denying to integrate Meteor BVRAAM with LCA-Tejas Mk1A and Su-30MKI fleet, many defense analysts in India in the past have raised questions if it was done by France which is a major stakeholder in the MBDA Missile Systems so that it can make it only Dassault Rafale exclusive and make India buy more of it! Deal with KAI for its KF-X jet program which will be riding on Aesa Radar partially developed by ELTA should raise some eyebrows back in India after a request to integrate them on IAF's Mirage-2000 fleet which is equipped with French Thales developed Radar was also turned down on basics of high integration costs requirements and lack of market need with other operators.
MBDA Missile Systems has not confirmed or denied if Meteor BVRAAM can be provided to be integrated into UTTAM AESA Radar which has been under development for IAF's MWF and AMCA fighter jet program along with Navy's TEDBF program. India rightfully has to move beyond Astra Mk1 BVRAAM which was developed locally and field a Meteor Class BVRAAM in near future soon so that it can't be arm-twisted by foreign vendors.
NOTE: Hanwha Thales started as a joint venture between Hanwha Group and Thales Group, a French multinational aerospace and defense company but in 2016, Thales Group decided to sell its 50 percent stake in Hanwha Thales to Hanwha Group. So Thales is not providing Radar technology to the Republic of Korea Air Force's (RoKAF's) future KF-X fighter aircraft program.
Disclaimer : Articles published under " MY TAKE " are articles written by Guest Writers and Opinions expressed within this article are the personal opinions of the author. IDRW.ORG is not responsible for the accuracy, completeness, suitability, or validity of any information on this article. All information is provided on an as-is basis. The information, facts or opinions appearing in the article do not reflect the views of IDRW.ORG and IDRW.ORG does not assume any responsibility or liability for the same. article is for information purposes only and not intended to constitute professional advice .
Article by ANITA DESAI /,  cannot be republished Partially or Full without consent from Writer or idrw.org