SOURCE: IDRW NEWS NETWORK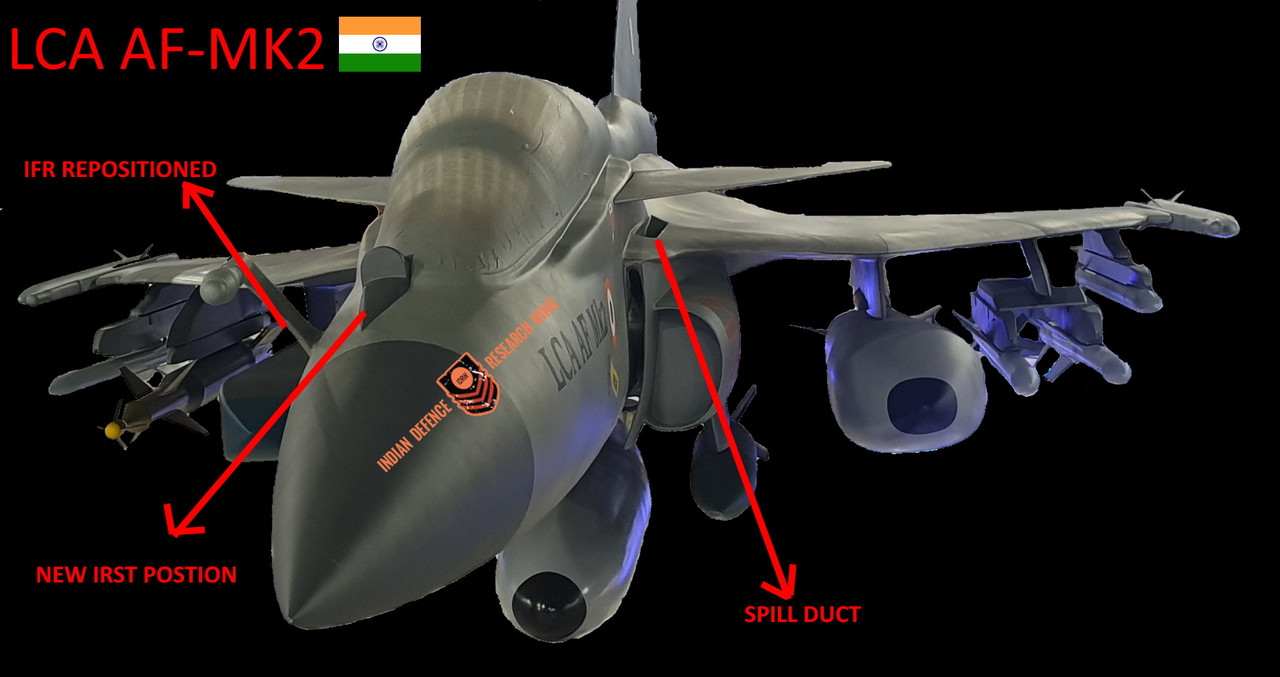 State-owned Defence Research and Development Organisation (DRDO) will be showcasing a scale model of the LCA-AF Mk2 and As per images provided by the Vayu Aerospace and Defence Review, LCA-AF Mk2 shows minor design changes and many improvements in its design to reduce its drag.
As can be seen in the above images, LCA-AF Mk2 Infrared search and track technology (IRST) sensor system that was earlier seen on the left side of the scale model that was displayed last year, has now been moved to the right side of the nose of the aircraft. informed sources close to idrw.org said that this was done after the IAF team deputed to the ADA for the LCA-AF Mk2 requested change in the position.
IRST sensor system moving to the left side of the nose also required In?Flight Refuelling (IFR) probe requiring repositioned further to the left. but IFR showcased on the scale model seems to be a non-retractable In?Flight Refuelling probe, but ADA has confirmed that LCA-AF Mk2 will get a Retractable In?Flight Refuelling probe, which could mean it could move further left of the nose in actual aircraft.
LCA-AF Mk2 is seen now with a Spill duct just over the wing, to reduce airflow at subsonic speeds, that was missing in the previous scale model displayed last year. ADA has confirmed that some drag reduction measures have been carried out, in the final design that has been now frozen and metal cutting for the aircraft has started and HAL also has initiated procurement of tools and machines for the program.
ADA Chief has confirmed by August 2022, the First LCA-AF Mk2 aircraft will be rolled out and will carry out a series of ground trials, followed by Engine Ground Runs and Low and High-Speed Taxi Trials through out 2022 and in 2023. Based on the results of these trials, ADA will decide if the aircraft is ready for its first flight in 2023. ADA plans to have 5 Production standards LCA-AF Mk2 aircraft that will be carrying out series of flight, weapons trials over in 4 years before it is cleared for production by 2027-28.
NOTE : Article cannot be reproduced without written permission of idrw.org in any form even for YouTube Videos to avoid Copyright strikes