SOURCE : PTI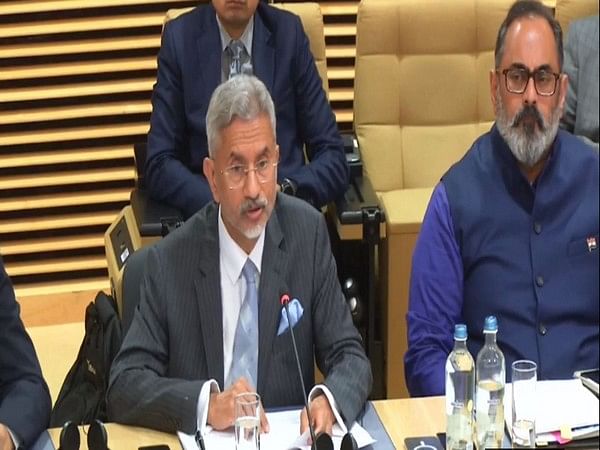 External Affairs Minister S Jaishankar, on Tuesday, called the India EU Trade and Technology Council meeting a "significant milestone".
Addressing the first Ministerial meeting of the India-European Union Trade and Technology Council (TTC), Jaishankar said, "This first meeting of the Trade and Technology Council is a significant milestone in the strategic partnership between India and the European Union. We are obviously important partners for each other, but what the TTC represents is a focus on key domains that are critical to both global and global security."
Along with Jaishankar, Commerce Minister Piyush Goyal, and Union Minister of State for Entrepreneurship, Skill Development, Electronics and Technology Rajeev Chandrasekhar was also in the meeting.
He further stated that the challenge for them is to address simultaneously the dual requirements of responsible growth and derisking the global economy. This means promoting resilient and reliable supply chains; additional drivers of global production and growth; ensuring trust and transparency in the digital domain, including cross-border flows.
"It means embracing low carbon growth while ensuring that this does not create critical vulnerabilities in each of the focus areas of the TTC strategic technologies, digital governance and connectivity, clean and green energy technologies, and resilient value chains. India has experiences to share in terms of innovation, production and deployment. We are also an important factor in regard to the global talent pool that has been discussed this morning," Jaishankar said.
"It is our expectation that the TTC will become a crucial platform for the exchanges in this regard so that we arrive at both policy and business decisions in the relevant domains. I'm very confident that our meeting today will take place in that spirit," he added.
Earlier, Jaishankar met the High Representative of the European Union for Foreign Affairs and Security Policy, Josep Borrell Fontelles on Tuesday.
"A warm and cordial meeting with EU HR VP @JosepBorrellF. Appreciate his hosting the Ministerial delegation from India. A good discussion on the TTC, G20, Voice of Global South, Ukraine and the Indo-Pacific. Such exchanges strengthen our strategic partnership," EAM said in a tweet.
Before, the ministerial meeting of India-EU TTC, Jaishankar participated in the Digital and Clean Energy Stakeholder Event in Brussels.
"Began the day in Brussels with a Digital & Clean Energy Stakeholder Event. Thank European Commission Executive VP @vestager for convening the meeting," the EAM tweeted on Tuesday.
"In this Techade, TTC can promote Trusted Collaboration so essential to Re-Globalisation. Stakeholders are key to delivery," Jaishankar further wrote.
Earlier on Tuesday, Jaishankar thanked President of the European Commission Ursula von der Leyen for meeting the Indian ministerial team.
"Thank President of @EU_Commission @vonderleyen for meeting the Indian ministerial team. Appreciate the open discussion on trade, technology and geopolitics. Look forward to the India-EU Trade and Technology Council meeting tomorrow," Jaishankar tweeted.
Jaishankar on Monday arrived in Brussels for the last leg of his three-nation visit covering Bangladesh, Sweden and Belgium.