SOURCE: AFI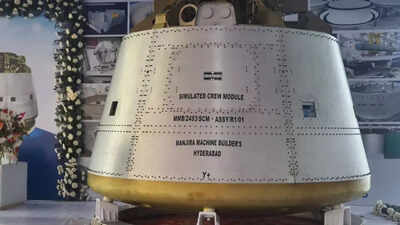 The Indian Space Research Organisation (Isro) is poised to carry out a critical test for its ambitious Gaganyaan mission as early as next month, as revealed by the project director, R. Hutton. This development marks a substantial stride in India's pursuit of becoming the fourth nation globally to launch a Human Spaceflight Mission.
The Gaganyaan mission's primary objective is to create a human-habitable space capsule capable of transporting a three-member crew into a 400 km orbit for a duration of three days. Upon the successful completion of their mission objectives, the crew will make a safe return to Earth, landing in the Indian Ocean.
Currently, Isro is actively training four astronauts for this mission and intends to expand the team for forthcoming manned missions. Furthermore, Isro has expressed its aspirations to explore ways to establish a sustained human presence in space following the Gaganyaan mission's triumphant execution.
Isro recently conducted a series of Drogue Parachute Deployment Tests at the Rail Track Rocket Sled (RTRS) facility situated at the Terminal Ballistics Research Laboratory in Chandigarh.
A pivotal aspect of this mission revolves around the deployment of drogue parachutes, crucial for stabilizing the crew module and reducing its velocity to a safe level during re-entry.
Safety remains of paramount concern for the Isro team, and they plan to conduct tests for the crew escape system, designed to facilitate astronaut ejection in emergency scenarios. Additional tests have been scheduled to ensure the mission's overall success.
Although a precise timeline for the mission has not been disclosed, it is anticipated to be launched from Sriharikota, India's primary spaceport, prior to 2024.
The Vikram Sarabhai Space Centre, a division of Isro, has already validated systems for stabilizing the crew module and safely decreasing its velocity during re-entry.
The Gaganyaan mission signifies a momentous advancement for India's space program, propelling the nation onto the global stage of space exploration.