SOURCE: UNI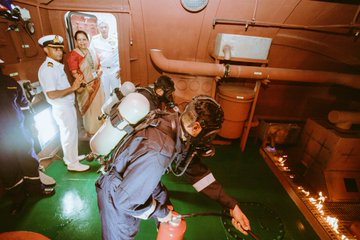 As part of the Aatmanirbhar Bharat initiative, the Indian Navy has developed an indigenous training facility named 'Rakshak' that can train submarine crews for damage control in realistic and challenging conditions that they may face while on board.
Commanding Officer of INS Satavahana, Commodore Rajat Nagpal, described the facility as a unique one designed for gaining expertise in damage control for submarines. The damage control facility comprises two simulators, one for damage control and the other for fire fighting. The former is designed to simulate various flooding emergencies in a constrained environment, while the latter is intended to train personnel in fighting fires in realistic environments, especially in confined spaces.
Member Secretary Rajan Rathi further explained that the facility can simulate different types of fires that may occur on board the submarine, such as electrical fires, oil fires, and general fires. The 'Rakshak' facility is a crucial step towards ensuring the Indian Navy's self-reliance and preparedness to combat marine emergencies.