SOURCE: UNI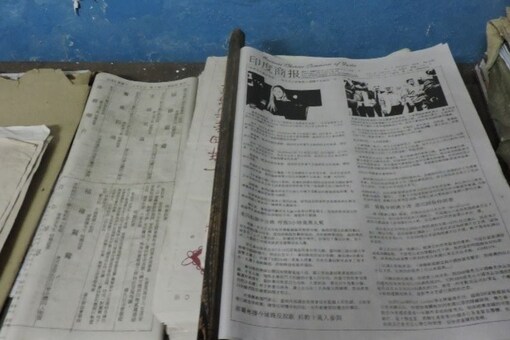 After a remarkable five-decade journey, the printing press of a Chinese daily in Kolkata has ceased its operations, marking the end of an era.
Prior to the outbreak of the Covid-19 pandemic and the subsequent lockdown in 2020, Kuo-tsai Chang, the esteemed editor of India's last Chinese-language newspaper, "Overseas Chinese Commerce of India" or "Seong Pow," would commence his day by perusing the day's significant news and then proceed with the editorial process.
For three uninterrupted decades, this routine remained unchanged. However, the advent of Covid-19 brought the printing press to an abrupt halt, halting the printing process for the first time since its inception.
The final blow to the newspaper occurred with the unfortunate passing of Kuo-tsai Chang in July 2020, ultimately leading to the permanent cessation of the publication.
Today, the premises of the newspaper office are filled with disarrayed stacks of cut papers, and the lingering scent of ink permeates the air. Prior to the lockdown, a mere 200 copies were printed each day, with each copy being sold for Rs 2.50.
Before the pandemic, the office was open for a limited four hours, from 8 am to noon, Monday to Saturday, and it had become KT Chang's customary routine to arrive promptly at 8 am. However, since July, the Mandarin newspaper has been reduced to nothing more than a mere memory.
Zha Liyou, Consulate General of the People's Republic of China in Kolkata, acknowledged the newspaper's significance as a testament to hard work. He stated, "To my knowledge, the Chinese community in Tangra and Tiretta Bazaar in Kolkata is still striving to revive the daily, although it presents numerous challenges. The discontinuation of the newspaper is a consequence of Covid-19, but it would be an immense loss if it were to be permanently discontinued."
"Seong Pow," also known as "Overseas Chinese Commerce of India," was not the first Chinese-language newspaper in the region. In 1935, the inaugural "Chinese newspaper," The Chinese Journal of India, was published in India.
"Seong Pow" made its debut in 1969, founded by community leader Lee Youn Chin. The daily primarily focused on business-related news, and for Kolkata's Chinese community, it held immense pride and significance.
During its early days, the four-page publication was meticulously handwritten. Later, a Chinese Desktop Publishing (DTP) machine replaced the labor-intensive process, ushering in a new era for "Seong Pow."