SOURCE: API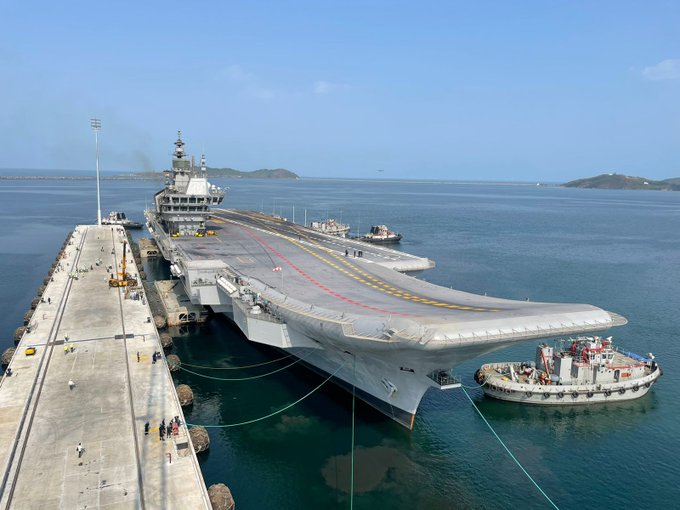 In a significant milestone for the Indian Navy, the Indigenous Aircraft Carrier (IAC) 'Vikrant' has successfully berthed for the first time at the newly constructed Aircraft Carrier pier in Karwar. This achievement is a major step in enhancing ship-berthing capacity in Karnataka under the Indian Navy's Project Seabird.
The berthing of INS Vikrant marks a momentous occasion as the state-of-the-art aircraft carrier undergoes air trials that commenced in November 2022. With a capacity to accommodate up to 30 aircraft, including 18 fighters and helicopters, INS Vikrant is a formidable addition to the Indian Navy's fleet. Presently, it houses three MiG29 K fighter jets alongside Advanced Light Helicopters, with the Light Combat Aircraft also conducting successful landings.
The dedicated efforts and expertise of the 1,600 personnel onboard INS Vikrant are evident as the warship buzzes with activity. With a displacement capacity of 43,000 tonnes, Vikrant is India's largest warship and signifies the country's prowess in indigenous shipbuilding capabilities.
The final preparations are underway to ensure that INS Vikrant is fully combat-ready by the end of May 2023. This includes rigorous testing, training, and equipping the aircraft carrier to perform air combat operations effectively.
The successful berthing of INS Vikrant at the newly constructed Aircraft Carrier pier in Karwar reaffirms India's commitment to bolstering its naval capabilities and promoting indigenous defense manufacturing. The project's completion not only enhances the nation's maritime power but also serves as a testament to India's technological advancements and self-reliance in the defense sector.