SOURCE: API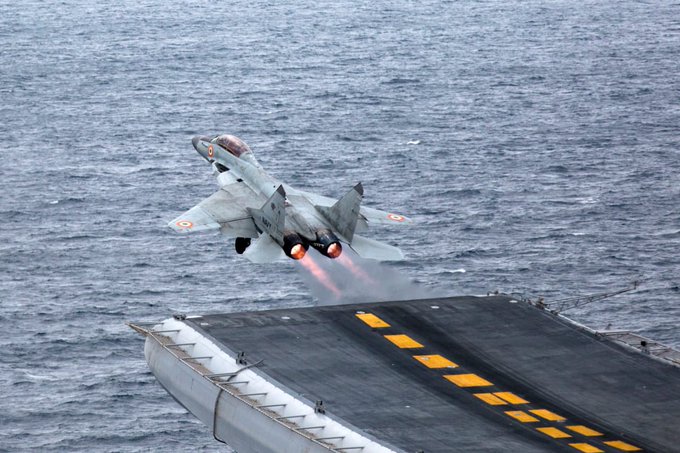 INAS 303, the renowned carrier-borne fighter squadron of the Indian Navy, is all set to celebrate its 10th anniversary on May 11th, 2023. Fondly known as the "Black Panthers," this unit has been at the forefront of the Indian Navy's operations for the last decade, showcasing exceptional performance and unwavering commitment to duty.
The unit's motto, 'Asambhav Bhi Sambhav', speaks volumes about its determination and resilience. It translates to "Achieving the Impossible," which is a testament to the unit's dedication towards its mission. INAS 303 operates the advanced MiG-29K, a 4++ generation multi-role fighter aircraft, which is widely regarded as one of the most potent carrier-borne fighter jets in the world.
The Black Panthers of INAS 303 have once again demonstrated their compassion and commitment to wildlife conservation by adopting a young black panther named Raja. The adoption was made possible by the voluntary contribution of funds by the members of the unit.
Raja, a majestic black panther, was rescued from the wild and brought to the Assam State Zoo in Guwahati, where he is now under the care of the zoo authorities. The adoption by INAS 303 is a significant step towards supporting the conservation efforts of the zoo and ensuring the well-being of Raja.
In addition to its remarkable achievements in the field of carrier-borne fighter operations, INAS 303 has also taken an active role in community service. On the occasion of its 10th anniversary, the unit undertook a special drive for vaccination and sterilization of stray dogs in collaboration with the NGO People for Animals and the Directorate of Animal Husbandry and Veterinary Services (AHVS).
Over the years, the Black Panthers have been involved in numerous critical missions and operations, including combat air patrols, strike missions, reconnaissance, and search and rescue operations. The squadron has demonstrated remarkable proficiency and versatility in operating from the Indian Navy's aircraft carriers, including the INS Vikramaditya.