SOURCE: SATYAJEET KUMAR/ FOR MY TAKE / IDRW.ORG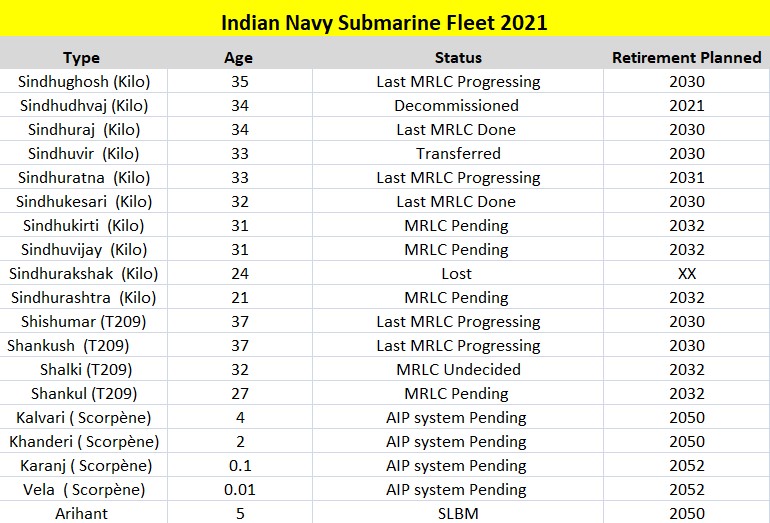 The Indian Navy recently commissioned fourth Kalvari class diesel-electric attack submarines based on the Scorpène-class submarine into service and is looking to induct two more ships later in 2022. But not all is well with the Navy's conventional submarine fleet has the induction of new submarines that will cease to exist from 2022 till 2030-32 for a gap of over 10 years before new submarines are rolled out under Project-75I.
Indian Navy that had plans to operate 24 Conventional submarines along with Six Nuclear attack submarines as per current inventory projection won't be able to achieve its target even in 2040 as Project-75I under which it had plans to manufacture six more next-generation submarines won't materialize for the next few years. It might see role reversal and inventory might see a decline in the next 10 years.
Kilo Fleet
On Paper, the Indian Navy has a fleet of 20 diesel-electric attack submarines but it already retired one Kilo Class (INS Sindhudhvaj) submarine, lost one (INS Sindhurakshak) in an accident, and has transferred one (INS Sindhuvir) to Myanmar Navy that effectively makes Kilo fleet at just seven. INS Sindhukesari (6th-1989), INS Sindhuraj (3rd- 1987), INS Sindhuratna (5th-1989), INS Sindhughosh (1st-1986) have either completed or in process of completing its last Major Refit and Life Certification (MRLC) modernization program that will give them another 10 years of service which effectively also means they will be out of service by 2030-32.
Indian Navy has plans to carry out the last MRLC for three more submarines ( Sindhukirti, Sindhuvijay, and Sindhurashtra) that could mean they will be out of service for 27 months but can stay active in service for another 10 years after completion till 2034-35. That means by the time the last of the Project-75I submarines is inducted into service, All Seven Kilo Submarines will have to be retired or have already been retired.
Type 209 Fleet
India also operates 4 Type-209 submarines and Two INS Shishumar (1st-1984 ) and INS Shankush (2nd-1984 ) are undergoing MRLC that will extend their service life by 10 more years but this will be the last of its MRLC and looking at their advanced age they are likely to limit it to training crew rather than seeing active combat duties while last two of the subs will remain in active duties but eventually, all four have to be retired by 2030-34.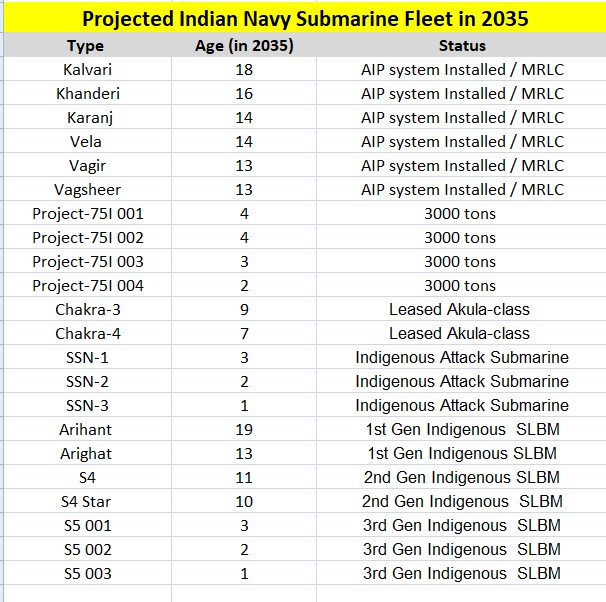 The decline in Underwater Power
In Post 2030 world, the Navy is starting at operationally having only 6 Kalvari class submarines plus 3-4 that might be submarines that will come out of the Project-75I winner. Navy from 2025-30 also will induct two nuclear attack submarines leased from Russia and India Navy that is working on the development of six nuclear attack submarines too but this is unlikely to be ready at least not before 2030 and last of the submarine might be inducted not before 2040.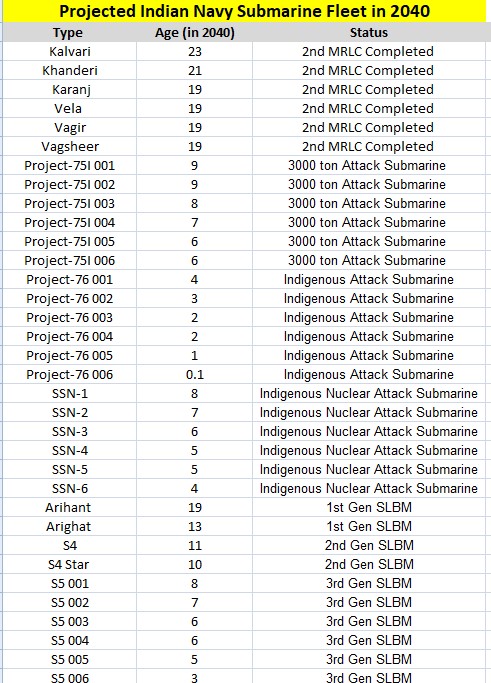 2040 Projections
2035-40 period will be rebuilding submarine fleet phase of the Indian Navy but plans to operate 24 conventional submarines and six nuclear submarines will still not materialize. The Navy will likely have a fleet of 18 conventional submarines in addition to six Indigenous nuclear attack submarines in 2040 that will take the fleet strength to 24 still short of the 30 that was planned.
Ideas to Beef up by 2030
3+3 Offer of France and Russia
Indian Navy has been offered by Mazagon Dock Shipbuilders to build three more Kalvari class submarines that will start coming around 2030 but the Navy had not cleared the program nor has shown interest in placing follow-on orders for submarines. Russia on the other side has offered three used Kilo Class submarines for a $250million deal but these submarines require Major Refit and Life Certification (MRLC) modernization for which $350million per submarine will be needed to be factored in. If both these proposals are cleared then the Indian Navy can fill in the gap that will be left by the retirement of 11 submarines post 2030 but the Navy is yet to clear any of these proposals yet.
Super Kalvari
Alternative proposals mooted by many defense experts and analysts is that the Indian Navy sanction proposal to develop and manufacture six enhanced Kalvari class submarines that will be in addition to the Project-75I. Navy in promo videos had shown designs of enhanced Kalvari class submarine that shows that this also has been considered by the Navy but again there is no clarity if they have the will to take it forward.
Fast Forwarding Project-76
While the Indian Navy waits to take forward its Project-75I Tender process there is a small fraction of defense experts and analysts who want the Navy to prepone Project-76 under which a new conventional diesel-electric class attack submarine developed in the house was originally planned to be executed after the completion of Project-75I. This small fraction is advocating fast-tracking of Project-76 and initiating it in parallel to Project-75I so that by 2035, the Indian Navy will have additional six submarines and the fleet can be at a respectable 18+2+4 underwater fleet.
Disclaimer : Articles published under " MY TAKE " are articles written by Guest Writers and Opinions expressed within this article are the personal opinions of the author. IDRW.ORG is not responsible for the accuracy, completeness, suitability, or validity of any information on this article. All information is provided on an as-is basis. The information, facts or opinions appearing in the article do not reflect the views of IDRW.ORG and IDRW.ORG does not assume any responsibility or liability for the same. article is for information purposes only and not intended to constitute professional advice .
Article by SATYAJEET KUMAR , cannot be republished Partially or Full without consent from Writer or idrw.org