SOURCE: JOYDEEP GHOSH / FOR MY TAKE / IDRW.ORG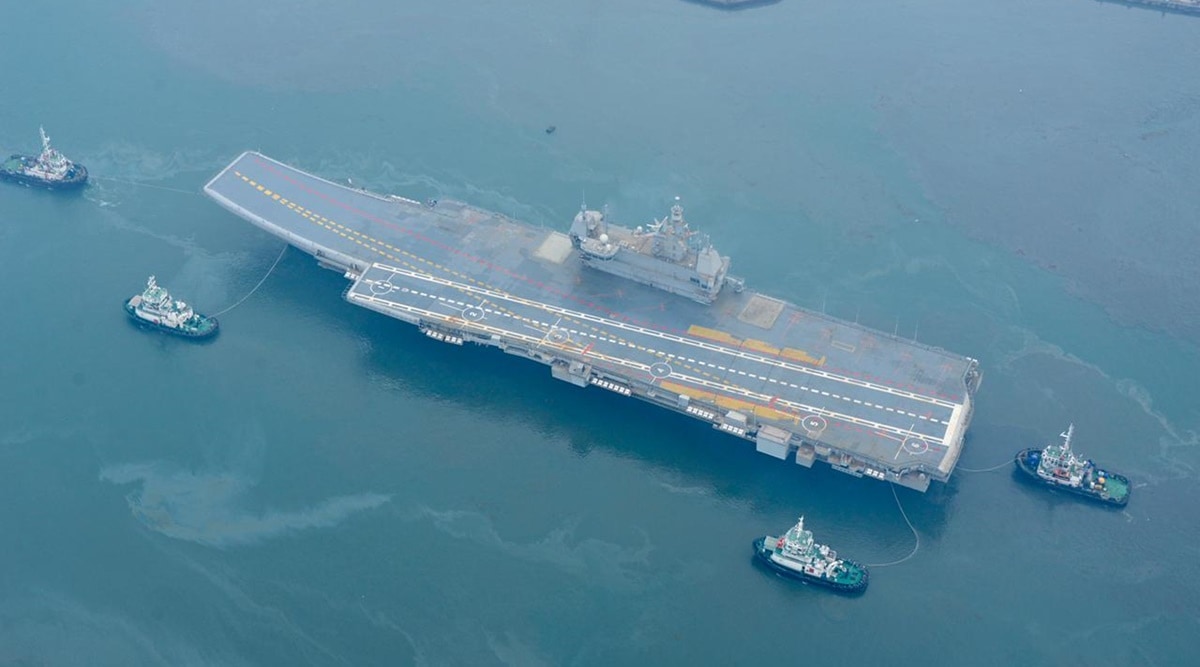 Couple of days back the new INS Vikrant was commissioned into the Indian Navy. As with the prevalent practice, Indian Navy named its new aircraft carrier INS Vikrant, thus bringing back the name that was lost when original INS Vikrant was decommissioned in 1997. Now everyone is talking about whether Indian Navy should go for a bigger and costly 3rd aircraft carrier or look to setup a low-cost island based fixed aircraft carriers like the idea floated by late CDS Gen Bipin Rawat. My assertion is that we not only need at least 2 low-cost island based fixed aircraft carriers but, also, we need 4 floating aircraft carriers.
India needs 4 aircraft carriers conventionally powered (for now), out of which 2 need to be of INS Vikrant class and other 2 of INS Vikramaditya class. While INS Vikrant class carries 12-14 fixed wing jets and 14helos each (6 or 7 SAR, 4 ASW, 3 AEW), the INS Vikramaditya class carries 16-18 fixed wing jets and 16 helos each (6 or 8 SAR, 5 ASW, 3 AEW). Please note I am not going by Wikipedia figures but on calculation of 1000 ton for per aircraft/helo and 10000-to-12000-ton supplies that each carrier loads up with on each trip, excluding the fuel and ammunition supplies.
1st carrier takes care of western seaboard, 2nd carrier takes care of eastern seaboard, 3rd carrier in repairs and 4th carrier takes care of remaining part of Northern Indian Ocean left untouched by the 2 carriers and the entire Southern Indian Ocean. Southern Indian Ocean is a massive fish, oil, gas, and mineral rich area. Do note China has already forayed into this area and is practically robbing the fish in the area with huge fishing trawlers.
b. Note that 12 fixed wing jet each on 2 INS Vikrant class carriers and 16 fixed wing jet on 2 INS Vikramaditya class carriers adds to 56, almost the exact number of 57 the Navy wanted originally while selecting a replacement for44 Mig 29K/KUB. Another point to be noted is that we have design schematics of both INS Vikrant class carriers and INS Vikramaditya class carriers (if we didn't have access to design schematics of Vikramaditya, we surely couldn't have suggested changes for complete redesign of the carrier as per our need). So, it will be much easier to build another 40000-ton INS Vikrant class carrier (renamed INS Viraat after the 2nd decommissioned carrier) and 2nd 45000-ton INS Vikramaditya class carrier. It will help amortize the project investment made in training personnel, setting up machines and more.
c. Building a 3rd aircraft carrier of just 65000-tonwon't make sense if its' not fully capable, meaning it must have a single fuel lifetime nuclear reactor, should be able to carry and launch 3 E2D Hawkeye type aircraft, as well as launch at least 40 fully armed and fueled fixed wing fighters, with 12 to 15 helos. All this can't be accommodated in 65000-ton carrier, it must be atleast75000-ton carrier same as what France is building to replace the Charles de Gaulle carrier. India still can't build a single fuel lifetime nuclear reactor; the nuclear reactors being designed for future 6 SSNs &3 S5-class SSBNs are still in concept and no sign yet that these will be single fuel lifetime nuclear reactor. Even if built, that reactor will have to be re-modelled for carrier. All this will be at least 15 years' time give or take and is highly cost prohibitive, in the meantime CSL can easily build another 40000-ton INS Vikrant class carrier and 2nd 45000-ton INS Vikramaditya class carrier.
d. Many may say we need a 3rd nuclear powered aircraft carrierthat can help launch fully armed and fueled fixed wing fighterjets. However even with conventionally powered aircraft carriers, it is possible. Fighters' jets can launch with full weapons load and 50% fuel load. Midair they can be refueled by buddy-buddy refueling or with an unmanned refueler UAV. This way even conventionally powered aircraft carriers can operate and launch fully armed and fueled fixed wing fighters.
e. A low-cost island based full-fledged fixed aircraft carriers like the idea floated by late CDS Gen Bipin Rawat, is a good idea. 1st in Andaman Islands and 2nd in Lakshadweep islands. Many may say we already have them, but please note those are IAF bases operating Su30MKIs or Mig 29s both of which are owned by IAF and operated by IAF pilots except for the 12 Jaguar IMs that are owned by IAF operated by IAF pilots but are under command of Indian Navy. What is needed is a full-fledged fixed aircraft carriers or naval air base that operates not just Mig 29K, TEDBF, but also E2D Hawkeye, P8Is.
It must also be protected from natural calamities like cyclone or tsunami. Also, the island based full-fledged fixed aircraft carriers can be used to launch 24 fully armed Tu22M3s (12 on each base). Do note,just as Russia is restarting Tu160 production line, there is good chance it may restart Tu22M3 production line as well, if that happens then India must buy 24 of them. Leasing them is not an option, as leased platforms can't be used in war. Tu22M3 with their 7000 km range armed with cruise missiles can launch serious land attacks both on eastern and western side.
f. Indian Navy must take delivery of 150 TEDBFs at least, because otherwise will be impossible to amortize the project. Do note TEDBF is not LCA MK2 with an extra engine, it's a completely new design. As such a new production line, new HR training, new machinery, new validation process of system, and new certification process has to be followed to take TEDBF which is still in concept state to LSP/SP levels. Yet how TEDBF will be amortized for all the investment made in the project is difficult to figure. While 56-60 TEDBF are expected to fly from 2 Vikrant class and 2 Vikramaditya class carriers, if these 4 carriers are ultimately chosen, 25 will stay at INS Hansa for training, while 25 each will fly off from the 2 fixed base aircraft carriers as mentioned earlier.
That way 15 jets can remain in reserve, but will that help amortize the project??Do note at least 400 LCA MK1/MK1A/MK2 will need to be built to amortize the project; much like the same way 450/500 Arjun MK1/Arjun MK1A/Arjun MK2 need to be built to amortize the project. Right from the stage of concept to reality, TEDBF is not expected to come up in good numbers before 2038, to replace the Mig 29K/KUB or Rafale M/FA18.
g. If26 Rafale M or FA18 are to be chosen, it will be chosen for INS Vikrant, out of which 10-12 will remain in INS Hansa (it has SBTF) for training while other 12-14 will fly from INS Vikrant, while the INS Vikramaditya will be reserved for Mig29K/KUB till TEDBF arrives to replace the fighter jet complement of the 2 carriers. It is now being revealed that that the lift size of INS Vikrant or INS Vikramaditya, can't accommodate Rafale M as they don't fold wings; whereas FA18 can not only be accommodated in the lift of 2 aircraft carriers but also it can easily communicate with P8Is and MH60R. So, in all likelihood FA18 might be chosen, but what will happen to the 26 FA18 when TEDBFs arrive by 2035 or 2038?
These 26 FA 18 will become surplus and headache for Indian Navy. On the other hand, if Rafale M are chosen, even when TEDBF arrives these won't be surplus, these can easily be used by IAF, as reportedly Rafale AF or Rafale C and Rafale M are 95% same minus tailhooks. Do note that RFQ for 114 MRFA is still not released and if IAF was really interested, it would have done that by now. IAF is probably thinking that going the G2G way for 114 Rafale will be best option. If that is done, then may be Dassault may well help develop a mechanism to enable Rafale M to fit into the lift of INS Vikrant. Lets' see if better sense prevails and India goes for 4 Aircraft Carriers, 150 TEDBF & 26 Rafale-M.
Disclaimer : Articles published under " MY TAKE " are articles written by Guest Writers and Opinions expressed within this article are the personal opinions of the author. IDRW.ORG is not responsible for the accuracy, completeness, suitability, or validity of any information on this article. All information is provided on an as-is basis. The information, facts or opinions appearing in the article do not reflect the views of IDRW.ORG and IDRW.ORG does not assume any responsibility or liability for the same. article is for information purposes only and not intended to constitute professional advice .
Article by JOYDEEP GHOSH , cannot be republished Partially or Full without consent from Writer or idrw.org