SOURCE: AFI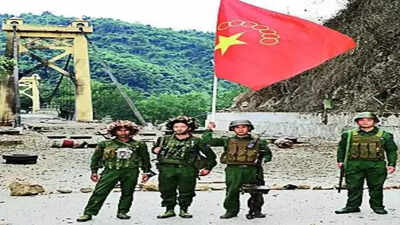 India is set to evacuate the 43 Myanmar military personnel who sought refuge in Mizoram following intense gunfights with armed ethnic groups in Myanmar. The soldiers arrived in two batches, with 39 arriving on Monday evening and three on Tuesday morning, one of whom was reportedly injured. Upon their arrival, Mizoram police took custody of the soldiers.
Efforts are underway to fly the Myanmar military personnel out of Mizoram, with defence authorities arranging helicopters to transport them to the India-Myanmar border town of Moreh in Manipur. Subsequently, they will travel by road to reach an undisclosed destination in Myanmar. Sources suggest the use of one or two helicopters for the soldiers' transportation to Moreh.
On Monday evening, a protest took place outside the Zokhawthar police station in Mizoram's Champhai district, where the junta soldiers were held. The protesting group, believed to consist of Chin refugees from Myanmar, expressed their dissent.
The evacuation follows a fierce gun battle at Khawmawi in Myanmar on Sunday evening, initiated by armed groups—the Kuki Independent Army, Kuki National Army, and Chinland Defence Force—who jointly overran a Myanmar Army camp. The location of the conflict is in proximity to Zokhawthar.
The situation highlights the complexity of cross-border conflicts and the challenges associated with providing refuge to individuals involved in such confrontations. As the evacuation proceeds, it remains to be seen how the diplomatic and security aspects of this development unfold, with implications for regional dynamics and India's role in managing the fallout from the Myanmar conflict.