SOURCE: ANI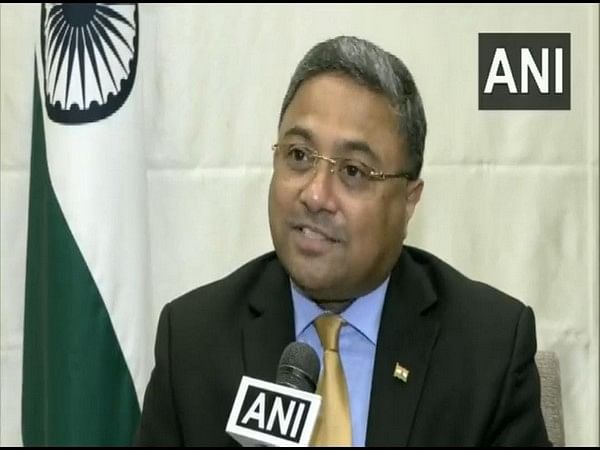 Ahead of Prime Minister Narendra Modi's visit to Hiroshima for the G7 Summit, the Indian ambassador to Japan has said the two countries enjoy a special strategic and global partnership that was established during PM Modi's visit in the year 2014 with the then Japan PM Shinzo Abe.
"As you are aware, it is a special strategic and global partnership established during the visit of PM Modi in 2014 with his counterpart, the then Prime Minister Shinzo Abe. And now with PM Kishida, this relationship is getting reinforced," Sibi George, the Indian envoy said in an interview with ANI.
The envoy said the city of Hiroshima looks forward to the visit of Prime Minister Narendra Modi, who will arrive in the Japanese city on Friday and participate in the G7 summit and meet with his Japanese counterpart Fumio Kishida.
He also said that PM Modi is going to unveil a bust sculpture of Mahatma Gandhi.
"Prime Minister of Japan, Fumio Kishida had invited PM Modi personally to come for the G7 Summit in Hiroshima, which is held in this historic city of Hiroshima. PM Modi will be here tomorrow to participate in the G7 Summit and also for bilateral meetings and a few other meetings scheduled during the visit," the Indian envoy said.
Speaking on the commendable work done by India after it assumed the rotating presidency of the G20, George said, "India, as the chair of G20 has taken a lot of initiatives. As you know, there are more than 200 meetings scheduled to be held in India on G20 and there has been active participation from Japan in that meetings. And when it comes to India's participation, India is here as an important partner, partner of peace, stability, security and economic progress."
Explaining the significance of holding the G7 summit specifically in Hiroshima at a time when the world is facing the Russia-Ukraine war, the envoy said, "Hiroshima is a city of peace. India is a country of peace. And our position on Ukraine Russia issue has been well articulated by our leadership on various occasions, including in the United Nations when we were a member of the UN Security Council, that India stands for peace,"
"Our Prime Minister has made it clear that this is not an era of war. This is an era of peace. That continues to be our position, and we look forward to active participation in the G 7 Summit and also for other deliberations and discussions," the Indian envoy said.
The Indian ambassador also said that the Indian government is working on various initiatives to improve people-to-people between the two countries.
"As you are aware, recently we have launched this India-Japan era of tourism with a focus on connecting the Himalayas with Mount Fuji. So that program is also under progress and we look forward to connecting with the community of the people to people connect of the two countries and of course the Indian diaspora in Japan," George said.
PM Modi will embark on a three-nation visit on Friday. During his six-day tour, he is scheduled to visit Japan, Papua New Guinea and Australia.