SOURCE: NARAYAN APTE/ FOR MY TAKE / IDRW.ORG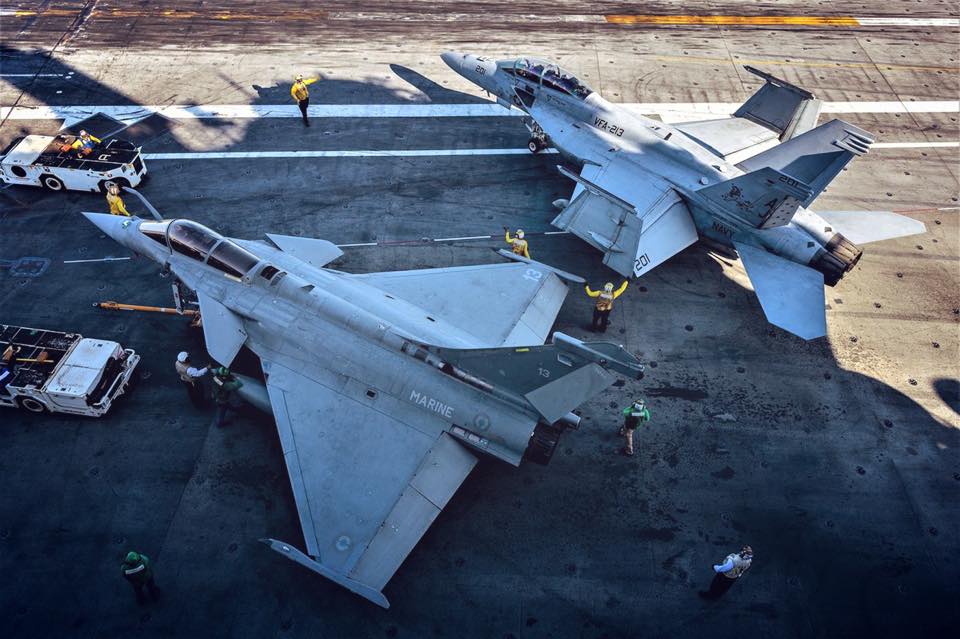 Indian Navy's tender for the 57 MRCBF to be equipped on an Indian Aircraft carrier might have shrunk to 27 jets units now but that has not stopped the fierce battle that is going on in India's tiny state of Goa, where Two F-18 E/F have landed to demonstrate its capacities to operate from the Indian Navy operated aircraft carrier that is likely to supplement Mig-29K deck based fighter jets.
Both Rafale M and F-18 E/F are leagues ahead of ill-fated Mig-29K that are facing technical issues but Rafale M which was in India in January has hit some of its design limits that are giving F-18 E/F the upper hand in the deal in India that is already is making French nervous.
Rafale M lacks a folding wing mechanism which seems to be the biggest stumbling block that will curtail the ability of the Rafale M Trainer variant from being operated by an Indian aircraft carrier that is giving F-18 E/F tremendous technical advantage since it has a folding wing mechanism that will reduce its footprints on the hangar decks.
The second technical issue that is going against Rafale M is that requires the removal of weapons and Tip rails before it can be moved using the Lift to carry it to the maintenance bay below, which Boeing in officials presentation to the Indian Navy has confirmed won't require removal of Radome cone, wingtip rails while using lifts on board Ins Vikrant and Ins Vikramaditya.
Rafale M due to its limited production line also makes its more pricey which makes it much more expensive than the Rafale F3R that was procured by the Indian Air Force due to which the French Navy along with the French Ministry of Defence has now offered used Rafale-M
to the Indian Navy to sweeten the deal.
India's very own deck based Twin Engine Deck Based Fighter (TEDBF) that is under development also will share the same F-414 engine manufactured by the American General Electric Company with F-18 E/F which could come as a huge advantage to the maintenance crew when both aircraft types are based on the same aircraft carrier which will reduce the need to carry separate spares for two engine types and also reduce need to keep additional spare engine onboard thus saving cost on training additional maintenance crew to service this two different engine types.
F-18 E/F due to its higher all-up take-off weight and much more powerful engines already scores big on its weapons carrying ability also will be a big factor when operating in dry humid conditions at sea level in the Indian Ocean region. With close to 1500 units of legacy and present gen F-18 produced in the last 40 years, it is much more affordable and less costly than Rafale-M which had a production run of only 46 jets, it also has a lower operating cost and spare cost.
Disclaimer : Articles published under " MY TAKE " are articles written by Guest Writers and Opinions expressed within this article are the personal opinions of the author. IDRW.ORG is not responsible for the accuracy, completeness, suitability, or validity of any information on this article. All information is provided on an as-is basis. The information, facts or opinions appearing in the article do not reflect the views of IDRW.ORG and IDRW.ORG does not assume any responsibility or liability for the same. article is for information purposes only and not intended to constitute professional advice .
Article by NARAYAN APTE/, cannot be republished Partially or Full without consent from Writer or idrw.org