SOURCE: VISHAL KARPE / FOR MY TAKE / IDRW.ORG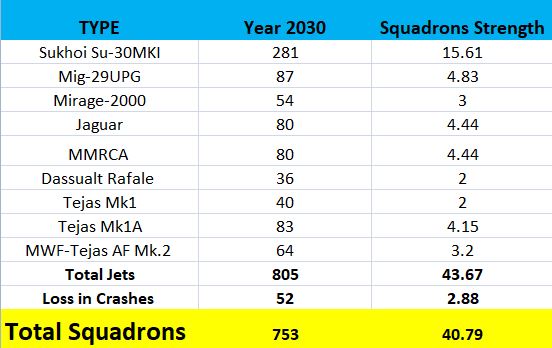 Indian Air Force presently is going through its most difficult of the times where it will be retiring more aircraft than what it will be inducting causing imbalance in Squadron strength. Air Force currently operates 35 squadrons even though the sanctioned strength is 42, this will further drop to below 30 Squadrons in the next two years while delays in MMRCA 2.0 means IAF will be inducting only 30 Sukhoi-30MKI and 36 Dassault Rafale in next three years while it retires all its MiG 21 and MiG 27 Squadrons in this period.
Let me first explain the above Chart to understand how still IAF can manage to get back to its sanctioned strength of 42 squadrons by 2030 for the first time in nearly 40 years after reaching its peak in the early '80s. Original order of Sukhoi-30MKI which was 272-9 (Crashed) + 18 follow up orders will take the Type strength to 281 aircraft which will translate into 15.61 Squadrons.
Mig-29UPG will be IAF's Largest fleet after induction of 21 Mig-29UPG in along with 64 already in service which takes type strength to 87 aircraft which will translate into 4.83 Squadrons. Mirage-2000 will continue to make up 3 Squadrons, while 80 Jaguars will make up 4.44 Squadrons even though this type will be on its last leg by 2030 unless IAF decides to go for HAL's MAX upgrade plan it will be difficult to make this number.
MMRCA Tender will be crucial here for the rise in the Squadron strength of IAF by 2030 and if by 2021, if there is a final contract for 114 units of new fighter aircraft and in 5 years selected vendor can deliver the first locally manufactured jets to IAF from 2027 onwards at 16 per year then IAF can have close to 80 jets by end of 2030. The current government needs to ink final contract by the end of 2021 so that at least 64 MMRCA aircraft are produced locally in India by 2030 and 16 more are directly supplied by the Vendor in the flyaway condition in this period. MMRCA Squadron strength will be 4.44 in IAF by the end of 2030.
Dassault Rafale will have 2 Squadron of 36 aircraft and Tejas Mk1 fleet strength will be of 2 Squadron of 40 aircraft. IAF instead of 18 aircraft per Squadron will have 20 aircraft per Squadron when it comes to Tejas Mk1 fleet and if we use the same benchmark then order of 83 Advance Tejas Mk1A will translate into 4.15 Squadrons by 2030.
MWF-Tejas AF Mk.2 which is likely to have its first flight by 2022 and if it manages to enter production by 2025-26 and is able to attain annual 16 aircraft production rate from the first year itself then it will make up 64 aircraft which will translate into 3.2 Squadrons.
Total Squadron strength of IAF could stand at 43.67 if IAF manages to keep a steady flow of new induction and meet timelines of all the jets it plans to procure from 2020 onwards till 2030. Su-57E on offer to IAF has been kept out since till now there is no indication if IAF will be interested in them but if India goes ahead and orders few aircraft in a Government to Government deal with Russia then also Squadron level might remain the same since IAF might go slow on either with MMRCA or on MWF-Tejas AF Mk.2 in this period due to cash crunch.
Managing to have 10 years of an accident-free decade from 2020 to 2030 is nearly impossible to achieve for any modern airforce even when most of the fighter aircraft inducted are brand new. Retirement of squadrons from the Indian Air Force (IAF) especially of older jets like Mig-21 and Mig-27 will vastly reduce crashes in this period and improve its safety record but older jets like Mig-29/Mirage-2000 and Jaguars which are over 30 years now will be 40 by end of 2030 some accidents and crashes will be expected along with that of Sukhoi-30MKI fleet which will be close to 30 years in service since induction but again it is difficult to predict how many aircraft will be lost in the next 10 years but without that calculation factored in it will be difficult to come close to realistic figures of Squadron strength by 2030.
IAF in the last five years has lost 26 fighter jets which, if used as a benchmark to calculate future losses in crashes and accidents that will translate into 52 aircraft type lost which translates into 2.88 Squadron strength lost to accidents in 10 year period but if we assume that IAF manages to lose only 1.88 Squadron strength from 2020 to 2030 then IAF will be having 41.79 Squadron strength which will be close to its actual Sanctioned Strength but IAF requires 45 Squadron strength in case it faces a two-front war with Pakistan and China in the near future and focus should remain in achieving that by funding development of AMCA and MWF-Tejas AF Mk.2 in larger numbers.
Disclaimer : Articles published under " MY TAKE " are articles written by Guest Writers and Opinions expressed within this article are the personal opinions of the author. IDRW.ORG is not responsible for the accuracy, completeness, suitability, or validity of any information on this article. All information is provided on an as-is basis. The information, facts or opinions appearing in the article do not reflect the views of IDRW.ORG and IDRW.ORG does not assume any responsibility or liability for the same. article is for information purposes only and not intended to constitute professional advice .
Article by VISHAL KARPE ,  cannot be republished Partially or Full without consent from Writer or idrw.org
Note: If you have personal opinion and want to contribute for" MY TAKE "on Defence matters kindly email us at idrw.org@gmail.com