SOURCE: JOYDEEP GHOSH/ FOR MY TAKE / IDRW.ORG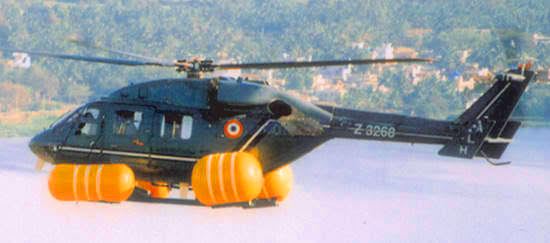 Emergency Flotation Systems (EFS) are emergency systems installed on commercial and military aircrafts that helps to prevent the airframe sinking in water in the event of a crash landing on water. The EF Sare packed within spaces inside the airframe or as externally mounted packs on the aircraft. The floats are inflated using gas stored in pressurised cylinders carried on board the aircraft.
In case of helicopters, upon hard landings the lower plexiglass bubbles in the nose section frequently break. Watertight hull integrity is usually rapidly lost followed by or concurrent with the aircraft rolling over. The EFS helps to save lives as the aircraft rolls over and rapidly fills with water because the nose sinks first trapping personnel in the aft cabin. As the aircraft rolls over, rapidly filling with water and sinking nosedown, especially at night it becomes impossible for occupants to escape/swim outward against inrushing water and egress successfully. EFS are designed to facilitate theescape of personnel as well as save the airframe from disintegrating.
In case of an aircraft with an EFS, it is activated upon an emergency landing of the aircraft on water, that helps prevent at least sinking of the aircraft, characterized by a capsizing avoidance buoyancy system. The capsizing avoidance buoyancy system is activated if predetermined activation criteria are satisfied and only after activation of the EFS upon an emergency landing of the aircraft on water, to prevent capsizing of aircraft.
In a EFS, the most rapid inflation is provided by pressurised helium although some float systems use helium blended with other gases such as nitrogen to slow down the inflation rate.
History
By 1979, United States Navy and Marine Corps CH-46 Sea Knight helicopters were involved in 64 emergency landings on water. Of the 64, 47 helicopters sunk after crash landing, killing 75. A study estimated 50% of those fatalities could have been prevented if helicopters were equipped with EFS. As helicopters have a higher center of gravity due to the high-mounted engine and transmission, even if they are naturally buoyant in water with hatches secured, they will tend to overturn in heavy sea conditions.
EASA CS-29 and EASA CS-27 define airworthiness standards for rotary wing aircrafts, according to which rotary wing aircrafts must be equipped with the EFS.
What Next?
The type-certification of helicopters to withstand the undesirable consequences of a ditching does not necessarily prevent such consequences. The EFS fitted is often damaged by the ditching impact and rendered wholly or partially ineffective.
Ways of improving the crash-worthiness of EFS were also considered. Many say that an EFS should be manually armed for all overwater arrivals and departures and where practicable activated automatically in all water impacts even when not armed. Such an Automatic Float Deployment System (ADFS) adds additional functionality to an EFS and was the subject of one of the 27 Safety Recommendations made as a result of UK AAIB Investigation into the inadvertent descent into the sea by an EC225L2.
Another way of increasing the crash-worthiness of the EFS is the installation of additional floats to ensure that if the helicopter/aircraft does not remain upright, perhaps because of float damage or sea conditions, it will lie on one side rather than capsize.It should be noted that a multiplicity of buoyancy systems with more or less operator-independent inflation logic already exists. This multiplicity of buoyancy systems relates, however, not necessarily to capsizing avoidance buoyancy systems, but more broadly to buoyancy systems in general.
This requires air pocket to comply with provision of a suitable capsizing avoidance buoyancy system such as a roof mounted inflatable flotation device or float bag, in addition to a normal EFS. Such a roof mounted float bag is located in a rotary wing aircraft comparatively close to respective main rotor blades of an associated main rotor and it is specifically needed when, upon an emergency landing of rotary wing aircraft on water, the sea state is above predetermined emergency flotation system limits of EFS of rotary wing aircraft.This helps avoid rotary wing aircraft going into a capsized position.
However, an unintended release of the capsizing avoidance buoyancy system during flight of rotary wing aircraft because of a system error, must be avoided as otherwise the inflated float bag may get in contact with the rotating main rotor blades and damage or rupture rotating main rotor blades, making a crash of the rotary wing aircraft inevitable. Furthermore, non-activation of roof mounted float bag in successive required actions upon an emergency landing of rotary wing aircraft on water, may be caused by unconsciousness of a aircraft crew, resulting in capsize of the helicopter despite the provision of the capsizing avoidance buoyancy system. Therefore, an applied inflation logic for the capsizing avoidance buoyancy system must be safe and reliable and should, preferably, be operator-independent.
India's MH370
Malaysia Airlines Flight 370 was a scheduled international passenger flight that disappeared on 8 March 2014 while flying from Kuala Lumpur International Airport to Beijing Capital International Airport. The crew of the Boeing 777-200ER aircraft last communicated with ATC around 38 minutes after takeoff when the flight was over the South China Sea. The aircraft was lost from ATC radar screens minutes later but was tracked by military radar for another hour, deviating westwards from its planned flight path, crossing the Malay Peninsula and Andaman Sea. It left radar range 200 nautical miles (370 km) northwest of Penang Island in northwestern Peninsular Malaysia. Despite international search effort for years all 227 passengers and 12 crew aboard were presumed dead, and the disappearance of Flight 370 is still a mystery as to where did the plane go.
In same way on 22 July 2016, an Antonov An-32 twin engine turboprop transport aircraft of the Indian Air Force disappeared while flying over the Bay of Bengal. The aircraft was en route from Tambaram Air Force Station in the city of Chennai on the western coastline of the Bay of Bengal to Port Blair in the Andaman and Nicobar Islands. There were 29 people on board. Radar contact with the aircraft was lost at 9:12 am, 280 kilometres (170 mi) east of Chennai.The search and rescue operation became India's largest search operation for a missing plane on the sea in history. Yet after a futile search on 15 September 2016, the search and rescue mission was called off; and all 29 people on board were presumed dead and their families were notified. Where is the aircraft still remain a mystery after 5 years.
Same way a Dhruv mk4/Rudra WSI helicopter of the Army with pilot and co-pilot on board went out of control and crashed into Ranjit Sagar dam at village Purthu in Basohli tehsil of Kathua district on August 3, 2021 after taking off from Mamun Cantonment in Pathankot for security recce ahead of Independence Day celebrations and drone attacks. Twelve days later, the body of Lt Col AS Baath, one of the pilots onboard the ill-fated helicopter, was recovered but the body of co-pilot is still missing.
If EFS was available in both aircrafts, the helicopter and fixed wing aircraft would have remained afloat for few hours atleast saving precious lives and more importantly precious flying platforms. Also, if there were Emergency Locator Beacon (ELB) active the downed but still floating aircraft could have been easily located.
How to Avoid
1. Make use of EFS compulsory any aircraft (rotary/fixed) that is assigned to fly over water for what ever type of mission, be it EW/CASO/CASVAC/MEDVAC/CSAR/RC/TRS.
2. Make use of EFS part of SOP alongwith ELBany aircraft (rotary/fixed) be itmanned or unmanned (drones) that are assigned to fly over water either permanently or temporary basis.
3. EFS can also be used if needed on heavy amphibious armoured vehicles of army, air force in case they get stalled in the water.
Disclaimer : Articles published under " MY TAKE " are articles written by Guest Writers and Opinions expressed within this article are the personal opinions of the author. IDRW.ORG is not responsible for the accuracy, completeness, suitability, or validity of any information on this article. All information is provided on an as-is basis. The information, facts or opinions appearing in the article do not reflect the views of IDRW.ORG and IDRW.ORG does not assume any responsibility or liability for the same. article is for information purposes only and not intended to constitute professional advice .

Article by JOYDEEP GHOSH/, cannot be republished Partially or Full without consent from Writer or idrw.org