SOURCE:  DEEPAK HILORI/ FOR MY TAKE / IDRW.ORG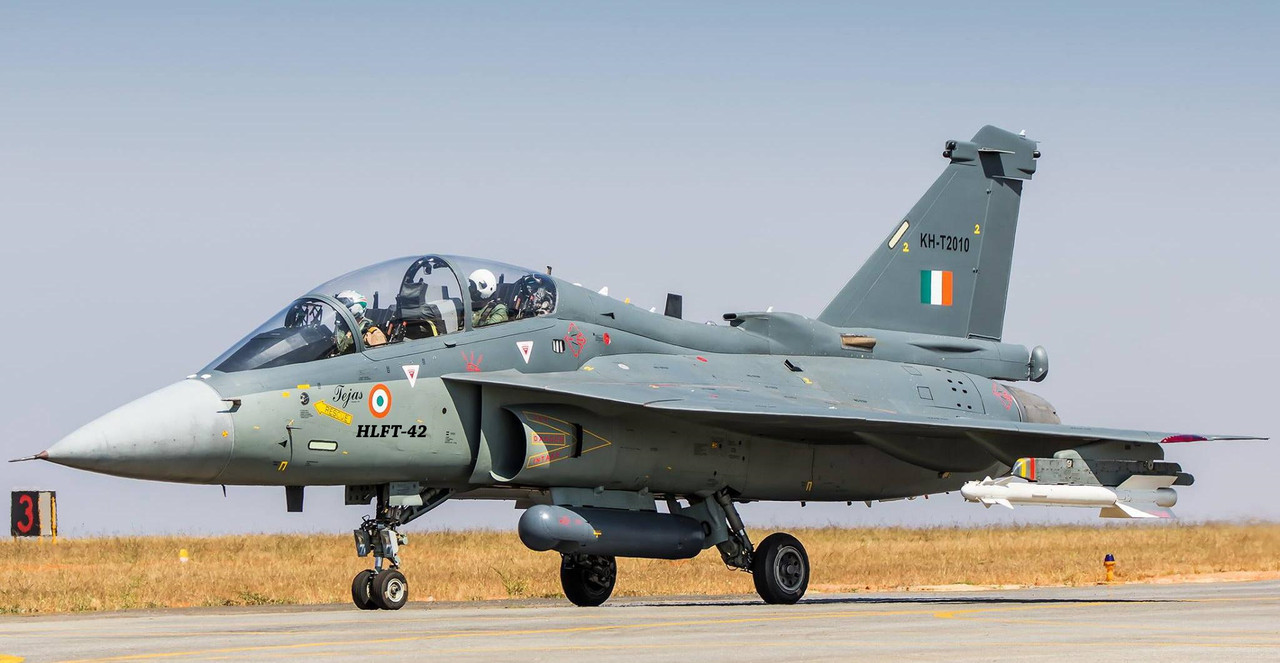 India's HAL has commenced work on the development of the Hindustan Lead-Fighter Trainer program that will be based on the two-seater trainer version of the Tejas Mk1. HLFT-42 program is seen as a bridge to get rid of conversion types altogether from all fighter jet types that the Indian air force plans to acquire soon so that pilots will be familiar with jets that they will eventually fly in their squadrons.
HAL is developing this program keeping a close eye on the export market where Boeing-Saab developed T-7 Red Hawk is likely to storm the market soon and will challenge current the market leader in this segment, that is Korean developed T-50 Golden Eagle.
When it comes to the Trainer aircraft market everything boils down to price and how affordable they are not only to own but also to operate. Boeing–Saab T-7 Red Hawk due to massive USAF order already has breached $20 million mark and will cost just $19.3 million per unit, that will severally under cut T-50A that has been selling at $21-25 million per unit as per customizable configuration. Recently IAF placed orders for 10 LCA-Tejas Trainer that had a unit cost of $35 million while it was just a conversion two-seater aircraft to be used by pilots at the squadron level, an HLFT-42 based out of it will need to be much cheaper than this to be marketable.
All three Trainer are to be powered by General Electric F404 afterburning turbofan that will contribute to 30% of the overhaul costs of each jet and it will be difficult to cut cost here unless GTRE developed 80kN Kaveri engine can be adopted and cost less by $3-4 million then F-404 engines, which will be a huge task since the engine has been under development for ages now but recent advancement in the program suggests that engine certification might be completed by 2025.
HAL will need to adopt a digitized production line to build the aircraft with minimal tooling which will also reduce the need for technician's input that will be reducing manpower hours required to develop them thus indirectly reducing its manufacturing costs. Another way to reduce manufacturing costs is to reduce the cost of systems and equipment which can be achieved if they are further outsourced to industrial partners. reducing imported components and replacing them with locally made ones will also help reduce its costs.
The material cost of the aircraft should also be under control for that high usage of the composite should be looked upon, Tejas airframe is 45% composites (mostly carbon-epoxy) and due to high Raw material import costs, it won't be able to offer HLFT-42 at such price points for it, unless it is willing to look at reducing composites in the aircraft and look to including more Aluminum and steel.
Boeing-Saab achieved $19.3 million per unit cost of T-7 Red Hawk because it has very little composite. It's an all-metal aircraft. T-7 is made of old-fashioned metal and using 3D digital printing Boeing claims this aircraft can be assembled in 80% less time than other jets in a similar class which is why it will make the trainer untouchable in price and operating costs.
LIFT market is small but it will change fast since many countries are looking to phase out their Advance jet trainers like Hawks and Alpha jets and transition their air force into supersonic fighter trainer aircraft and will procure T-7 once USAF inducts them and many countries will follow the trend and will be seeking to procure Lead-Fighter Trainer jets also for their air force. T-7 when it enters the market eventually will be difficult to beat it in the price it will be offered but HAL can come up with HLFT-42 that offers more in technology for a price point that will make many countries have second thoughts about the procuring T-7 or T-50, for that it needs to innovate and come up with solutions fast and the sweet price point will be $23-25 million per unit.
Disclaimer : Articles published under " MY TAKE " are articles written by Guest Writers and Opinions expressed within this article are the personal opinions of the author. IDRW.ORG is not responsible for the accuracy, completeness, suitability, or validity of any information on this article. All information is provided on an as-is basis. The information, facts or opinions appearing in the article do not reflect the views of IDRW.ORG and IDRW.ORG does not assume any responsibility or liability for the same. article is for information purposes only and not intended to constitute professional advice .
Article by DEEPAK HILORI , cannot be republished Partially or Full without consent from Writer or idrw.org