SOURCE: UNI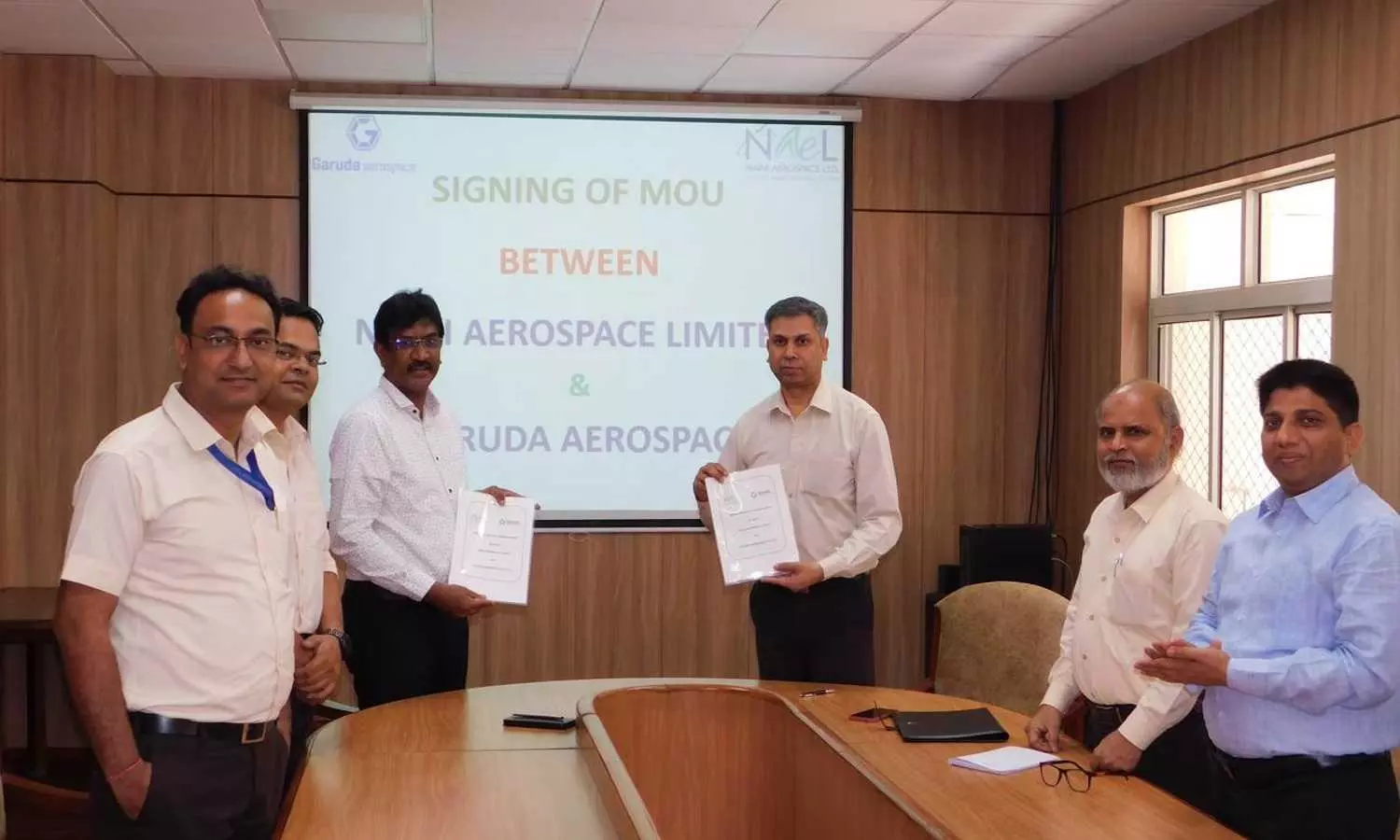 Uttar Pradesh-based Naini Aerospace engineering Limited (NAeL), a wholly owned subsidiary of Hindustan Aeronautics Limited (HAL) under the Ministry of Defence said on Sunday that it will begin drone manufacturing by the end of June this year.
The public sector unit has partnered with Chennai-based drone startup, Garuda Aerospace that would help them make advanced precision drones on Indian soil for various applications, especially farming. That said these drones would support farmers by providing cost-effective solutions to increase their productivity by using technology enabled drones and cater to day to day agricultural needs, according to Garuda Aerospace. 
The drones are designed to be able to carry a payload of around 25 kg and shall cover a radius of 500-metre with speed of 5 metre/second. The drone has spray efficiency of 1500-2550 square metre/ minute.
"This initiative is expected to create employment and will boost economic activities in Naini Industrial Area, which is also an education hub. This would be first drone manufacturing facility in the northern India with a potential to add tremendous value to the industries such as security and surveillance besides agriculture, mapping of lands among other things to cater to the requirements within the country", said chief executive officer, NAeL, RR Thakur in a statement.
"This partnership will also strive to increase indigenisation of imported components required for manufacturing of drones. Most of the components amounting to around 75%, are presently being imported from China and many western countries," he added.
Naini based NAeL started its production in July 2017. It previously hogged the limelight when it bagged the order for manufacturing loom for Light Combat Aircraft (LCA) 'Tejas'. Later, NAeL started to assemble structures of Dhruv helicopters. NAeL is also carrying out loom work of Cheetah, Chetak and Dornier aircraft and helicopters. More than 10,000 looms have been manufactured and installed in the aircraft.
In November, 2022, NAeL proposed starting a course for remote pilot training organisation (RPTO) for training drone pilots in an area of around 10 acre land parcel. The organisation said drone pilots will be trained at the unit's premises at Naini and it will commence by mid-2023. The license of the course it said will be taken from Director General Civil Aviation (DGCA) to open the training centre.
The partnership with NAeL further strengthens Garuda Aerospace's leadership in India's drone manufacturing ecosystem, said, Agnishwar Jayaprakash, Founder and CEO, Garuda Aerospace, who said that the "the company has seen a pre-booking of over 7000 drones at Rs. 4.5 lakhs each," he said.
Furthermore, Garuda Aerospace recently partnered with BEML at Aero India for drone manufacturing at their Mysore facility and initiated a massive indigenization campaign. The company has also collaborated with 120 local suppliers with the objective of reducing reliance on foreign imports of drone parts, components, and UAV subsystems.
The factory is located on the Prayagraj-Mirzapur highway, approximately 20 km from Prayagraj city center. Naini, Prayagraj is being considered for inclusion in the proposed defence industrial corridor of Uttar Pradesh.
According to data from the research firm Tracxn Technologies published in March this year, in FY2022-23, drone startups attracted $49.7 million in investments across 20 rounds, compared to $25 million received in FY2021-22 across 23 rounds. The figure for FY2020-21 was $11.2 million across 20 rounds.
The government of India has earlier said that it has set a target of making at least one-lakh Made in India drones by 2024.