SOURCE: ANITA DESAI / FOR MY TAKE / IDRW.ORG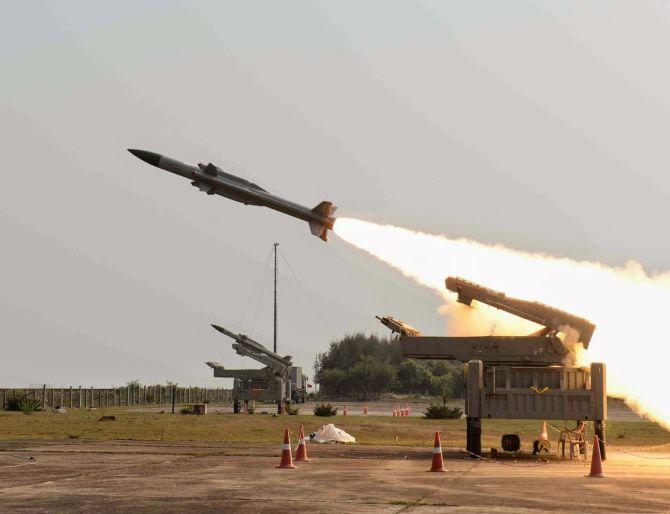 After the consistent and reliable performance of the indigenous Akash Surface to Air Missile (SAM) System, the Indian Air Force (IAF) has decided to place an order for seven more squadrons of the Akash SAM System over six squadrons which were ordered in 2010 but just when DRDO, BDL, and BEL are on verge of getting the biggest order for the missile system, program has been hit by a report which shows missile system in really bad light especially on the units which have been procured by the IAF and those which allegedly are positioned near China border.
As per the report, the missile system remained dysfunctional during 90 percent of the time since their date of commissioning but has per number of missiles fired in Ex- Vayu Shakti 2019 and in Crossbow-18 the report says that Akash Missile System refused to take off in one launch but forgets to mention that it also successfully intercepted and destroyed unmanned aerial targets every time when tested in 11-day Combined Guided Weapon Firing exercise it surpassed all expectations and was judged better than imported SAM missile system also proved its performance capability and reliability while report says 'Akash missile system can't be trusted during war' so can we trust imported SAMs which didn't perform well too ?
According to second allegations, sometime back in 2018, Akash Missile Transportation parked at a forward air force station suffered tire burst followed by shearing off wheel bolts due to impact but Missile Transportation is manufactured by third party and Truck supplied are either from TATA or the Ashok Leyland so any faults with the Akash Missile's Transportation and Loading Vehicle (TLV) need to be rectified by the supplier which was chosen in consent with the airforce while Army which uses BEML manufactured TATRA Trucks has no such issues.
The report also mentions that squadron reported cracks on air intake caps of dummy missiles but why there is even so much fuzz over dummy missile? when the dummy missile is only used to train ground crew and it is not a real missile system.
DRDO has agreed that there were some teething problems related to extensive field usage faced by squadrons based in the North East and after several rounds of meetings between the user, DRDO and the defense PSUs BDL and BEL and other agencies involved, a mechanism has been evolved to carry out the maintenance together. However, due to the inclement weather in the North East, there have been delays in carrying out the repairs.
IAF also has confessed that there is no design issue with the system but on the question about serviceability and maintainability of the system it said that it solely relies on the DRDO/BEL/BDL combined and In case of any faults, usually after proper investigations carried out by DRDO issues are usually resolved said latest counter media report. In regards to the Issues related to the other support, ground systems are also been fixed with the third-party contractors/suppliers and most of the issues have been fixed.
The report also mentions the incident of the fuel leak but actually, it was probably due to some damage sustained to the fuel tank of the TLV and not actually of the missile system. the report has no mention of problems related to its entire Radar system or any complaints regarding Kill and target probability but it does mention a CAG report which had said that in 20 launches Six missiles failed to intercept the target due to lack of thrust and two apparently failed to take off but this CAG report was based on the previous launches when the missile system was still under evaluation stage and still were prototypes missile which were used but many of the Quality Assurance (QA) protocols were implemented at the production stage to minimize such dud missiles but it is nearly impossible to achieve perfect production record and rather forces usually have some level of acceptance levels and if Akash missile system achieves next 20 launches with one or two failures then it can be considered good Quality Assurance.
Do imported SAM batteries have perfect kill probability or perfect launch and service record with IAF? Not really and CAG reports on such an imported system have many issues with maintenance and reliability of the weapon system so now the question is why such a report emerged now and who was behind such detail leak? and who was supposed to benefit from the fiasco?
Disclaimer : Articles published under " MY TAKE " are articles written by Guest Writers and Opinions expressed within this article are the personal opinions of the author. IDRW.ORG is not responsible for the accuracy, completeness, suitability, or validity of any information on this article. All information is provided on an as-is basis. The information, facts or opinions appearing in the article do not reflect the views of IDRW.ORG and IDRW.ORG does not assume any responsibility or liability for the same. article is for information purposes only and not intended to constitute professional advice .
Article by ANITA DESAI /,  cannot be republished Partially or Full without consent from Writer or idrw.org