SOURCE: AFI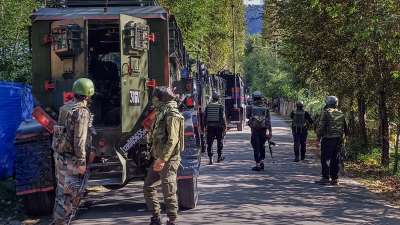 Anantnag's Kokernag region witnessed the continuation of anti-terror operations for the fifth consecutive day, as security forces engaged with suspected terrorists holed up in the area. Amid intermittent gunfire and adverse weather conditions, which included rainfall, a body believed to be one of the "three to four" terrorists was reportedly discovered at the site.
The identity of the deceased individual, whose body was found near a cave hideout, has not been immediately confirmed.
The extensive anti-terror offensive has been ongoing in the forested Gadoole area since Wednesday, when the unfortunate loss of Colonel Manpreet Singh, Major Ashish Dhonchak, and DSP Humayun Bhat occurred. Additionally, two soldiers sustained injuries, with one soldier succumbing to injuries in the hospital on Friday.
On Saturday, Northern Commander Lt. Gen Upendra Dwivedi visited the operation site. During his visit, Lt. Gen. Dwivedi assessed the situation and the ongoing "high-intensity operations." Ground commanders briefed him on the offensive, which included the use of advanced equipment such as drones for tracking down the terrorists.
Sunday marked a critical phase in the operation, with forces launching what was described as the "final assault" against the entrenched gunmen. The operation aims to neutralize the threat posed by these terrorists and restore peace and security in the region.