SOURCE: AFI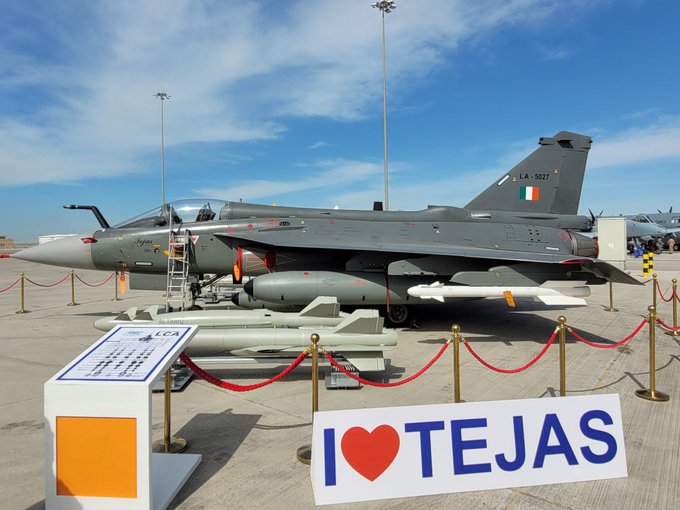 The Dubai Airshow 2023 is poised for a gripping showdown as India's Tejas fighter jets, China's J-10C, and Pakistan's JF-17 Thunder Block-3 gear up for a fierce competition for attention and recognition on the global stage. Running from November 13 to 17 at the Dubai World Central, this airshow stands as a pinnacle in the world of aviation events, offering a platform for a diverse array of commercial, business, and military aircraft.
The Indian Air Force officially announced on November 8 that the indigenous LCA Tejas aircraft has landed at the Al Maktoum International Airport in Dubai, ready to captivate audiences at the prestigious Dubai Air Show. The Tejas is set to engage in both static displays and captivating aerial performances throughout the duration of the event. Conversely, the participation of the Pakistani Air Force's JF-17 Thunder Block-3 has not been officially confirmed. Still, the Dubai Air Show's official lineup includes it, hinting at the potential inclusion of the aircraft in the flying display for a direct comparison with its Indian counterpart.
Adding to the intensity of the competition, the Chinese J-10C fighter jet, represented by seven multi-role fighters from the Chinese Air Force's August 1 Aerobatics Team, will make a significant appearance at the Dubai Air Show. This marks the first showcase of the PLAAF's Aerobatics Team at the event since 2017, and the J-10C makes its debut in the Middle East following a substantial upgrade in 2018.
The rivalry between India's Tejas and Pakistan's JF-17 has been a notable one, with the latter occasionally abstaining from international air shows where direct comparisons were anticipated. Despite this, both countries are eager to display the capabilities of their respective aircraft on this global stage.
China's strategic participation with the J-10C in the Middle East market is underscored by the opportunities emerging after the United States imposed sanctions on Russia. This move suggests that middle-income and low-income countries might find advanced Chinese fighter jets appealing due to simplified procurement processes and the absence of political conditions attached to their purchase. The Dubai Airshow 2023 promises not only aerial spectacles but also a geopolitical spectacle, with each nation vying for a share of the spotlight in the competitive global aviation landscape.