SOURCE: HINDU TAMIL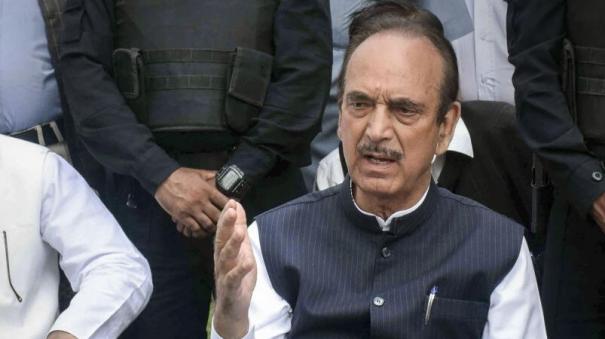 Ghulam Nabi Azad, the former chief minister of Jammu and Kashmir and recently quit the Congress party, had announced the launch of a new party. In this regard, he is also holding public meetings across Kashmir. Addressing one such public meeting on Thursday, Ghulam Nabi Azad appealed to the militant groups in Kashmir to lay down their arms. Following this, a militant group has issued death threats to Ghulam Nabi Azad, alleging that he has become a traitor working for the BJP.
Addressing a rally in south Kashmir's Anantnag district, Ghulam Nabi Azad said, "Gun culture has affected all generations. I don't want to see more youths dying in this valley. I want to say one thing to those who carry guns. Guns do They only bring destruction and misery.
I don't want to see any more bloodshed and lifeless bodies of young people in this valley," he said. He also accused Pakistan of being a "failed country that cannot solve its own problems and is hell-bent on destroying our state and country."
Speaking at a public meeting in Baramulla, Kashmir, Ghulam Nabi Azad said, "I don't want to make false promises that the political objective is to restore Article 370 and bring back special status to Kashmir. About 350 votes in the Lok Sabha and 175 votes in the Rajya Sabha are needed to bring back Article 370. Any political party has the strength to that extent. "No, not getting it. Congress is reduced to less than 50 seats. At this stage they are making false promises about Article 370," he said.
Earlier, Ghulam Nabi Azad, a senior Congress leader and prominent figure, had recently announced that he would step down from all positions, including as a core member of the party. Following this, he announced that he would start a new party in Jammu and Kashmir as elections were coming up.