SOURCE: ANITA DESAI / FOR MY TAKE / IDRW.ORG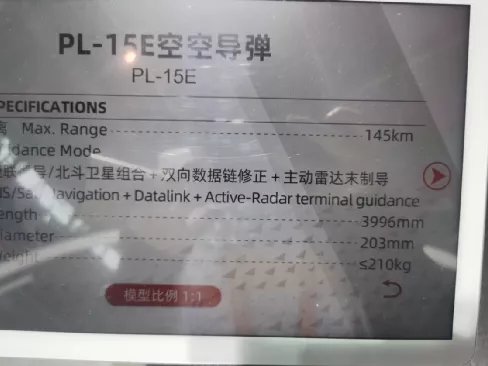 A year ago I had in my report for idrw.org had argued and claimed that China's best and baddest aerial weapon PL-15 beyond-visual-range air-to-air missile (BVRAAM) developed by the 607 Institute is not the deadliest AAM out there and nor it had the mythical range of 400km for the fighter jet size targets that and as often claimed by China watchers.
At the biennial Airshow China in the southern city of Zhuhai, China International Aviation & Aerospace Exhibition technical specification of the PL-15 AAM has come as a shocker to the PLAAF fanboys as PLAAF itself has claimed its range to be just 145km even though I had predicted it could be around 200km for high-value targets such as airborne early-warning aircraft and aerial refueling aircraft based purely on the technical details of the missile system.
The PL-15 missile, which is a radar-guided weapon, was touted as having a greater range than contemporary systems like the US-built AMRAAM AIM-120D that is thought to have a range of about approximately 160km, and DRDO's Astra Mk2 has a range of 150-160Km, but in fact, will be near similar if not less in actual combat conditions. Multiple images of the PL-15 have been circulated since 2015 even as the Chinese government and media kept silent about the project, but Chinese media did report about the test of an unnamed air-to-air missile, with a range of up to 400km in 2017 that lead to many believe it was PL-15 even though Chinese had never named the missile.
But many Experts did Question claims of the 400km range of PL-15 since it uses a conventional rocket motor, unlike the European-origin MBDA Meteor missile that uses an air-breathing ramjet motor and has greater maneuverability as it approaches a target when compared with rocket-propelled missiles. China watchers have always argued that the PL-15 may have a greater range than the Meteor on account of its higher fuel capacity but the PL-15 weight is hardly 30kg (210kg) more than Meteor (190kg) and is longer by only 0.31 meters thus falls another claim.
607 Institute tried to get near Meteor missile performance out of PL-15 using Dual-Pulse motor and it seems it came close to 70% of the operational performance of the Meteor BVRAAM that remain unchallenged BVRAAM in the segment. Even Israel has often touted I-Derby-ER BVRAAM missile performance close to 80% of the operational performance of the Meteor BVRAAM and as a lot cheaper product using Dual-Pulse motor with 100km+ range. since the official range of PL-15 is 145km, then the No Escape Zone (NEZ) range of the missile might be in double digits, I could predict it to be around 60-70km max.
The export variant of PL-15
The export variant of PL-15 that might find its way to its close allies like Pakistan might drop further by 15-20% in its max out range since the Puny Chinese origin AESA radar on the JF-17 Block-III won't have a Tracking range to make a kill over 150km let alone in its search mode to detect a fighter size fighter.
PL-15 and India
China watchers in India made a lot of noise over PL-15 and I had argued that it was to lobby for procurement of more Meteor BVRAAM which is limited now just to the Dassault Rafale fleet, thus in a way lobbying for more Rafales. India's Astra Mk2 sure will also have a similar range and performance of 160km+ with Mk1 already being declared as 110km range missile, Astra Mk2 will also have much improved No Escape Zone (NEZ) range as claimed by DRDO Chief himself and range that puts it right into segment leaders in AAM class.
Astra Mk3 will be a game-changer in aerial warfare not only for India but also for the world if it can demonstrate a range over 200km+ which DRDO intends to do for fighter size targets.
PL-15 Scare Crow to push more imports in India?
Disclaimer : Articles published under " MY TAKE " are articles written by Guest Writers and Opinions expressed within this article are the personal opinions of the author. IDRW.ORG is not responsible for the accuracy, completeness, suitability, or validity of any information on this article. All information is provided on an as-is basis. The information, facts or opinions appearing in the article do not reflect the views of IDRW.ORG and IDRW.ORG does not assume any responsibility or liability for the same. article is for information purposes only and not intended to constitute professional advice .
Article by ANITA DESAI /, cannot be republished Partially or Full without consent from Writer or idrw.org