SOURCE: TNN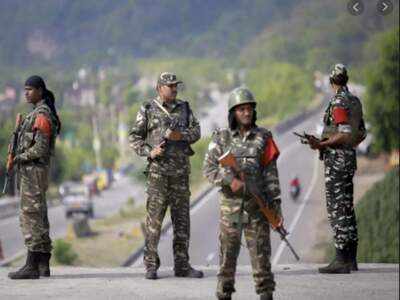 From motivation that drives youngsters in the country to join the Indian Army to the reasons behind a drop in intake from candidates with officer-background, experts shared interesting insights on changing recruitment patterns within the Indian Army. The discussions began with an online session organised by Defence Research and Studies (DRaS) on "Changing recruitment patterns and social ethos" and Lt Gen K J Singh (Retd), former Western Army Commander and senior advisor DRaS was invited to share his views.

In the candid interview, Gen Singh shared how he has seen the institution change and evolve throughout his journey from an NDA cadet in the 1970s to a General and now a veteran. Earlier it was an honour for youngsters to serve in the same unit as their grandfathers and fathers. However, this trend has changed, he said. "While children of Jawans and Junior Commissioned Officers (JCOs) are motivated to join the forces, officers' kids these days explore other career opportunities", Gen Singh told TOI. JCOs are the military personnel higher than havildars and lower than Lieutenants in rank.
Sharing his experience as a member of Service Selection Boards (SSB), Gen said: "At times, fourth and fifth-generation officers' children are rejected because they don't exhibit the right skills for the job." Service Selection Board (SSB) is the institutional arrangement to evaluate the potential of candidates for becoming officers in the Armed forces through a rigorous evaluation system.

In fact, the recent data released by the CDS office revealed that cadets from non-military backgrounds occupied the majority of seats at the prestigious National Defence Academy (NDA) while the number of recruits from officer-families declined for a sixth consecutive year, touching 5.4% this year. As per the same report, 75.67% cadets at NDA this year are from the non-military background, while 18.9% are wards of JCOs/Jawans.

Commenting on the lack of motivation among the officers' wards, Lt Gen Jasbir Lidder (Retd), former Additional Director General Military Operations in Army Headquarters told TOI that it is a competence driven selection process, so the best amongst the volunteers must join the forces, irrespective of the background. "Having said that, I suspect many senior officers who otherwise pride on the virtues of military service, have been unable to build the desired motivation for their children to opt and compete for a perceived tougher military option – by design or default," he commented.
Discussing the subject, Gen KJ Singh commented that, only traditional affiliation with the institution is not enough to get an officer's ward into the Indian Army.

JCO and Jawans' kids take recruitment more seriously and the data reflects the same. For them, a transition from Jawans and JCOs to officers is also an opportunity for social upliftment, he explained. Changing priorities and increase in career options

Lt Gen Gautam Banerjee (Retd), currently Editor at Vivekananda International Foundation Delhi, told TOI that the best youth are not coming forward to join the Army. "It is way down in the priority of choices in careers, and we also hear that the Army is faced with the prospects of compromising on the quality of its intake," he said.

"While an increase in emoluments, faster promotions, improvement in post-retirement prospects etc might help change the trend, one does not tryst with danger and sacrifice just for money. Therefore, the potentially most-suitable recruits for Army, in most likelihood, would hail from modest backgrounds in small towns and villages, average in academics, but they would 'have it' in them. Appropriate measures must be taken by Army's senior leadership to assimilate them into an efficient and thinking army of modern-day India," Lt Gen Banerjee added.

Lt Gen D S Hooda (Retd), former Northern Army commander and Senior Advisor, DRaS said that the drop in intake from officer-background is partly explained by the change in career opportunities available to them. "When I was young, popular career options we had were to be a Doctor, Engineer or join the Armed forces. The younger generations now have a multitude of options to choose from and thus they digress from the generational occupation. This also explains why youth from the non-military background are entering the Armed forces. As long as basic ethos of the military are not getting diluted, their entry in the Armed forces adds greater diversity to the profession."
Divya Malhotra, Researcher with DRaS and Assistant Professor at Rashtriya Raksha University added that: "As the younger generation of officers become more aware and informed, change becomes inevitable, but institutions are bigger than individuals. This is true, more so for powerful organisations including the Armed forces which need to maintain a cohesive spirit alongside the strict institutional hierarchy. This delicate balancing remains a challenge."
Gen KJ, sharing anecdotes from his Lieutenant days, said that in earlier times the Commanding Officer (CO) of a unit would hardly interact with younger officers. "We were addressed as Mister and CO would hardly speak to us for a minute or two. Now CO is much more approachable and interaction with younger officers is more frequent," Gen added.

Change in society reflected in the Armed forces?

Over the last few decades, Indian society has witnessed a change and with greater awareness and better access to information, "these social changes may have crept in the Armed forces as well", Divya commented. But how well is the Army adjusting to social change remains an important concern. "There is nothing wrong with change per se and it cannot be resisted. However, Army is a way of life, not just a profession and therefore it is important to retain the core values of soldiering while embracing necessary changes," Gen KJ said.

Historically, leaders, as well as the rank and file of the soldiery, were drawn from four sections of society- Aristocrats, Adventurers, Service class and the non-traditionals. But in coming times, it would be from the last two categories, Lt Gen Banerjee said. "It will be important to pass on Army's exemplary ethics, strict codes of conduct and military education to them to retain the institution's ethos", he added.