SOURCE: IDRW NEWS NETWORK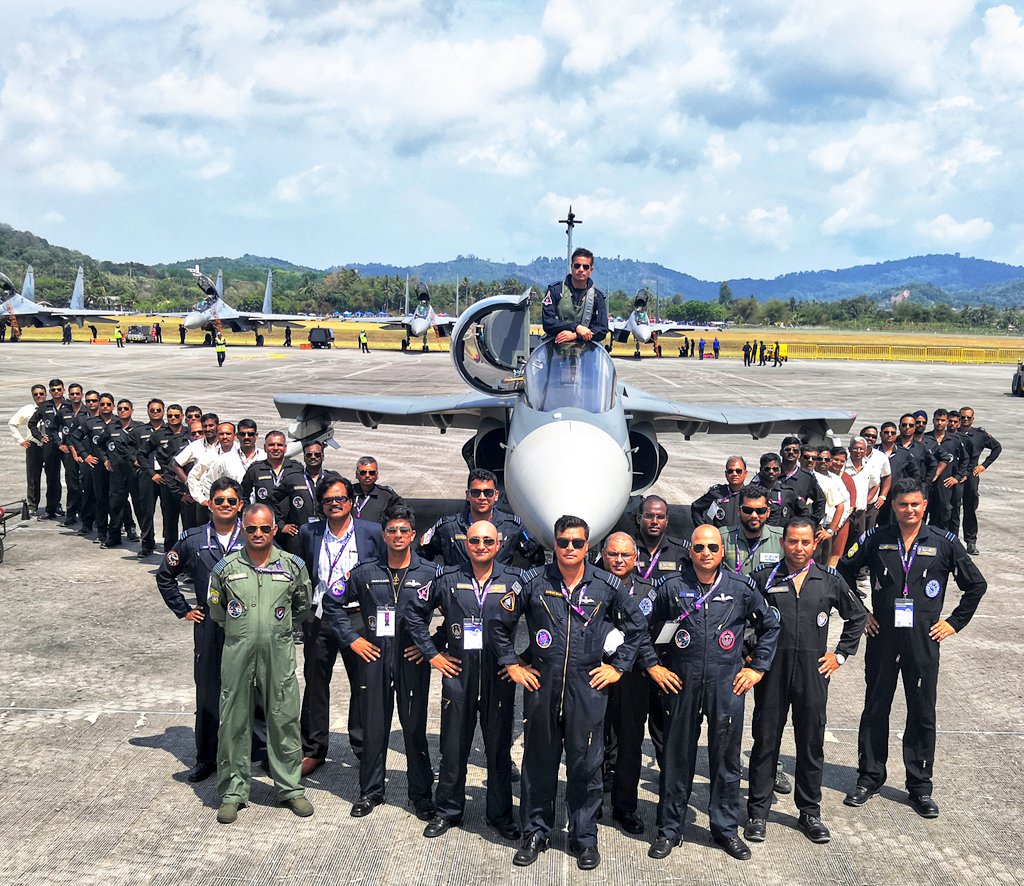 According to Indian media reports, Royal Malaysian Air Force (RMAF) Team will be coming down to India in the next two months to visit the manufacturing facilities of the Hindustan Aeronautics Limited and also evaluate India's LCA-Tejas Mk1 as a light combat aircraft / fighter lead?in trainer (LCA/FLIT) to replace a number of its current platform types soon. Royal Malaysian Air Force's (RMAF's) plan to procure up to 36 LCAs with options for 26 more, but the initial number might be only for 12 jets, while the rest are kept for follow-on orders in the contract.
idrw.org has been told that Royal Malaysian Air Force (RMAF) Team that will be heading to India is the same team that evaluated the LCA-Tejas aircraft when it had participated in the 15th edition of Langkawi International Maritime and Aerospace Exhibition (LIMA-2019). RMAF Team members that had carried out sorties on the LCA-Tejas Trainer aircraft were pretty impressed by the performance of the jet back then.
RMAF Team to India will be headed by a Senior most Sukhoi Su-30MKM Pilot who was trained in India by the Indian Air Force (IAF) to operate Su-30MKM that was developed by the Sukhoi Design Bureau but was based on the Su-30MKI of the Indian Air Force. IAF and RMAF have shared a close relationship in the past for providing training of the pilots and ground crew for operating the Russian-built Sukhoi Su-30MKM and continue this cooperation.
Malaysian financial woes
After exist of the Dr. Mahathir Bin Mohamad from the Malaysian Political power corridors, a reset in the relationship between India and Malaysia has happened and Palm oil trade between the two countries also has been restored to a large extent and still might be a key element to crack the first export order for the homegrown LCA-Tejas Mk1 fighter jet. Malaysia is facing a financial crunch and is also keen that it is provided a soft loan to enable repayment for the purchase of these jets and follow on orders for the jet.
Offer Tejas Mk1A
According to the latest media reports, India will be offering its upgraded LCA-Tejas Mk1A fighter jet that will go under production in 2023. LCA-Tejas Mk1A priced at just over $38 million per unit for the Trainer variant and $42 million per unit for a single-seater variant that is going to will make it economically viable for the RMAF. Hindustan Aeronautics Limited also has offered to set up a base in Malaysia that can be used to provide technical and supply chain support to the LCA-Tejas Mk1A fleet if ordered by RMAF, IAF on its part has offered to train this pilot at its facilities to operate these jets and also train the ground crew for base-level repairs.
Problematic Israeli tech
Muslim-majority Malaysia like other predominantly Muslim majority countries doesn't recognize Israel nor it has any diplomatic relations with them and Israeli's visitors are forbidden to visit the country also that might be contention for India to sell LCA-Tejas Mk1A fighter jet that has many Israeli technologies in them that Malaysia will not like to have. Israeli technology like ELTA's ELM-2052 AESA Fire Control Radar (FCR) and the ELL-8222 Self-Protection Electronic Countermeasures (ECM) pods are two critical pieces of equipment that RMAF might be wary to clear. LCA-Tejas Mk1A also will be equipped with Israel's BNET Software Defined Radio (SDR), Elbit Systems Display and Sight Helmet (DASH), and Litening targeting pods.
Finding a local alternative AESA Fire Control Radar (FCR) and Self-Protection Electronic Countermeasures (ECM) pods might not be easy even though India is developing its own. RMAF might prefer French Thales supplied the Head-up display (HUD), navigational forward-looking IR system NAVFLIR, and the Damocles targeting pod, which HAL will be able to accommodate on LCA-Tejas Mk1A, but the aircraft might up end being a customized Malaysian variant that will require a considerable amount of investment by the HAL in integration and testing of this equipment on board LCA-Tejas Mk1A derivate.
Competition
For the LCA requirement, RMAF is also considering the Korean Aerospace Industries (KAI) FA-50 Fighting Eagle; the Leonardo M-346; the Aero Vodochody L-39NG; the CAC L-15A/B; the CAC/PAC JF-17; the Saab Gripen; and the Yakovlev Yak-130. some of these jets will still be cheaper than the Indian offering and some have no Israeli tech in them that will make it quite an attractive offer for the RMAF. While Chinese developed Pakistan build JF-17 is also on the offer, but the RMAF is not keen on getting a jet that is powered by the same Russian engines that they had troubled with on their Mig-29 fleet. RMAF operates older F-18C/D jets that are powered by the same F-404 engine that is currently powering Tejas Mk1 that might be the only reason why RMAF is even taking efforts to send a team to India for trials. 
NOTE : Article cannot be reproduced without written permission of idrw.org in any form even for YouTube Videos to avoid Copyright strikes