SOURCE: IDRW NEWS NETWORK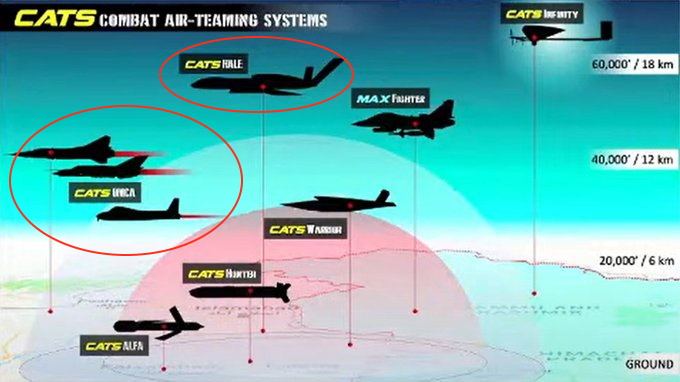 CATS Omca (Optionally-manned combat aircraft) and CATS Hale (High-altitude long-endurance (HALE) seem to be two new components in the Hindustan Aeronautics Limited (HAL) proposed Combat Air Teaming System (CATS) that the company is developing with Bengaluru-based startup, Newspace Research and Technologies to give IAF a robust and futuristic deep penetration attack system.
CATS Omca seems to be a project of converting obsolete fighter jets into drones. Mig-21, Mig-27, and Kiran IJT seems to have been selected as a viable candidates to be converted into Optionally-manned combat aircraft that could be used as decoys or to carry out their combat missions. HAL is carrying out the conversion of Kiran IJT into an unmanned drone but not much is known about its current status of its. In the above image, you can see that the CATS OMCA will be the first to enter hostile airspace either to be used as a decoy to overwhelm adversary air defenses by their sheer numbers or as a rudimentary unmanned combat aircraft to draw out hidden Air defense system positioning of the enemy.
CATS Hale (High-altitude long-endurance (HALE) seems to be a jet-powered high-speed, multi-mission, Remotely Piloted Aircraft (RPA) system that can perform wide-area surveillance, time-sensitive strike missions over land or sea over an altitude of over 50,000 feet, with 20+ hours of endurance. CATS HALE seems to be a single HTFE-25 engine powered stealthy HALE Class UAV designed to it increase its survivability in higher threat environments that will have an internal weapons bay to house precision munitions.
CATS HALE seems to be in the same league as the Chinese WZ-7 high-altitude reconnaissance drone or the American Avenger Drone. CATS HALE program is not to be confused with DRDO's Ghatak UCAV program, CATS HALE is only 1/3 of Ghatak in terms of All up take-off weight but larger than CATS Warrior.
Other Five important components of the Combat Air Teaming System (CATS) project are CATS Hunter (air-launched cruise missile), CATS Warrior (Loyal Wingman), Alpha-S (precision-guided loitering munition ), CATS Infinity ( high altitude pseudo satellite), and CATS Max Fighter (Tejas Trainer Mothership).
Hindustan Aeronautics Limited (HAL) is looking at a 2024-25 deadline to develop some of the components (Alpha-S, CATS Hunter, CATS Warrior) of the Combat Air Teaming System (CATS) and is seeking funds for the development of CATS Infinity, details of CATS Omca and CATS Hale are not much in the public domain but it seems it won't happen before 2025 since IAF will start retiring Mig-21s only from 2024.
NOTE : Article cannot be reproduced without written permission of idrw.org in any form even for YouTube Videos to avoid Copyright strikes