My Take
SOURCE: TUSHKAR SHIRODKAR / FOR MY TAKE / IDRW.ORG.
Chief of Defence Staff, General Bipin Rawat has hit where it could shake Indian Navy the most when he confirmed that clearance for construction of the 65000-tonne aircraft carrier called " INS Vishal " might not happen any time soon and some of the points made by him, also backing of many in India who didn't see why Navy should be allocated big budget for single warship program which might not come in next 10 years.
Indigenous Aircraft Carrier 1 (IAC-1) has been under construction from 2009 and it will likely be ready for induction only in 2022 which means it took India 13 years to develop and test a 45000-tonne aircraft carrier for India when even 100000-tonne Nuclear super aircraft carrier developed by the United States just takes only 7 years and China has been developing 65000-tonne aircraft carriers even at faster rate in just 4 years. Continue reading →
SOURCE: SATYAJEET KUMAR/ FOR MY TAKE / IDRW.ORG
India's MMRCA Circus just continues to get new candidates after American Aerospace major Boeing decided to offer it's F-15EX to India, which makes it third American jet to enter the race after rebadged F-16 aka F-21 and F-18E/F. What prompted Boeing to bring another one of its legacy platforms to India is still a mystery since logically it makes no sense for India to procure another Heavy Category aircraft like F-15EX when we already have difficulty maintaining our Su-30s fleet.
At the time when the cost of 5th Generation fighter jets like F-35A is falling each year, it is interesting to realize that F-15EX cost is same as F-35A now but due to the slow production line and high technology issues still plaguing F-35 program, USAF has decided to go ahead and procure 144 F-15s at it latest avatar to complement its F-35 fleet this is what has been told to their local media but is this the actual reason behind recent orders? Continue reading →
SOURCE: ANITA DESAI / FOR MY TAKE / IDRW.ORG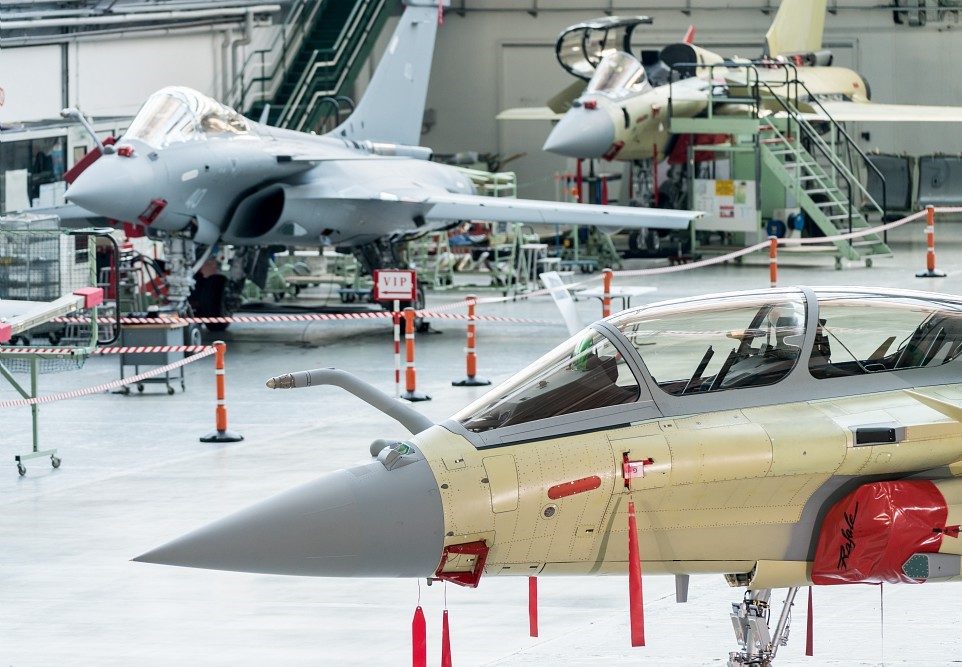 Newly appointed Chief of Defence Staff (CDS) General Bipin Rawat said 114 fighter jets for the Indian Air Force need to be purchased in small batches so that technological obsolescence along with high procurement cost required for such a mega order can be avoided due to the stalled budget but that also means Making in India 114 jets of foreign origin will also make it more expensive for India due to batch orders over the years which will need to be adjusted for material and manpower cost inflation over the years.
State-owned Hindustan Aeronautics Limited (HAL) is currently producing the Su-30MKI at a flyaway cost of around $62 million per aircraft, which according to our Parliament is around $22 million higher than the Su-30 jet supplied by Russia. Over 272 jets were produced over the years in batch orders but it simply never translated into a cheaper jet for India from then directly buying from Russia. Continue reading →
SOURCE: TUSHKAR SHIRODKAR / FOR MY TAKE / IDRW.ORG.
BrahMos Corporation has confirmed what was told in defense community in India that the company has been tasked to develop a revolutionary new air to air missile based on the framed Supersonic BrahMos while retaining a 500km engagement range to protect Indian airspace from all enemy aircraft specifically large enemy support aircraft such as tankers, command centers and AWACS platforms which usually fly well within their own air space.
BrahMos – AWACS killer is India's attempt to denying hostile powers the use of force-multiplying support platforms such as AWACS systems when conducting air attacks close or inside Indian air space. Continue reading →
SOURCE:  ABHOY ROY / FOR MY TAKE / IDRW.ORG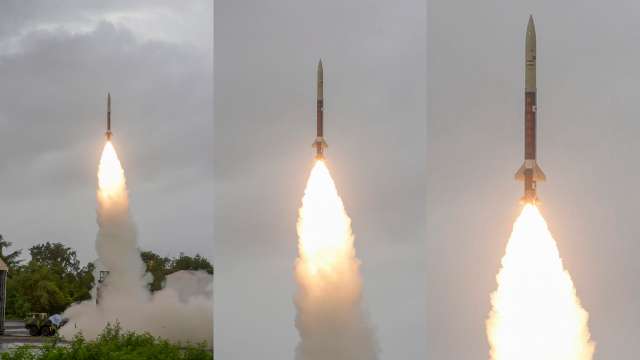 State-owned Defence Research and Development Organisation (DRDO) for the first time has confirmed at DefExpo 2020 has revealed that India is working on a new tactical ballistic missile capable of striking targets at a range of 200km. Close Range Ballistic Missile (CRBM) has been named Pranash, while it has its origin to the Prahaar missile, but as per configuration asked by the Indian Army, Pranash carries different designs and specifications then Prahaar missile other than just additional 50km range as mentioned by National Media.
Pranash CRBM has a length of 6.7m vs 7.32m of Prahaar and is 0.38m vs 0.42m in Diameter, which makes it shorter and much skinnier than the Prahaar missile while the weight of both missiles still stands at 1.3 tonnes and still carriers a 200kg payload and has an accuracy of CEP <20 meters but Pranash is now mounted on a 6×6 High Mobility Vehicle (HMV) allows better mobility at mountain terrain. Continue reading →
SOURCE: SATYAJEET KUMAR/ FOR MY TAKE / IDRW.ORG
Since last few months, Playboy Prime Minister Imran Khan has been raking up False Flag attack against Indian forces to drum up for an imaginary war which he and his Government have been imagining from the time Article 370 and Article 35A both Indian Laws were removed from the Indian administrated Kashmir in August. It is not rare to accuse India of trying to kill its soldiers to drum up a war-like scenario but it has been going on for the last few years where Pakistan wants to get rid of terror sponsors tag by actually accusing its victims of terror has one who planned this attacks.
Pakistan's notorious Inter-Services Intelligence (DG-ISI) has an approved list of Ex-ISI Generals who are allowed to talk to media and promote this conspiracy theory to its people that all terror attacks ranging from 26/11, Uri, Pathankot or Pulwama attacks on the Indian forces have been False Flag operations carried out by Indian external Intelligence agency Research and Analysis Wing (R&AW). Continue reading →
SOURCE: ANITA DESAI / FOR MY TAKE / IDRW.ORG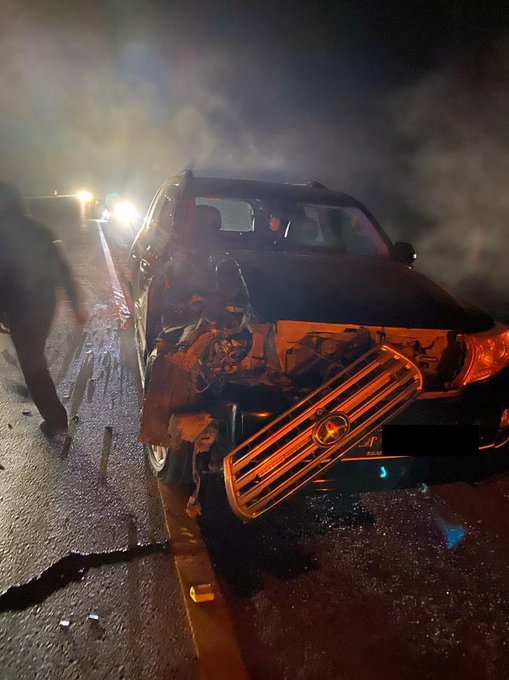 Major General Asif Ghafoor, the ex-Director-General of Pakistan's Inter-Services Public Relations has met with an accident on a motorway near Sargodha, in Pakistan according to Khaleej Times report, Asif Ghafoor and his wife are safe as the car was under the speed limit and reported hit a stray cow. Pictures of the accident show that Car was Toyota Land Cruiser a luxury SUV powered by a 4.5 liter 32 valve DOHC V8 diesel engine.
Toyota Land Cruiser doesn't have any Pakistani Army insignia hinting it might Major General Asif Ghafoor's Private Car but what comes as a surprise to many Indians was that it was a Toyota Land Cruiser which in India, starts at ? 1.47 Crores and usually seen with Industrialist and Bollywood celebs like Salman Khan which became notoriously famous when in 2002 when he had crashed into five men sleeping outside a bakery in Bandra, killing one. Continue reading →
SOURCE: TUSHKAR SHIRODKAR / FOR MY TAKE / IDRW.ORG.
India has started work on the development of a new 5000 km K-5 submarine-launched ballistic missile (SLBM) in the K family after successful completion of developmental trials of 3500 km K-4 intermediate-range submarine-launched ballistic missile as per latest media report.
Defense Research and Development Organisation (DRDO) got approvals for the development of the K-5 SLBM a few years back but it was purely limited to Research and development of MIRV (Multiple Independently targetable Reentry Vehicle ) capabilities which DRDO has been working on after voluntarily suspending its land-based ballistic missile program after the development of Agni-V ICBM. Continue reading →
SOURCE:  SHIVA MUDGIL / FOR MY TAKE / IDRW.ORG
Ark Films, hat specializes in Films, Commercials, Visual Effects, Motion Design, Story Writing, a few days ago dropped a short film based on the Balakot strikes " END RUN " which has entered Film-fare short film awards for the year 2020 based On Feb. 26 pre-emptive airstrikes by Indian Mirage-2000s on Terror facility in the Balakot.
The film starts with Indian Mirage-2000 aircraft returning after conducting a pre-emptive strike on terror camps near Balakot, Mirage-2000 Pilots been told about chase from F-16 fighter jets of Pakistan Air Force on their tail at long range while Indian warplanes are heading towards Line of Control (LOC). Continue reading →
SOURCE:  MAHESHA M / FOR MY TAKE / IDRW.ORG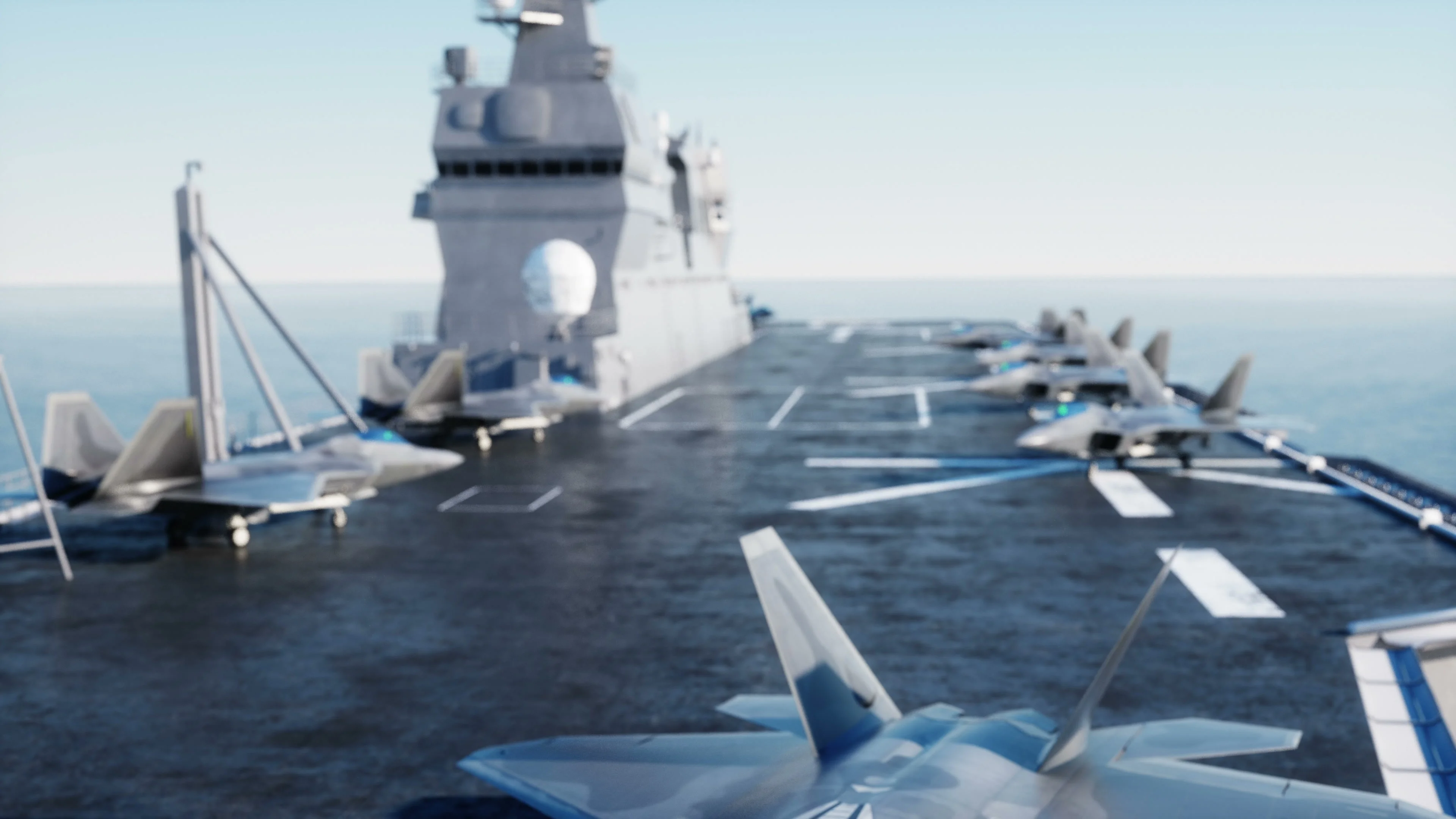 Indian state-owned aerospace and defense company Hindustan Aeronautics Limited (HAL) and India premier design and nodal agency for the Aeronautical Development Agency for LCA-Tejas program in India might be competing against each other as per latest media report of " The Hindu " where Chairman and Managing Director of HAL R. Madhavan said company will be interested in designing and developing a Twin-engine fighter jet for the Indian Navy.
This could be the first instance where HAL has shown interest not only in manufacturing but also in designing a new fighter jet for the Navy which could see competing proposals from the two premier aerospace agencies in the country. Continue reading →
SOURCE: TUSHKAR SHIRODKAR / FOR MY TAKE / IDRW.ORG.
The French Ministry of Defence's DGA (Direction Générale de l'Armement) and Dassault Aviation are likely to offer Rafale in F4 standard to the upcoming Request for Proposal (RFP) which India will be sending for procurement of 114 fighter jets later this year. With Dassault Rafale's latest F3-R which India had ordered saw significant enhancements, including full integration of the MBDA Meteor beyond-visual-range air-to-air missile (BVRAAM) with the AESA RBE-2 AA radar, integration of the Thales Talios targeting laser designator pod, and clearance of the laser-guided variant of the Safran AASM air-to-ground missile.
F4 standard Further system enhancements will be made to the Rafale's sensor suite, including the RBE2 AESA radar, Talios targeting pod, and the OSF frontal sector optronics system. Likewise, the Spectra electronic warfare system will also receive improvements to maintain its ability to deter emerging threats. F4 standard will also be first to receive next-generation MICA NG air-to-air missile. Dassault Aviation has planned two developmental stages for the F4 standard, F4.1 in 2023 and F4.2 in 2025. M88 engine's computer will also be upgraded to improve fault diagnosis assistance, preventative maintenance. Continue reading →
SOURCE:  ABHOY ROY / FOR MY TAKE / IDRW.ORG
Indo-Pak border in Punjab has been seeing unusually movement of drones from Pakistan side after Government of India scrapped Article 370 of the Constitution that grants special status to Jammu and Kashmir, According to Border Security Forces (BSF) many of the drones are Agriculture Drones of Multi-Rotor type which can carry some level fo payload to be used for smuggling banned contraband's or in recent cases Assault rifles. This Chinese made Agriculture Drones are completely capable of flying at higher altitudes and use the pre-feed field and flight paths with the help of the software to determine where payloads need to be dropped and once set task is done it can fly back to its home base without the need to have a Remote Pilot operator.
This Autonomous drones fly high and have a greater speed which means once sported they are difficult to track due to their speed of movement and since they are pre-feed with flight data and drop data it is very difficult to identify their drop zone. BSF has been able to spot and even managed to fire on them but the low cost of this drone available at $1500 onwards makes them a small investment to those who trade in illegal contraband and arms for terror activity. Continue reading →
SOURCE:  MAHESHA M / FOR MY TAKE / IDRW.ORG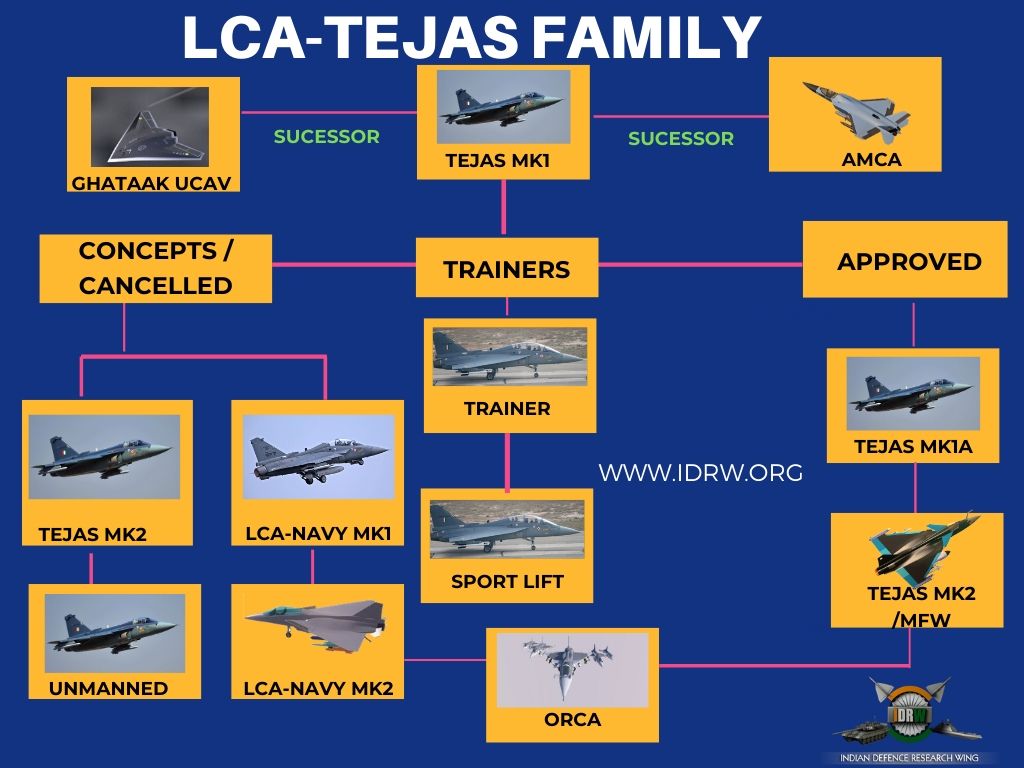 With India now being having one of the most active and revolving fighter jet developmental programs anywhere else in the world, continuous changes and new developments of late can create some level of confusion. so this chart will help understand the expanding LCA-Tejas family along with project background along with a brief background on each aircraft mentioned in the above chart.
LCA-Tejas Mk1: 32 ordered will form the base for the first two squadrons in IAF. 8 LSP developed by ADA will remain with the agency and will not join IAF. IAF already has received 16 IOC Configured LCA-Tejas Mk1 aircraft and will soon start receiving the remaining 16 FOC Configured LCA-Tejas Mk1 aircraft from this year onwards for start of the second squadron. Continue reading →
SOURCE: SATYAJEET KUMAR/ FOR MY TAKE / IDRW.ORG
Pakistan's foreign minister recently in a letter to the United Nations security council has said that India has deployed BrahMos missiles in the Kashmir region and is planning to do some adventure in Pakistani occupied Kashmir. Many Pakistani Establishment appointed Ex-ISI and Pakistani military defense experts who are part of many talks shows in Pakistani media are calling it part of their imaginary false flag operations to attack Pakistani military installations to divert media attention from citizenship law protests back in India.
In February 2019, Indian Mirage-2000 fighter jet intruded inside mainland Pakistan territory for the first time since 1971 war and bombed a Terror training facility in Balakot using Spice precision-guided missile, Pakistani military claimed IAF missed the targets and all building near so-called Madarsa in the Balakot facility were still standing and Pakistan only lost few palm trees as a result of this missile strikes. Continue reading →