Asia
SOURCE: ANAND SG / FOR MY TAKE / IDRW.ORG
According to a Senior ranked Pakistani air force (PAF) official, who in a recent interview to the local media has claimed that PAF will move to all 5th Gen and beyond fighter jet types by 2047 and plans to retire all the older 4th generation fighter jets with a locally developed 5th generation fighter jet under its next-generation fighter aircraft (NGFA) program under Project AZM.
It's still not clear what is the status of the NGFA under Project AZM but according to the Pakistani defense portal," Quwa Defence News and Analysis Group" preliminary designs are ongoing still, and PAF is yet to finalize the design. PAF claims that the 5th generation aircraft will be locally designed and manufactured but it is still not clear if it will involve Chinese technologies.
Continue reading
SOURCE: RAJESH AHUJA / FOR MY TAKE / IDRW.ORG
Recently both the selected Prime minister of Pakistan and Pakistani Army Chief has offered talks with India for peace in the region and both the time's condition is that India takes the first step. What's debatable is that there is no clarity what is the first step that Islamabad wants New Delhi to take and on what it wants to have talks on ?. After getting no support from the International community for the restoration of now scrapped Article 370 and Article 35A to the former state of Jammu and Kashmir and reunification of present union territories of Jammu and Kashmir and Ladakh, the Pakistani administration has now called for grant of statehood to the UT of Jammu and Kashmir as a precondition for having formal talks with India.

what's strange is that condition put by Pakistan seems to be a face-saver measure requested for the domestic audience, since UT of Jammu and Kashmir is presently going through redrawing of the electoral constituencies of Jammu and Kashmir by the Delimitation Commission that already has got a one-year extension to conclude its task in J&K, only after which elections can be planned.
Continue reading
SOURCE: RAJESH AHUJA / FOR MY TAKE / IDRW.ORG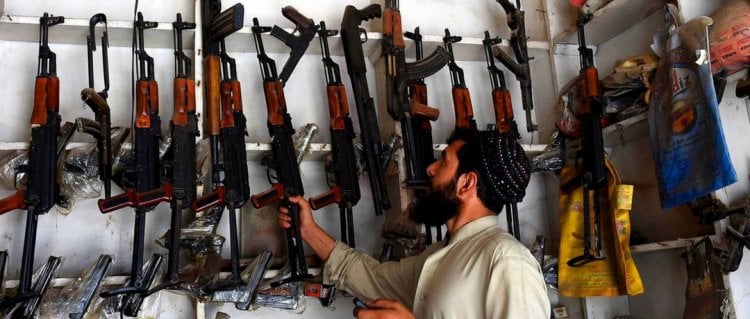 In Pakistan's tribal town of Darra Adam Khel, guns used or refurbished Kalashnikovs at that are available at a price cheaper than what a smartphone would cost you, They are also a cheap source of guns for the terror organizations in the region, and some even making it to the Indian side of Kashmir that includes illegal copies of American M16A1 assault rifle that have been found from killed Pakistan backed Terrorist in the valley.
Kalashnikovs made in Darra Adam Khel are not only cheap but also a constant headache for the Indian security agencies but Kalashnikov Concern, a leading Russian manufacturer of sporting, hunting, and military small arms, outdoors, tactical and military equipment in its YouTube video channel has described 5 worst AKs ever made in the world and has named Pakistan's tribal town of Darra Adam Khel as a place where worst AKs are made in the world over.
Continue reading
SOURCE: ANAND SG / FOR MY TAKE / IDRW.ORG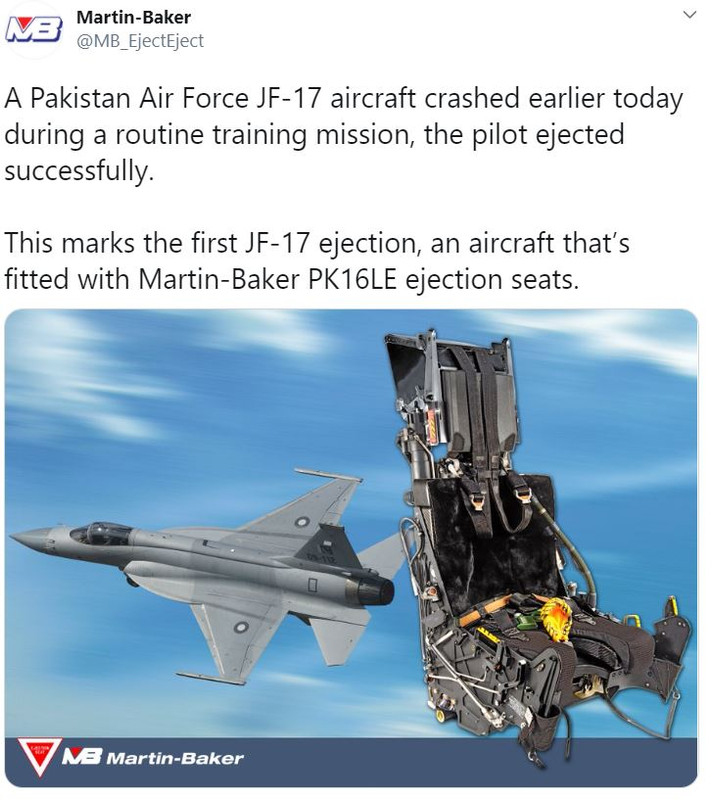 Martin-Baker confirmed that the company developed PK16LE ejection seat carried out the first successful ejection from the ill-fated JF-17 Block-2 Tail Number 17-241 which crashed near Pindigheb, Attock in Pakistan while the ill-fated aircraft was on a routine training sortie. Martin-Baker said that they never celebrate the loss of any aircraft but the first successful ejection of any seat program gives them enormous sense of pride on its products and Pilot's life saved.
PAF in its official statement and most of the Pakistani media channels have not mentioned the Type of aircraft which went down recently but the OSNIT community was able to confirm from the Tail Number that it was a JF-17 Block-2 aircraft. Martin-Baker confirmation for the first time also confirms that the Second JF-17s crash which took over the Arabian Sea on 27 Sept 2016 while carrying out a Night sortie resulted in a fatality which again was never covered in Pakistani media.
Continue reading
SOURCE: RAJESH AHUJA / FOR MY TAKE / IDRW.ORG
Pakistan's Foreign Minister Shah Mahmood Qureshi in his recent visit to China briefed Chinese leadership about the New Political Map of Pakistan which included the whole area of the Indian side of Jammu and Kashmir but had no frontier defined in Indian Ladakh sector and also later Qureshi also explained that the purpose of his recent visit was to "understand [China's] current state of mind and gauge their stance on India".
According to Pakistani media, Qureshi also asked Chinese support and help in Kashmir Push at the International stage and in return, the Chinese leadership has made some Pathbreaking suggestions to the Pakistani government which they think will be able to put International pressure on India. Chinese apparently have told Qureshi that the Kashmir issue is inching towards a final settlement soon and recent border clashes with India near the Galwan area were to have upper hand in settlement dialogue.
Continue reading
SOURCE: DAVID R. LEFFLER / UNITED STATES AIR FORCE VETERAN/ FOR MY TAKE / IDRW.ORG
On the 22nd anniversary of Pakistan's successful nuclear tests, Opposition Leader in National Assembly Shahbaz Sharif is quoted as saying: "May 28 would always be remembered as a day when Pakistan's defence was made invincible" ("Nawaz eulogised for 'making Pakistan nuclear power'", Dawn, May 29, 2020).
Invincibility is a laudable goal – but have nuclear weapons really made Pakistan invincible during these high stress times when terrorists can strike at any moment. Despite advanced technology and valiant efforts, the Pakistan military still struggles to eliminate violent extremism. Ultimately the only way to become truly invincible is to not have any enemies. If there are no internal or external threats, there are no enemies. No enemies, no conflict. But how could such an ideal goal be achieved when tensions are so high? A proven scientifically validated approach is needed to reduce tensions resulting in violent extremism. Continue reading →
SOURCE: The Northlines
Maj Nadeem with members of his 'Death Squad' (encircled) with weapons supplied by Pakistan army.Note that two of seated persons (second from left and on extreme right) are holding Pakistan army issue H&K G3 Rifles while seated person(second from right) is armed with a H&K MP5 sub-machinegun
The Director General (DG) of Pakistan Army's media wing, Inter Services Public Relations (ISPR), informed about the improvised explosive device (IED) attack on a Frontier Corps vehicle on May 8 in Kech district of Southern Balochistan. The explosion  had claimed the lives of six Pakistan army men(including an officer identified as Major Nadeem Abbas Bhatti). Continue reading →