Asia
SOURCE: API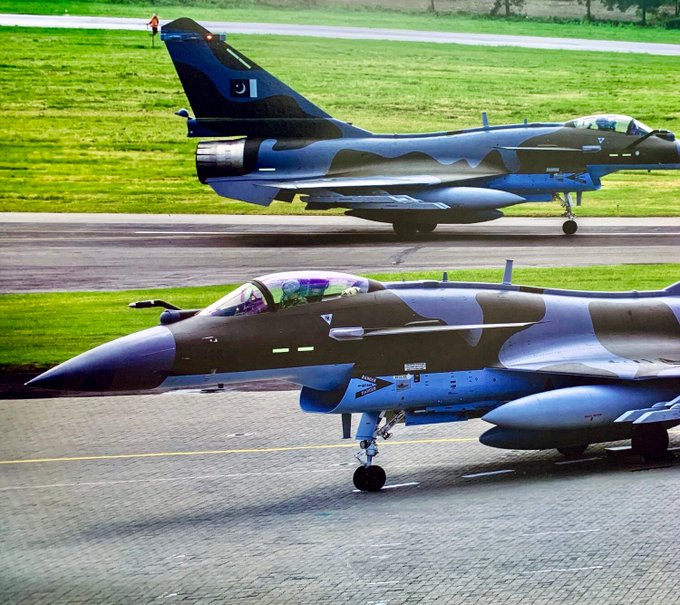 A new batch of J-10CE fighter jets being manufactured by the Chengdu Aircraft Industry Group for the Pakistan Air Force (PAF) has been seen in dual green-gray camouflage scheme with sky blue undersides that was usually seen on the PAF's Mirage 5PA fleet tasked to carryout low-level maritime attack duties.
The livery is a departure from the J-10's standard color scheme of low-visibility gray that in People's Liberation Army Air Force is used as Air Superiority Fighter aircraft and initially same was seen in Pakistan at its Induction ceremony into PAF.
Continue reading
SOURCE: ANI
Less than two weeks before Pakistan Army Chief General Qamar Javed Bajwa's tenure is about to end, a damaging report has shed light on the sharp rise of wealth of close family members of the most powerful person in the country in a span of six years.
Writing for Fact Focus, Pakistani journalist Ahmad Noorani has unearthed how Bajwa's immediate and extended family members, in a matter of few years, started a new business, became owners of farmhouses in prominent Pakistani cities and bought foreign properties, making billions of dollars in the process.
Continue reading
SOURCE: IANS
Pakistan has made a strong case against creating new permanent seats on the UN Security Council, saying an increase in the number of non-permanent members would make the 15-member body more representative, democratic and effective.
The only criteria for Security Council membership set out in the UN Charter is for the election of non-permanent members," Pakistan Ambassador to UN Munir Akram told delegates when the deadlocked Inter-Governmental Negotiations (IGN) aimed at restructuring the Council resumed on Thursday.
Continue reading
SOURCE: CNN
Russia's international isolation grew Wednesday, as world leaders issued a joint declaration condemning its war in Ukraine that has killed thousands of people and roiled the global economy. The Group of 20 summit in Bali, Indonesia, concluded Wednesday with a leaders' statement that "deplores in the strongest terms the aggression by the Russian Federation against Ukraine and demands its complete and unconditional withdrawal from the territory of Ukraine."
Speaking after the closing of the summit, Indonesian President and G20 host Joko Widodo told a news conference that "world leaders agreed on the content of the declaration, namely condemnation to the war in Ukraine" which violates its territorial integrity. However, some of the language used in the declaration pointed to disagreement among members on issues around Ukraine.
Continue reading
SOURCE: API
On November 13, Defense Technology of Bangladesh-DTB tweeted that Chinese-made VT5 main battle tanks purchased from NORINCO had been unloaded. They were not the first tanks of this type to be delivered to Bangladesh: China delivered 44 VT5 light tanks to Bangladesh in 2021, according to the SIPRI (Stockholm International Peace Research Institute) arms trade database.
The Bangladesh Ministry of Defense officially announced in December 2019 that its army had ordered VT5 light tanks from China, a model used by the Chinese army's Xinjiang Military Command and Chinese Marines.
Continue reading
SOURCE: ANI
In response to a question regarding Washington's financial aid to Pakistan for F-16 fighter jets, the US State Department Spokesperson Zed Tarar said that it was part of the contract between the two nations and does not represent monetary assistance.
Speaking to ANI in Bali, Tarar stressed that the fighter aircraft were three decades old and its spare parts were part of the old agreement.
Continue reading
SOURCE: IANS
Lt-Gen Asim Munir is technically the senior-most of the top generals who are in the running for the coveted slot of Pakistan Army chief. However, he is set to retire a few days before the incumbent hangs up his uniform, local media reported.
Prime Minister Shehbaz Sharif could theoretically find a way out if he decides on Gen Munir as the next COAS, since he has the authority to elevate a Lt-Gen to the rank of a four-star general before his retirement, a move that may add another three years to his career, Dawn reported.
Continue reading
SOURCE: RAUNAK KUNDE / NEWS BEAT / IDRW.ORG.
The German government has refused to supply MTU 12V396 diesel engines from Germany's Motor and Turbine Union company to be equipped on a modified Hangor-class submarine that is based on the Chinese-origin Type 039B submarine meant for Pakistani Navy. The Hangor-class submarine is to be equipped with an AIP-equipped but the German government has prohibited the export of the engines to China because of their use for military purposes, as Germany is bound by a European Union arms embargo imposed on China in 1989 after the Tiananmen Square massacre.
Chinese has reportedly offered reversed-engineered Chinese-made engines that are certified by Germany's MTU. Germany for long ignored the sale of dual-use technologies that were later used by the Chinese on their weapons system but the sale of Two Yuan-Class S26T submarines to Thailand's Military Junta caught the attention of the German media due to which the German government took a stand against their supplies and later also blocked supplies to the China to be used on Pakistani Type 039B submarine that is under construction in China.
Continue reading
SOURCE: DEFENSE NEWS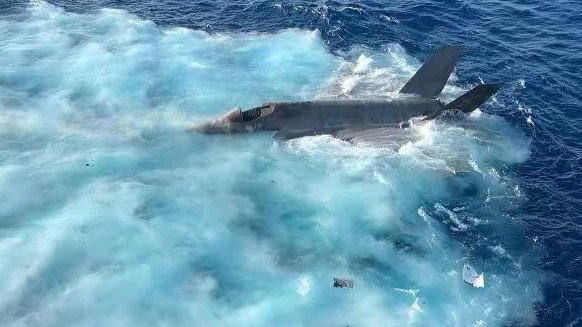 The U.S. Navy has largely kept mum about how it will raise the wreckage of a high-tech F-35C Lightning II jet that crashed onto an aircraft carrier and fell into the South China Sea last week, but a maritime navigation alert released by the Japanese government suggests where the salvage operation may take place.
On Saturday, the Japanese Coast Guard issued a navigation warning indicating that a salvage operation was going on in a northern portion of the South China Sea, roughly 185 miles west of the Philippines and 350 miles east of Woody Island in the Paracels, a group of man-made islands on which Beijing has built an airbase and other military infrastructure.
Continue reading