SOURCE: NARAYAN APTE/ FOR MY TAKE / IDRW.ORG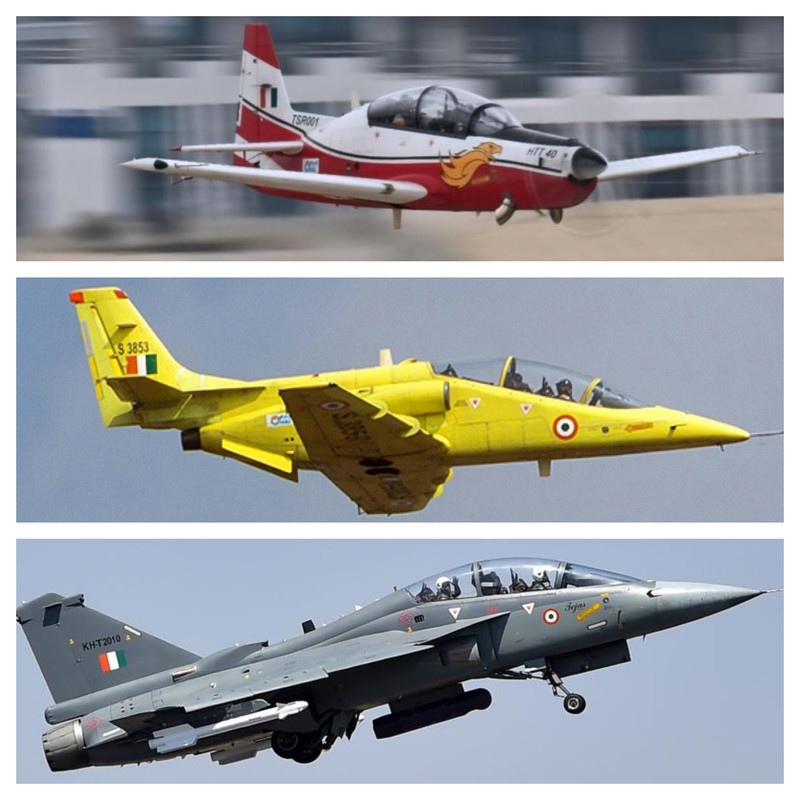 The military training aircraft market projection from 2021 till 2030 is estimated to be worth 6.62 billion as reported in a reputed defense sector think tank report and the market for Basic Jet Trainers, Intermediate Jet Trainers, and Advanced Jet Trainers for Fixed-wing Aircraft type will see further expansion after a lull over last decade next 10 years as many countries around the world are planning to replace their aging military trainer with new light trainer aircraft, which is likely to propel growth shortly.
This forecast will come as a tremendous opportunity for the state-owned Hindustan Aeronautics Limited (HAL) to market its HTT-40 (BTA), HJT-36 Sitara (IJT), and LCA-LIFT in the export market as this aviation segment is largely dominated by multiple players and but dominated by few and should come as low hanging fruit for India's Aerospace sector to establish itself before other aerospace projects like fighter jets and heavy helicopters can be marketed abroad.
In August 2021, HAL received an RFP from the Indian Air Force (IAF) for the procurement of 70 HTT-40 basic trainer aircraft, which has further options for 38 additional trainers that once translated into a contract will come as major boosts to the marketability of the aircraft for export customers. According to HAL indigenously built HTT 40 basic trainer already has received inquiries from abroad and once it enters production same will be offered to the export market.
HJT-36 Sitara (IJT) that was in development forever has been able to meet the demands of six spin tests on both right and left sides set by the IAF in recent demonstrations of the aircraft and after two more years of testing the aircraft will be offered to IAF to clear its path to enter production. The market for IJT type fixed-wing aircraft in the International market is shrinking due to the adaptability of a much more rigorous pilot training regime and the ongoing trend that has seen a shift from light trainer aircraft to heavy trainer aircraft with advanced capabilities.
HAL has plans to develop a supersonic advanced trainer and light combat aircraft based on the LCA-Trainer aircraft that can be used for Advance Pilot training and if required can also be used in combat. LCA-LIFT as it is called will be used to train pilots not only for the Tejas Mk1A aircraft but will also be trainer aircraft for the Tejas Mk2 and AMCA fighter jets since this program will not see the development of Conversion Trainer variant of these jets. LCA-LIFT program has tactical backing of the IAF but the program will be taken up post completion of development works of the upgraded Tejas Mk1A sometime in 2024. A precursor to the LCA-LIFT will be specially customized LCA-Trainer aircraft that HAL plans to develop to meet the requirements set by the Royal Malaysian Air Force (RMAF) if it manages to secure orders from the RMAF. HAL already has an order book for 18 LCA-Trainer from IAF in FOC Configuration that is already entered manufacturing. HAL is also in talks with the Iraqi Air Force that are looking to procure Advance LIFT type aircraft for which HAL is ready to set up a new plant in Iraq if both countries can ink a deal.
HTT-40, IJT, and LCA-LIFT Sales Potentials and competitions

HTT-40 (BTA) can be pitched favorably in the Middle East, South America, and African nations that would play a key role in the market as their success in these regions can promote their demand across the smaller Asian nations. The market for turboprop light attack aircraft in countries with no air force or low conflict zones to be used for light bombing roles or in anti-narcotic/smuggling operations exists and Armed HTT-40 is one area that HAL needs to focus on sooner rather than later due to lack of such requirement in India.
IJT Market is not all gone but it has shrunk over the last few years with the advancement of AJTs and LIFT aircraft types. Many airforces are already are making translation from the sub-sonic trainer aircraft to supersonic trainer aircraft due to the rise of complex 5th and 4.5 gen fighters in their inventory. HJT-36 Sitara will also face stiff competition from the Yak-130, Hongdu JL-8, Aermacchi M-345, and IA-63 Pampa in this segment and the program also requires backing from the IAF after having a troublesome developmental phase, HAL needs to build its image and improve its product so that it features and is considered by potential export customers.
LIFT market is increasingly getting aggressive as T-7A Red Hawk, TAI's Hurjet, Rostec's Sukhoi based light jet models, and Airbus developed trainer jet program for the Spanish Air Force along with established products like Hongdu JL-10 and T-50 in the segment will only crowd this segment in coming years and HAL needs to develop LCA-LIFT by mid of 2025 and get IAF onboard this program at the earliest with sizeable order size before it can be taken seriously in the LIFT Market.
Disclaimer : Articles published under " MY TAKE " are articles written by Guest Writers and Opinions expressed within this article are the personal opinions of the author. IDRW.ORG is not responsible for the accuracy, completeness, suitability, or validity of any information on this article. All information is provided on an as-is basis. The information, facts or opinions appearing in the article do not reflect the views of IDRW.ORG and IDRW.ORG does not assume any responsibility or liability for the same. article is for information purposes only and not intended to constitute professional advice .
Article by NARAYAN APTE /, cannot be republished Partially or Full without consent from Writer or idrw.org