SOURCE: TUSHKAR SHIRODKAR / FOR MY TAKE / IDRW.ORG.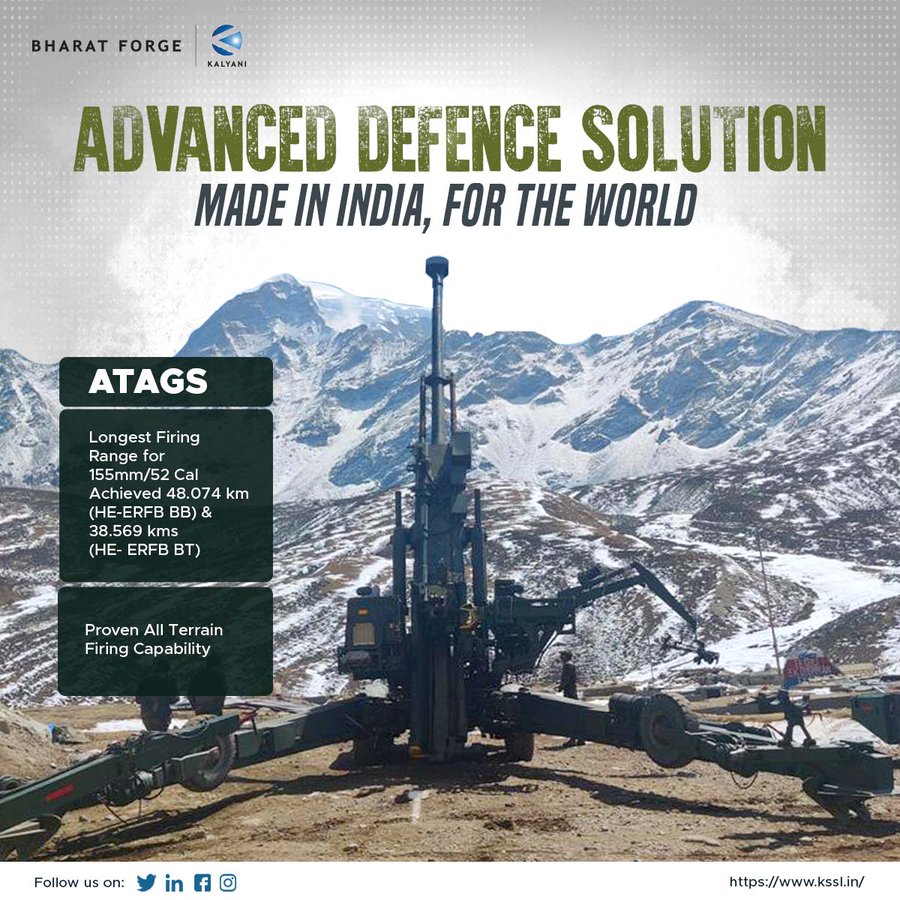 Lt Gen TK Chawla, Director General Artillery while talking to media recently listed out the technical deficiency of the Advanced Towed Artillery Gun System (ATAGS) that was developed by the Defence Research and Development Organisation (DRDO) and two private companies Bharat Forge and Tata Power SED that could not only derail Army's plan to acquire 3,000-3,600 howitzers by 2025-27 but also ensures the program remains in the development loophole for another few years to come without getting any production orders from the Army.
Chawla said that the ATAGS failed to meet certain firing and non-firing parameters and issues related to the weight of these guns also needs to be addressed. ATAGS had gone through summer trials this year and it was speculated that post this trials, Army will place orders for 800 Limited Series guns of the ATAGS that will eventually lead to much bigger orders that will accommodate all the necessary changes and improvements in the production batches but it seems Army is again dragging its foot from issuing clearance to the gun that was fired for the first time in a fully integrated model in 2016.
The Army seems to be making case for local production of the ATHOS of the Israeli firm Elbit. Army tried to procure 400 of these guns from Emergency Purchase agreements recently but this move was thwarted by DRDO. ATAGS weigh around 18 tons and the per-unit cost of each gun is Rs 16-18 crore and ATHOS which is around 15 tons as a per-unit cost of each gun at Rs 11 crore, thus import lobby has been deployed to criticize the indigenous gun. People who were part of the ATHOS 2052 trials in India seems to differ from the Army's claim that it is a perfect gun and have been leaking anonymously some of the parameters that were set by the Army but the Gun failed to meet and many are wondering if its the Arjun Déjà vu all over again when Army refused and even now refused to place orders in bulk for the same even when in competitive trials, Arjun was found superior to the Russian T-90 tanks.
Bharat Forge had offered to address the weight issue by the usage of special alloys like Titanium in certain sections to fix the issue but that could see a rise in its unit cost that seems to have not gone well with the Army, who instead has asked to go for older hydraulic transverse mechanism in the gun so as reduce weight, but that could affect firing parameters and the tech is considered inferior to what protypes had in first place. Army also has refused to test the 155×52 mm caliber variant of the Dhanush gun nor has shown interest in the Bharat-52 gun which is a 155mm, 52 caliber towed howitzer manufactured by Bharat Forge that weighs 15 tons and could cost the same if procured in large quantity.
With three local alternatives 155×52 mm howitzer being ignored , Army seems to be determined to force an imported 155×52 mm caliber howitzer then it could seriously undermine PM Modi's pet program of Atmanirbhar Bharat in the defense sector and also show how Army continues to give preferential treatment to the imported weapons system over local products that might see Private sector companies refusing to be part of a future joint venture with public sector companies for the development of local weapons system if ATAGS program falters due to Army abilty to flip flop on its own requirements.
Disclaimer : Articles published under " MY TAKE " are articles written by Guest Writers and Opinions expressed within this article are the personal opinions of the author. IDRW.ORG is not responsible for the accuracy, completeness, suitability, or validity of any information on this article. All information is provided on an as-is basis. The information, facts or opinions appearing in the article do not reflect the views of IDRW.ORG and IDRW.ORG does not assume any responsibility or liability for the same. article is for information purposes only and not intended to constitute professional advice .
Article by TUSHKAR SHIRODKAR , cannot be republished Partially or Full without consent from Writer or idrw.org