SOURCE: RAUNAK KUNDE / NEWS BEAT / IDRW.ORG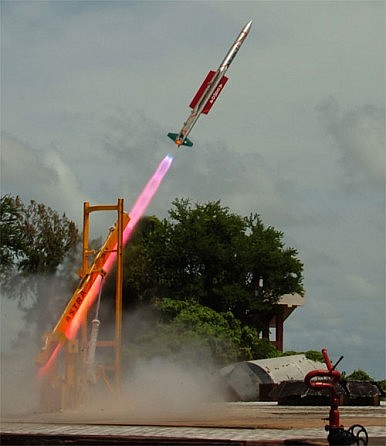 Its raining Indigenous Air Defence Systems in India, DRDO Chief G. Satheesh Reddy in an interview confirmed that DRDO has taken up development of Astra vertical launch (VL) based low-level quick-reaction air defence system based on Astra BVR-AAM which is all set to be inducted into Indian Air Force (IAF) by end of this year.
Astra-VL Air Defence System is the latest and will be 5th Indigenous Air Defence System program which has been under development to meet air defence system requirements of the defence forces in the country. DRDO already has developed Akash-1 and 1S medium-range mobile surface-to-air missile defense system which already has been inducted in Indian Army and Indian Air Force.
DRDO is already working on the development of Next Generation Akash Air Defence System which will have longer range and also come with additional features and enhanced performance. DRDO also has started development trials of Mobile QR-SAM Air Defence System to meet Indian Army's requirement for a surface-to-air missile defense system for its Strike corps.
The fourth project taken up by the DRDO is of XR-SAM Air Defence System which will have a range of 250km and will supplement Russian S-400 Very Long-range surface-to-air missile defense system.
Ground-based Astra air defence system will provide 360° coverage (vertical launch) and will be Fire-and-Forget system with Interception range up to 10-15 km with the addition of boosters Astra-VL will have an extended range of 30km against a wide range of targets, including fixed-wing aircraft, helicopters and UAVs and precision-guided munitions.
Astra-VL Air Defence System will have its Command and Control Unit (CCU) or can be guided by other CCU of other air defence systems in the vicinity to provide air defence coverage in static mode for vital military installations working in tandem with Akash-1 and 1S and Akash NG Air Defence System.
DRDO is also working on Short Range Surface to Air Missiles (SR-SAMs) for Indian Navy which basically will be Astra-VL Air Defence System customised for Indian Navy. Sea Astra will have a range of 20-25 km and will also be tasked to perform anti-aircraft and anti-missile weapon system roles and will work in tandem with 70 km long-range surface-to-air missile system (LRSAM) to provide 360 degrees complete aerial defense against all airborne threat including aircraft, helicopters and anti-ship missiles.
Sea Astra will replace Israeli supplied Barak-1 ship-borne point-defense missile installed in many front-line warships of the Indian Navy.
NOTE : Article cannot be reproduced without written permission of idrw.org in any form  .