SOURCE: SATYAJEET KUMAR/ FOR MY TAKE / IDRW.ORG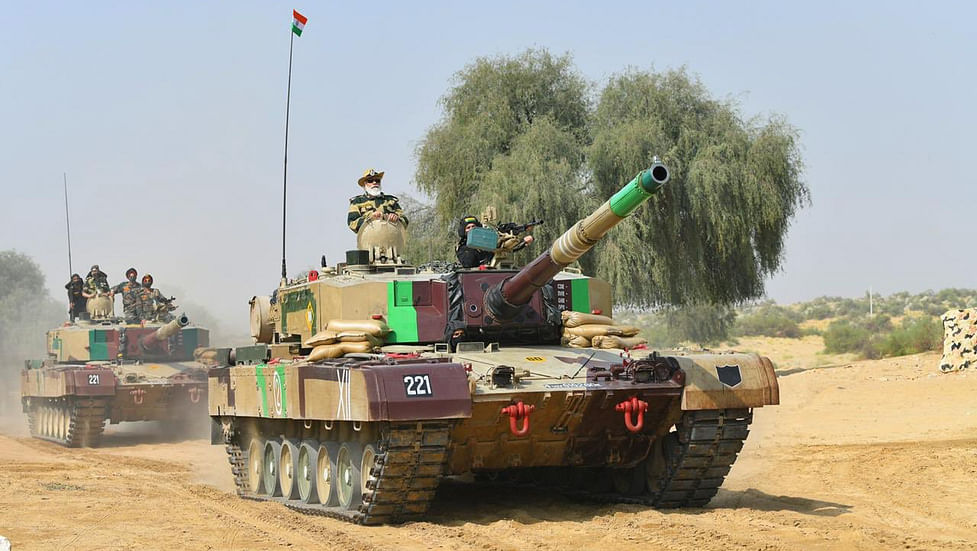 Was surprised to see PM Modi going all guns blazing in taking out a dig at the Indian Armed forces for not reducing the weapons import bill and supporting locally developed weapons systems in the country. In the last few years of the Government lot of things have happened due to which there is a rise in Indian private sector participation in the segment that was dominated by the State-owned public sector companies for the last 60 years in the country but Modi himself has been sitting on many key projects that are yet to see the day of light which could have boosted Indian arms industry further.
Indian Armed forces due to tensions with China have managed to procure many of the imported weapons through emergency routes that came as a setback to many local alternative products that we're dying for orders. The so-called negative list created by the Government also doesn't have big-ticket items that could help reduce import weapons bills but rather smaller systems and components that do not cost much.
Indian Army's Artillery modernization plans have been in limbo for a while now and yet every now n then we see reports that the Army wants clearance to procure Israeli guns under the same emergency purchases even though the country has developed 3-4 Artillery guns of different calibers of late which are a match if not superior to import alternatives. Token orders for Arjun main battle tank even after the not-so-impressive performance of the T-90 and T-72 tanks in the Ukraine war should have opened more orders for the locally developed Arjun tanks but that will make way for a new next-generation tank program that might go around for another 20 years.
Tejas MkII program has been touch and go for a while now since the air force is much more interested in ensuring that procurement of 114 jets from abroad is not hampered. Official funds for the AMCA program is yet to come so are funds for the development of a new engine for the program. The last few years' major big ticket items cleared by the government for the air force have been the purchase of 36 Rafale jets and the C295 tactical airlifter deal both awarded to foreign companies with HAL bagging orders for 83 Tejas Mk1A that it will take nearly another 3 years to mature.
The Navy has struggled to procure more submarines as an endless loop of delays and deadlines continues. The same government also has not cleared the way for its acquire the third aircraft carrier that it always wanted. The only positive for the Navy has been that it got clearance for the development of nuclear attack submarines but the funds clearance might take even more time as seen with all projects.
Tri-service has massive requirements for nearly 400 light helicopters to replace aging French utility choppers that have an average age of 35-40 years now but still, there is no urgency seen to place orders for the LUH that has cleared most of the basic requirements set by the government as it waits for orders to start production. LCH is also another helicopter program that is yet to take off due to a lack of firm orders from the service and grant of funds from the government for its procurement.
Private sector companies are inching to break into the unmanned aerial systems market in the country but public sector companies are not letting them come in. India's product portfolio when it comes to homemade unmanned aerial systems is not only poor but we are even behind Pakistan and Iran which have developed a host of armed and unarmed unmanned aerial systems in the last couple of years.
Armed forces will try to secure more weapons from import routes due to the massive lobby that still prevails in the system. Government should stop giving exemptions from the negative list it has created and start adding more items to the negative lists especially big-ticket items like fighter jets, engines, submarines, and marine engines so that the Indian military is not affected by economic sanctions put on countries that have been traditional weapons suppliers of India.
Disclaimer : Articles published under " MY TAKE " are articles written by Guest Writers and Opinions expressed within this article are the personal opinions of the author. IDRW.ORG is not responsible for the accuracy, completeness, suitability, or validity of any information on this article. All information is provided on an as-is basis. The information, facts or opinions appearing in the article do not reflect the views of IDRW.ORG and IDRW.ORG does not assume any responsibility or liability for the same. article is for information purposes only and not intended to constitute professional advice .
Article by SATYAJEET KUMAR , cannot be republished Partially or Full without consent from Writer or idrw.org