SOURCE: RAJESH AHUJA / FOR MY TAKE / IDRW.ORG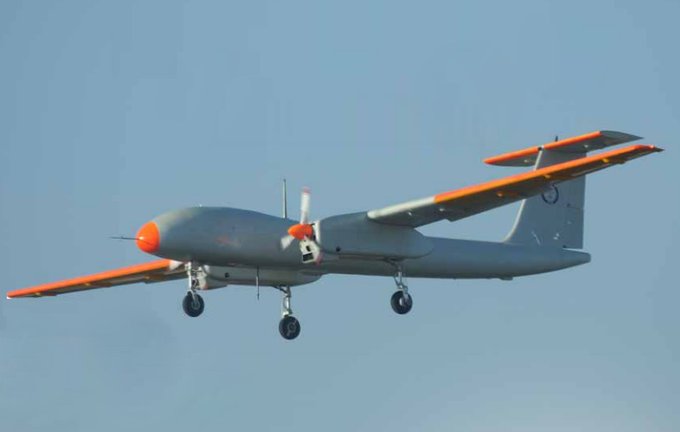 IAF Conclave in Bengaluru was a buzz with locally made Drones that were at display all of which were developed by the state-funded companies DRDO and its associate labs that for the first time saw DRDO display Archer an Armed Rustam-1 based UAV that has been under development for the last 5-6 years without much progress or backing by the Indian military force.

Rustam-1 that had its first flight in 2010 has not found any acceptance by the Indian Air force nor the Indian Army. last it was showcasing its capacities to CRPF for Anti-Naxal operations it crashed while it was coming for landing in away sealing its fate. BSF too seems to be not so keen on the Unarmed variant of the Rustam-1 drone now and it's still not clear who DRDO is pitching Archer drones to when the Anti-Armour missile seen in the Archer that was developed only to arm on UAVs is yet to enter trials let alone enter production.
Its been 5 years now that Tapas high-altitude long-endurance unmanned aerial vehicle (UAV) program has been under development without much success. Rustom 2 now called Tapas is still overweight and already has gone three engine changes just to meet requirements asked by the Indian military. 115 HP Rotax engine was replaced by a 180 HP Austro engine that was later replaced by an Indigenous 180 HP CRDI engine developed with a local partner but now fresh reports say that same company has been awarded a contract for development of upgraded 210 HP CRDI engine so that it can cater to further increase in weight and payload and allow it have higher power at higher altitudes. Rustom 2 continues to miss Internal timelines and there is no end date for completion of the program that means it will take a while for it to enter production if it can meet the requirements asked for.
SWIFT is a TD Program for the much bigger Ghatak Unmanned Remote Strike Aircraft program that is still in its infancy. For Ghatak to be ready first GTRE needs to flight certify its Dry variant of the Kaveri engine that is unlikely to happen any time before 2025 and even if the engine is ready by 2025, the program is yet to take off since initial investment granted by the Government was only development of some of the basic technologies for the program and success of SWIFT TD once reviewed will allow an influx of more funds into the program. The transition from SWIFT to Ghatak might take over 10 years before it can enter production if DRDO can meet the requirements and meet the performance requested.
Rustam-1 was supposed to supplement or eventually replace imported Israeli Searcher and Heron UAVs. Archer, an Armed version was to provide the Indian military with a UAV that can hit ground targets but instead, India is still importing UAVs in its class, and recently under Project Cheetah decided to arm its Heron UAV fleet. Indian placing orders for Heron-TP also indicate that all is not well with the Tapas program and plans to procure 30 Predator drones from the United States shows a lack of confidence in the indigenous program by the Indian military.
DRDO is yet to get its act together on the UAV front and yet it continues to carry on the development of the UAVs that now can be easily assembled with international systems and subsystems due to the expansion of the UAV market and easy availability of manufacturers who are keen to supply. Israel and the US don't hold rigid control of systems and subsystems that go into a UAV now as they did once upon a time. Many OEMs and International vendors have opened shopped since then and are ready to supply key systems that are required to build a UAV fleet and Countries like Turkey are prime examples of that where they have managed to build a UAV fleet based on International Military complex supply chain not only for themselves but also for the export market.
India should announce UAV Competition as it did with the Swarm drone competition so has to encourage the development of Short-Medium and High Altitude range UAVs for the Indian military. Let Private companies assemble or develop or procure systems and subsystems where indigenous content should be above 60% so that in the next few years there can be local alternatives.
Disclaimer : Articles published under " MY TAKE " are articles written by Guest Writers and Opinions expressed within this article are the personal opinions of the author. IDRW.ORG is not responsible for the accuracy, completeness, suitability, or validity of any information on this article. All information is provided on an as-is basis. The information, facts or opinions appearing in the article do not reflect the views of IDRW.ORG and IDRW.ORG does not assume any responsibility or liability for the same. article is for information purposes only and not intended to constitute professional advice .
Article by RAJESH AHUJA/, cannot be republished Partially or Full without consent from Writer or idrw.org