SOURCE: PTI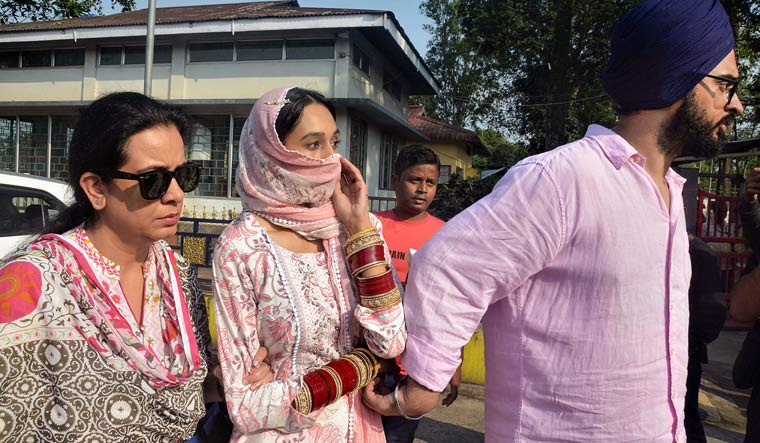 Wife of radical preacher Amritpal Singh, who is lodged in a jail in Assam's Dibrugarh, on Thursday met the pro-Khalistan accused, officials said. Along with her, family members of other activists of 'Waris Punjab De' (WPD) also met the inmates at Dibrugarh Central Jail, a senior official told PTI.
"Kirandeep Kaur, wife of Khalistani leader Amritpal Singh, has come to Dibrugarh to meet her husband inside the jail today," he added.
Neeru Kalsi, wife of another accused Daljit Singh Kalsi, and his son Simarjeet Kalsi also reached Dibrugarh Central Jail during the day, the official said.
"They entered the jail complex at around 1 pm and left the premises at 3.25 pm. They came by a flight and will be staying at Dibrugarh today," he added.
On April 27 also, 10 family members of arrested WPD activists, including its leader Amritpal Singh, had visited the Dibrugarh Central Jail to meet them.
Amritpal Singh was on April 23 lodged at Dibrugarh Central Jail after being flown in a special flight from Punjab following his arrest in the Northern state. With him, altogether 10 of his pro-Khalistan group are presently lodged at this Assam jail.
The nine others are — Daljeet Singh Kalsi, Papalpreet Singh, Kulwant Singh Dhaliwal, Varinder Singh Johal, Gurmeet Singh Bukkanwala, Harjit Singh, Bhagwant Singh, Basant Singh and Gurinderpal Singh Aujla.
Security in and around the jail premises have been beefed up since March 19, when four members of the Waris Punjab De (WPD) were brought here in the first batch.