SOURCE: ANAND SG / FOR MY TAKE / IDRW.ORG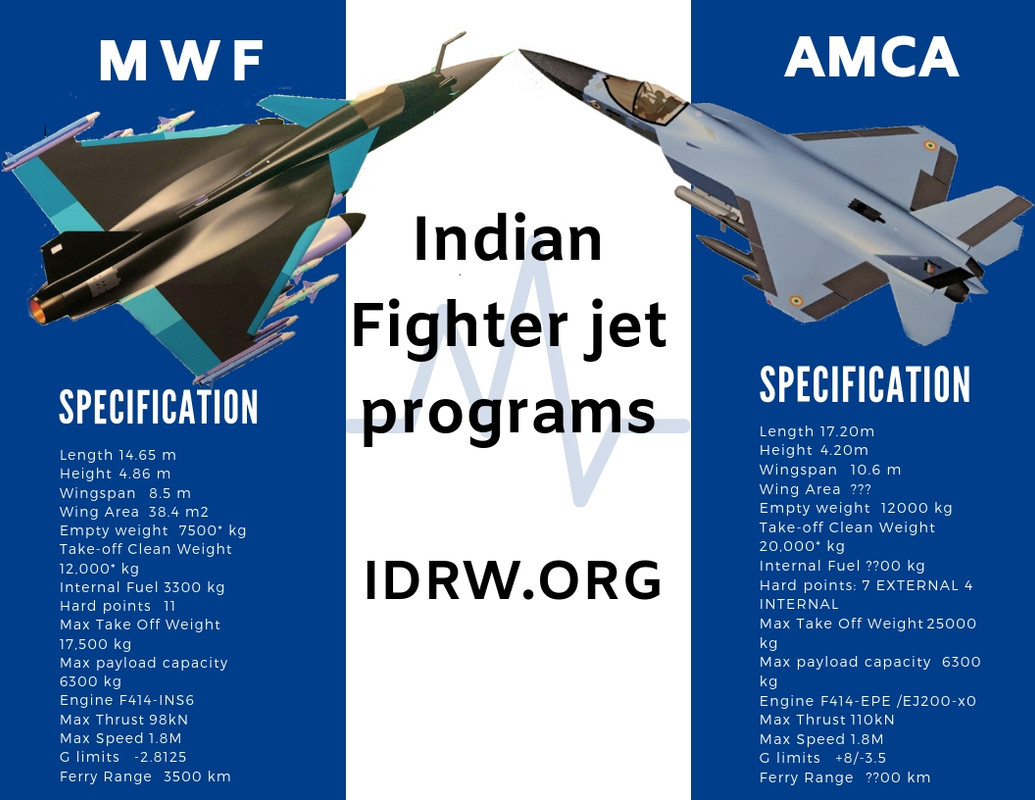 Air Chief Marshal VR Chaudhari, the Chief of Air Staff recently took over the baton and immediately committed to procure 7 Squadrons of AMCA and also added that it will be India's lone 5th Gen fighter jet induction planned by the IAF. AMCA will be IAF's Top Tier aircraft that is meant to replace 150 Sukhoi-30MKI that will be up for retirement from 2040-45 onwards but the initial requirement and plans to induct them in two batches is riddled with a lot of unknown factors that can severally delay the program.
IAF has committed to procure only 2 Squadrons of AMCA MkI as it did with the LCA-Tejas Program that could again mean production rate of aircraft coming out of the brand new production line that has been proposed in the State of Tamil Nadu initially will be just 6-8 jets a year as it enters service from 2031 onwards. Now here lies the program, IAF has committed to procure 5 Squadrons of AMCA MkII from 2035 onwards subjected that it is powered by a 110kN thrust after burning turbofan class of local origin.
India doesn't have a 110kN thrust afterburning turbofan engine class of local origin nor it has been able to fix the Kaveri engine so that can't be used as a base to develop an uprated engine. For that, talks with French Snecma and GTRE and later with American GE Electric to procure a suitable engine based on their existing engine but here lies another problem, both don't have engine exactly of thrust class that IAF and DRDO have agreed that was planned to be used to power AMCA MkII, this could mean it needs to be specially created for one program that could require a sizeable investment in Research and Development.

Upgrading a 75 kN (Snecma M88) Thrust class engine to 110kN thrust could have required considerable redesign changes to the core that could require an investment of upwards of $6 billion as quoted by the French company with Transfer of Technology (ToT) included while it maintains Intellectual property (IP). GE Electric offered its baseline F414 (98 kN) thrust class to be updated to the 110kN thrust but was offering restricted licensing agreements for local manufacturing and was not keen on ToT nor Transfer of Intellectual property (IP) for the Core sections.

Rolls-Royce is the third engine Original Equipment Manufacturer that has entered talks with GTRE to develop a new engine that is not based on the EJ-200 with Transfer of Technology (ToT) of the core engine along with Intellectual property (IP) but it is not clear when the talks will be concluded in a deal and the time frame required to design and develop a prototype that needs to be flight tested and accumulate thousand hours before it can be certified for production, which usually takes any where between 8-12 years.

Since IAF is backing the AMCA MkII program to get the major chunk of orders. Development and certification of the new engine and getting it ready from prototype stage to production stage will play a crucial role in the AMCA MkII program along with all the hyper next-gen technologies like Electro-Optical Targeting System (EOTS), the capability of automatic takeoff and landing, Laser weapon systems (LWSs) and Remotely piloted aircraft system.

LCA MkII is and always will be the bridge between Tejas Mk1A and AMCA because of the incremental technological advancement that will happen in the MkII that includes fully revamped cockpit and other sensors that in a way are coming of age of the second-generation alteration of the tech that was originally developed initially for the MkI program. MkII will be getting a new digital flight control computer (DFCC), Radar Warning Receiver (RWR), Active electronically scanned array (AESA), Airborne Self Protection Jamming Pod (ASPJ), Infrared search and track (IRST) system, and other tons of minor and major changes in the components that have lesser variables while AMCA program requires technology that it needs to incorporate which very few countries have mastered and some are still testing and perfecting them.
Conclusion: AMCA program is a next-gen leap from a 4.5 Gen to 5.5Gen for the country in the tech advancement that could require a lot of time to develop next-gen tech we don't even have access to. DRDO-ADA have learned their lessons and are working on developing most of the technology before the prototype is rolled out but they are many ways the program could be delayed and it will be a herculean task to ensure that the development of every component and system planned for the MkII remains on schedule. The new Chief needs to back LCA MkII and AMCA and LCA MkII Program can be re-evaluated after they have completed at least Phase-I to gauge which or if both can be added to the existing fleet in near future.
Disclaimer : Articles published under " MY TAKE " are articles written by Guest Writers and Opinions expressed within this article are the personal opinions of the author. IDRW.ORG is not responsible for the accuracy, completeness, suitability, or validity of any information on this article. All information is provided on an as-is basis. The information, facts or opinions appearing in the article do not reflect the views of IDRW.ORG and IDRW.ORG does not assume any responsibility or liability for the same. article is for information purposes only and not intended to constitute professional advice .
Article by ANAND SG , cannot be republished Partially or Full without consent from Writer or idrw.org