SOURCE: IDRW.ORG TEAM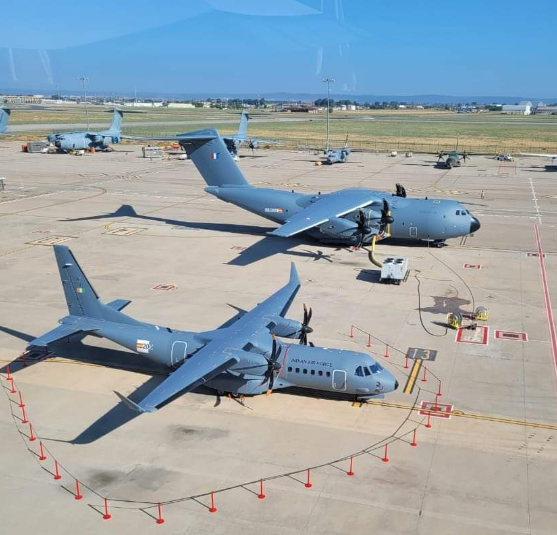 In a significant development, the Indian Air Force (IAF) recently witnessed a handover ceremony for the first C-295 Transport aircraft. During this event, IAF Chief and Indian Embassy officials also received a briefing on the Airbus A400M Transport aircraft, which is being offered to the IAF as part of its Medium Transport Aircraft (MTA) tender, aimed at procuring 40-60 units. Airbus, a global aerospace giant, has proposed its A400M 'Atlas' aircraft in response to the IAF's request for information (RFI) for its Multirole Transport Aircraft (MTA) requirement.
The Airbus A400M 'Atlas' transport aircraft is a remarkable addition to the IAF's potential fleet. With a maximum payload capacity of 37 tonnes, as per Janes data, the A400M may technically fall outside the defined MTA requirements. However, Airbus argues that operationally, the A400M can effectively bridge capability gaps in transport within the IAF while simultaneously complementing the existing transport fleet.
The IAF's primary transport fleet currently includes approximately 50 legacy Avro 748M Series 2 aircraft, 17 Ilyushin-76MD transport aircraft, 54 Antonov An-32RE aircraft, 12 Lockheed Martin C-130 J-30s, and 11 Boeing C-17A aircraft. Airbus believes that the A400M 'Atlas' brings a new dimension to the IAF's transport capabilities.
Key Features of the A400M Atlas:
Maximum Payload: The A400M's impressive payload capacity makes it suitable for a wide range of missions, from heavy cargo transport to troop deployment and humanitarian assistance.
Versatility: This aircraft is designed to operate in various roles, including tactical and strategic airlift, medical evacuation, and aerial refueling, making it a versatile asset for the IAF.
Short and Unprepared Runway Operations: The A400M's capability to operate from short and unprepared runways opens up possibilities for deploying personnel and equipment in remote or austere environments.
Advanced Avionics: Equipped with cutting-edge avionics and communication systems, the A400M offers enhanced situational awareness and mission effectiveness.
In a bid to strengthen the 'Make in India' initiative, Airbus has expressed its willingness to manufacture the A400M locally in Indian facilities if selected for the MTA project. This move aligns with the Indian government's vision of promoting indigenous production and technology transfer.
NOTE : Article cannot be reproduced without written permission of idrw.org in any form even for YouTube Videos to avoid Copy right strikes